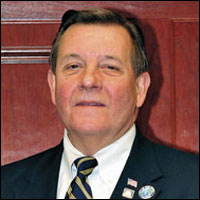 Consultant bills surprise only to public
BY LISA ZAHNER - STAFF WRITER (Week of December 17, 2009)
The whopping $3 million the City of Vero Beach has paid to consultants and attorneys over six years for work on Vero's electric utility travails apparently didn't come as a big surprise to former Mayor Tom White, but he concedes the Vero Beach 32963 story last week breaking the news to the public is likely to change how the city conducts future business.
"We're going to be doing a lot of things different," White said Monday.
In an interview with Vero Beach 32963, White:
■ Blamed former City Manager Rex Taylor for getting the consultants and lawyers started on the work that ultimately cost Vero's electric utility customers more than $3 million.
■ Accused Taylor of hiding the early expenditures by paying them monthly fees that were less than the $25,000 that would have required prior approval by the City Council.
■ Claimed he "just about had a minor cardiac arrest" when he discovered that the consultants and lawyers were billing up to $600 per hour.
At the same time, White defended the high costs, saying: "They do work for all the big companies and we were going up against the big guys. When we did the OUC (Orlando Utilities Commission) contract, we wanted to make sure that we didn't run into the same problems we had with FMPA. We had to have big-time lawyers to fight fire with fire."
But while White seems reconciled to the $3 million in expenditures, not so new City Council Member Brian Heady.
Heady said he was not surprised — but was appalled — to see the tally of the $3 million paid to consultants and lawyers from out-of-state for the dealings regarding the city's electric utility.
"I brought it up when they rehired Sue Hersey after she failed miserably," Heady said, referring to the city losing its two-year arbitration saga with the Florida Municipal Power Agency (FMPA) in 2005 and then rehiring Hersey in 2006 to negotiate a new power deal, which resulted in the contract with the Orlando Utilities Commission.
"I was outraged that they would hire her again, when you have someone like that giving you bad advice," he said.
During the time that the city was racking up bills of tens of thousands of dollars each month, Heady protested three minutes at a time at nearly every City Council meeting. He's not sure, because he's been arrested more than 30 times for speaking out at Council meetings, but Heady thinks he might have even been carted off for yet another visit to the Vero Beach Police Department for questioning some of Sue Hersey's charges.
"I don't have a burning need to be vindicated, but it feels wonderful to have this information out because the people are finally getting some help on these issues," he said.
Vero Beach 32963 pored over financial statements dating back to 2003 over the course of several weeks and pieced together the $3 million price tag paid to Boston consultants and lawyers from receipts and records obtained following a public records request.
In all, the biggest money maker was Hersey who, between invoices from Navigant Consulting and, later, her own firm Energy Advantage Consulting, billed Vero Beach $1.5 million for her work over the six years.
City Attorney Charles Vitunac had not responded as of press time to questions about the city attorney's office's customary role in oversight of outside legal counsel and its specific oversight role in the FMPA and OUC cases.
Only White, then as now a City Council member, and Heady addressed the price tag figures and other findings – including that some attorneys billed the city lump sums through consultant Hersey in lieu of submitting detailed time sheets showing exactly what services the city was being billed for and when. White said he would ask for detailed bills from the attorneys from now on.
One question that remained difficult to track was how the city came to hire Boston consultants who, apart from being expensive, added to costs by billing for extensive travel to and from Boston, counting among hourly rates their time on airplanes and driving to and from airports.
But White finally shed some light on how these consultants were hired. It was not through a competitive or public process. White confirmed information obtained by 32963 that Navigant Consulting had been retained secretly in late 2002 or early 2003 by former City Manager Taylor to begin studying and negotiating the city's power agreement with the Florida Metropolitan Power Agency.
High fuel costs were being passed along in high electric bills and the discontent was building among the ratepayers.
"The City Manager, not this one but a previous one, in his infinite wisdom hired these consultants to work on the electric problem," White said.
At the time, the city manager was permitted expenditures of up to $25,000 without prior approval of the city council. So White said Taylor hired Navigant and paid them in increments of $25,000 per month, until members of the Council found out.
Shortly afterward, Taylor was no longer the city manager, but the city had already invested hundreds of thousands of dollars in the services of Navigant Consulting and was deep into secret negotiations with FMPA.
"By then, it was too late and these guys had already been working on it and they knew what was going on," White said. "I don't want to say that we didn't have a choice, but it had gone too far and then the negotiations with FMPA escalated into arbitration. We had to do something and these people (Navigant) already had their foot in the door."
White said that, once they found out a consultant was being used, the Council checked Navigant out and found that they were considered to be at the top of their field in utility consulting. He said the attorneys in Boston also came highly recommended.
"These guys are good," White said. "They've always done a good job for us. We looked for somebody local and the problem is that a lot of local companies don't have the experience working with utilities. That's what these guys do. They get it."
In retrospect, White regrets the arbitration, because it not only cost the city a whole lot of money; it delayed the exit from the FMPA All Requirements Project, precipitating this summer's astronomical electric bills.
"We thought we could renegotiate it, but if we hadn't gone through the arbitration, we could be out of FMPA already," he said.
When asked whether he thought the rates charged by the consultants and attorneys were exorbitant, White said that he was shocked to find out what the market would bear for utility specialists.
"I just about had a minor cardiac arrest at the time when I found out what their hourly rates were," White said.
The other thing that surprised White was the inability of the city to produce detailed time sheets from the attorneys who worked on the bid documents and contract with OUC. The legal tally was about $225,000 paid to Sue Hersey's company Energy Advantage Consulting as a single line item on Hersey's invoices.
"I can't see the staff going along with paying that much money without a detailed list of their services from the Boston lawyers," White said.
White said that he would attempt to track down the time sheets for the legal fees, either from Hersey or from the electric department.
After seeing all the bills compiled in last week's story, Heady was left scratching his head on the nearly $600,000 the city spends each year on a legal department that outsources most anything complex. The city's legal staff is only slightly smaller than the staff of the Indian River County County Attorney's Office, but the county handles the vast majority of its contract and litigation work.
"Most of the things that we hired consultants for are things that we could have done in-house," Heady said.
Heady does not blame the city attorney or city manager for the millions spent on consultants.
"I never blame the staff for these kinds of actions because I believe that the elected officials are their bosses," Heady said. "The council members (a) didn't do their homework, (b) didn't ask the questions or (c), they were so disinterested that they didn't care whether or not there were answers to the questions."
Heady said the consultant bills were just paid and any failures covered up.
"It was a Houdini act, it just all disappeared," he said.
The fact that the $3 million was tacked onto his electric bill and the electric bills of the 33,000 customers of the City of Vero Beach Electric gets Heady pretty steamed.
"I'm outraged, and my wife reminds me of all these things when she opens the electric bill every month and gives it to me," Heady said. "I've switched out my light bulbs and bought a $10,000 new airconditioning system to be more energy efficient, and with these consultant fees and everything else that's in my bill, no matter what I do, it never reduces what I have to pay."
The only thing, according to Heady, that will prevent the city from spending another $3 million on consultants in the near future — considering that Hersey and the Boston attorneys are still on the payroll — is an active and independent Council.
But three actual Council votes are needed to direct staff to make change or to challenge anything. To date, Heady still appears to be the proverbial odd man out when it comes to pushing for open, transparent government.