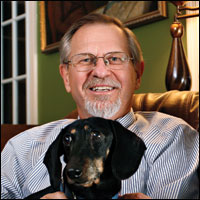 Alan Polackwich: From banking to county attorney
BY MICHELLE GENZ - STAFF WRITER (Week of February 11, 2010)
For the past six years, Alan Polackwich has maneuvered through a challenging course as Riverside Bank's inhouse general counsel, executive vice president and president of its Indian River County arm, after representing the bank in his private practice for years prior to that.

Then at each turn, it seemed, the course got tougher. Last year, the Fort Pierce -based bank, with a thousand employees, saw its founder, Vernon Smith, retire just as the bank closed three of its 65 branches. By the end of the third quarter, it got itself pegged as undercapitalized.

"The banking industry just changed quite a bit," says Polackwich, asked why he left. "It really wasn't as much fun as it had been in the past years."

When news that Indian River County Attorney Will Collins was retiring began to circulate last year, Alan Polackwich decided to apply. "I thought it sounded like a great job," he says.

In January, he came to the fore out of 23 applicants, winning the post in a 5-0 vote by the county commissioners. Not that he couldn't have toughed it out at Riverside. Polackwich, father of two, husband of Gallery 14 jewelry designer Debbie Polackwich, and a longtime resident of Castaway Cove, has a history of hanging on.

Six years ago, his brand new Formula 2000 race car left the track, soared over the wall, essentially broke apart as it flipped over and landed in a tree, with Polackwich hanging upside down in his harness.

By the time rescuers reached him, there was no piece of the car large enough to even show its number.

"I reached up and flipped the electrical switch so nothing caught on fire," he says. But when he looked down, he realized he was hanging over a ditch. "If the tree hadn't held me, I would have ended up underwater." A week later, his back broken in three places, he was limping on his crutches out to the tarmac at the Vero Beach Airport, greeting his new experimental plane.

Calling himself "pretty low key," Polackwich typically accepts change as challenge; his seat-of-the-pants optimism extends to the work environment as well. His switch from having Riverside as his largest client, to joining the firm as in-house counsel happened in a snap. "One day I woke up and said, 'Let's try something different.' And I raised the idea with Vernon Smith."

In his home life, the move to Castaway Cove from the mainland happened just as quickly. His kids had transferred from public schools to St. Edward's, and found themselves with none of their new school friends in their old neighborhood. Polackwich asked where they all lived, and when his kids told him Castaway, the decision was made. "Within a week, we bought this house."

At that point, daughter Jessica was a senior. She went on to graduate summa cum laude from Amherst College and went on to Harvard Law School. She is now a professor at the University of Richmond Law School.

Son Scott, who graduated from Johns Hopkins and the University of Florida College of Medicine, is a resident in the urology surgery program at Oregon Health and Science University.

Their transition to adulthood was one change that Polackwich did not take lightly. When his youngest drove off to college, Polackwich was devastated.

"I stood in the driveway and sobbed," he recalls.

Today after 17 years, the Polackwiches have finished packing up their spacious, art-laden home in Castaway to move into a marina-front condo in Grand Harbor. It was another spontaneous decision.

It was the same kind of hairpin turn that got them to Vero in the first place. Maine natives who met in college, they had come down to Miami for spring break. Four years later, they moved to Vero Beach.

Polackwich joined the law firm with Chester Clem, Buck Vocelle and Paul Berg, practicing commercial and public law. Among his clients was the Indian River County Hospital District; he saw it through six bond offerings in 18 years.

Deeply involved with United Way since 1992, Polackwich served on the United Way of Florida's Board of Governors for six years, including as its chairman in 2006.

Since 2005, he has been on the hospital's board of directors, the county's Children's Services Advisory Committee. He currently chairs the board of directors of the Gifford Youth Activity Center.

For years, he represented Riverside Bank. In the midst of his new post there, he managed to find time to get another degree, this one from the Stonier Graduate School of Banking at the University of Pennsylvania and Georgetown University, graduating in 2007.

Debbie Polackwich found fulfillment raising her two children. She had earned a fine arts degree from Colby College, the same school Alan had attended. But she never used it until seven years ago, when she began making jewelry for Gallery 14.

It is Debbie Polackwich who prompted the purchase of their airplane. A pilot since high school, she learned to fly to give herself confidence. "I wanted not to be a wimp," she says. "I was a very timid kid. I was always scared of everything."

It was Alan who made her think of it again, when their younger child was a sophomore in high school. They both got trained and bought a plane in 1997, and started flying for fun around the state. They bought a second plane, a lightweight Express experimental plane made of all composite materials, in 2004.

"We don't do anything risky up there," says Debbie Polackwich. "You look at the weather and you have to be able to say, 'It's not good today.'"
"I view it as risk management," Alan says.