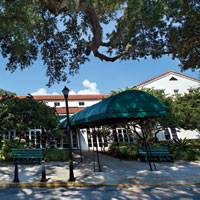 School bells may ring once again in Riomar
STORY BY DEBBIE CARSON - STAFF WRITER
(Week of Sept. 16, 2010)
The old St. Edward's Lower School campus is eerily quiet these days, the pupils relocated to St. Ed's south A1A campus.
But the historic building might soon be filled with several hundred kids once again, home to a kindergarten through 8th grade charter school – Vero Beach Academy -- that as early as next August could provide a new educational option for beachside families.
A developer who contracted to purchase the private school's property at 2225 Club Drive had plans for approximately 10 high-end luxury homes on the site. But with the downturn in the economy and sluggish real estate market, he apparently is seeking a school to lease the property -- at least for the time being.
The president of a charter school company tasked with helping Advantage Academy of Indian River set up Vero Beach Academy said the developer behind Riomar 11 LLC, believed to be George Heaton, developer of the Vero Beach Hotel & Spa, reached out to a charter school already established in Indian River County, which in turn pointed him in their direction.
Michael Strader, president of Charter School Associates, said that St. Edward's Lower School campus would make an "excellent site" for a charter, given the amenities already there. Such amenities include several sports fields, a pool, and playgrounds.
Even though the developer approached the charter school community to find out if any such school would be interested, "We believe the demand is there, too," Strader said.
There is no public middle school on the barrier island, and only one public elementary school.
He said that before Advantage Academy of Indian River decided to pursue a charter school in the county, research was done to determine the need. Though he declined to name the people spoken to, "locals" gave a "resounding positive response" to the potential of a charter moving in.
Strader expects Vero Beach Academy, if it sets up shop on the old St. Ed's campus, to attract students from both public and private schools by providing a "high quality" academic program without the expense of tuition. Charters receive taxpayer money for each student but are run independently of the public school system.
The possibility of a quasi-private school moving into its old campus – just three miles away -- is likely to have an effect on enrollment at the struggling St. Edward's School, which moved its lower school this summer to its large campus on the southern part of the island.
Head of Schools Michael Mersky declined to directly respond to the question of whether St. Ed's would be concerned about the opening of a new school on the island on the same campus previously occupied by St. Edward's.
"… the demand for the absolute best in education prevails, and St. Edward's School has continued to endure, and indeed to flourish in all times," he said in a statement emailed to Vero Beach 32963.
Though Strader believes Vero Beach Academy could indeed attract students from St. Edward's, Mersky said he believes his school offers something public schools cannot provide.
"Our teachings and mission incorporates character/moral educational components not allowed in the public arena," Mersky said in his statement. "We also have the depth of resources as a community in terms of the quality of teachers, and in terms of creating a safe, comfortable and modern academic facilities, performing arts spaces and sports facilities, including our waterfront location which is unparalleled in the region. Further, our focus of academic and college guidance is unmatched by any school in this area."
Mersky and the real estate agent representing the sale of the lower school's campus have been under the impression that the potential buyer plans to build high-end residential homes.
"That's the current plan, now," Real estate agent Kay Brown, of Premiere Estate Properties, said of the residential development.
Brown said the property is currently under contract pending a 60-day due diligence period, which ends Sept. 28th -- the same day the Indian River County School Board is expected to take a vote on Vero Beach Academy's charter application.
Brown declined to comment on whether the contract had provisions that would allow St. Ed's to back out of the sale, or whether possible use of the site for another school would have affected St. Ed's initial acceptance of the offer.
Whether St. Ed's would want to back out of the sale to the would-be buyer if the site were to be used for another school is not clear, as St. Edward's officials did not address that question.
Real estate agent Brown declined to identify the potential buyer, citing confidentiality agreements. 
However, according to the City of Vero Beach's Planning Department, a development company named Riomar 11 LLC has filed a comprehensive plan change amendment for the St. Ed's Lower School property on Club Drive that would allow for single family residential development.
City Planner Gayle Lafferty said the amendment is a correction to the classification currently assigned to the site. That classification is Government-Intensive, she said, and is not appropriate for school property.
The new classification would provide a future land use of low density residential development and would not preclude the property from being used for a school, Lafferty said.
Repeated phone calls to Riomar 11 LLC's registered agent West Palm Beach Real Estate Attorney Alan I. Armour, who represents a number of Heaton's ventures, went unreturned.
Heaton also could not be reached for comment.
As for the St. Ed's Lower School campus, Vero Beach Academy's charter application states that the school plans to acquire the site by May 2011 and open for school in August - provided the School Board approves the application and the sale of the site goes through.
No backup site is listed in the school's application.
According to the application, Advantage Academy of Indian River -- the pending-non-profit that would run the charter school -- has had preliminary discussions with the would-be buyer over rent for the site. That rent would be tied to a specific proportion of the school's revenue.
How the school would generate revenue was not clear in the 400-page application.
"The School's landlord anticipates obtaining building permits the fall of 2010," the application states, "and to commence required renovation/construction by December 2010 thus ensuring completion and receipt of all applicable licenses and permits no later than 10 days prior to the opening date of school in August 2011."
Vero Beach Academy plans to follow the same school calendar as that established by the Indian River County School District, according to its application. It would also follow the mandated class sizes as they apply to charter schools.
Vero Beach Academy has plans to start its first year with 392 students in a K-8 school. The school expects to hire 30 teachers by Year 4 and having a student population of 612.
In its first year, the 2011-12 school year, the charter school plans to have 54 students each in kindergarten through third grade, 22 students in grades four, five and eight, 66 students in the sixth grade, and 44 students in the seventh.
Enrollment in grades kindergarten through third are expected stay at 54 each through Year 5. Fourth and fifth grade enrollment is expected to top out at 66 students each, while grade six through eight are projected to max out at 88.
Advantage Academy of Indian River joins several other Advantage Academy charters throughout the state, including Advantage Academy of Hillsborough, Advantage Academy of Miami, and Advantage Academy of Brevard.
Charter School Associates' Michael Strader said that the charters have similar names, but they are not necessarily operated by the same board of directors. He explained that they are charters that share a similar vision of how children should be taught and offer similar academic programs based on each other's experiences.
"They are independently operated," Strader said.
The founding members of Advantage Academy of Indian River include people from Fort Myers, Plantation, and Plant City.
Strader said there is no requirement that founding board members be residents of the county where they plan to open a charter school. However, the application does outline a plan to hand control over to local members by the end of the second school year.