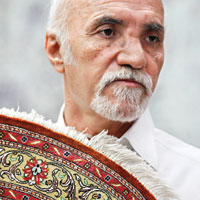 Falasiri gets two years in prison on smuggling charges
STORY BY EILEEN KELLEY, (Week of August 23, 2012)
Photo of Jafar Falasiri.
Vero Beach rug dealer and philanthropist Jafar Falasiri Tuesday was sentenced to two years in prison, fined $20,000, and ordered to forfeit hundreds of thousands of dollars worth of imported carpets after pleading guilty to charges stemming from his arrest for smuggling opium and Oriental rugs from Iran into the United States.
Prosecutors recommended the relatively short sentence – the 62-year-old Falasiri  could have received five years – and Judge Jose Martinez termed it the most lenient recommendation he had ever heard.  "I can only assume he deserves it," Martinez said.
Falasiri has until Oct. 1 to turn himself in to a federal prison, preferably one with a 500-hour drug treatment program. His addiction to opium – fueled by his stepson's fatal disease and doctors' failed attempts to stop it – caused the downward spiral that led to his arrest last summer on drug and smuggling charges, according to his attorney Greg Eisenmenger. 
Twenty people showed up for the sentencing, with many moved to tears by Falasiri's wife, Barbara Bannister,.
"When I heard of his arrest, I didn't believe it," she said. "That's how far he hid his pain.  He is an old man with a drug problem. Our tragedy has unfolded publicly."
Falasiri told the judge he takes full responsibility for what he did and he thanked the government.
"July 1, 2011, the government rescued me. I was in darkness but light came upon me," Falasiri said. "They are not my enemy, they protected me. There is no excuse for what I did."
Martinez told Falasiri he was one of the luckiest people he knew and that he had more than what money could buy -- family and friends.
"I appreciate what he has done for the community," the judge said. "There were a lot of people willing to go out on a limb for him. He's a very lucky man."
Two years ago, Falasiri earned the Laurel award, the Indian River Cultural Council's top honor, for his various philanthropic fundraising efforts.
The arrest came after authorities caught Falarsiri with hundreds of thousands of dollars in opium hidden in rugs he illegally imported into the United States in the months after his stepson Phillip Bannister-Marfuta died of brain cancer. An employee tipped off federal agents about the drugs and rugs in January 2011, and they started monitoring shipments to the rug dealer.
Eisenmenger said the opium was entirely for Falasiri's personal use. Released from jail last year after putting up more than $1 million in real estate as bond, Falasiri entered into a drug treatment program, Eisenmenger said. All his drug tests have come back negative,  he added.
The drug-smuggling Falasiri, who pleaded guilty to lesser drug charges this past spring, is far from the humanitarian philanthropist many Vero Beach people know.  And as he awaited sentencing, friends and acquaintances wrote the court, supporting leniency.
Included with the personal letters in the case filings are numerous letters from organizations over the years that Falasiri summited to illustrate his charitable and non-profit generosity.
"He has always been a wonderful person and philanthropist," Eisenmenger said.
Eisenmenger and Falasiri's relationship goes back many years, when Falasiri had a rug store in Brevard County.  Like many others, Eisenmenger said he was blindsided by Falasiri's secret addiction.
"I always knew him to be an outstanding person, but of course, like most people, I didn't understand the addiction issue. That is the way he dealt (with the death)," Eisenmenger said.
Falasiri's rug business was incorporated in 1986 and has long been considered a mecca for islanders seeking expensive, hand-woven Middle Eastern rugs.  Eisenmenger said the store will remain in business along U.S. 1 in Vero Beach.
Born in Iran 62 years ago, Falasiri came to the U.S. on a student visa in 1968. He married Barbara Bannister in 1990. The couple has two children. Daughter Chance Falasiri attends Rutgers University and  son Kayvon Falasiri attends the University of Colorado.  Stepson  Preston Bannister-died in May 2011, after fighting brain cancer for six years.
"(His opium use) went from a social, cultural type of thing to a (means) of coping with his grief," Eisenmenger said. "…It's all too sad of a story."
In the end, when federal agents tracked a bundle of Iranian rugs stuffed with opium and sent through Turkey to avoid detection to his client's store, Falasiri's arrest became a blessing, Eisenmenger said.