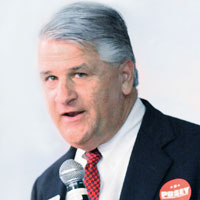 Zorc accused of inflating assets in election filing
STORY BY STEVEN M. THOMAS, (Week of October 4, 2012)
Photo of Tim Zorc.
Tim Zorc's personal finances have become a central issue in his contest with Anthony Donadio for the District 3 County Commission seat, with opponents claiming he has grossly overstated his assets to avoid appearing to voters as a business failure.
Donadio's campaign is being orchestrated in part by Pointe West developer Chuck Mechling, a former business partner of Zorc. The two shared in a multimillion dollar deal gone south which is still in litigation. The bad blood between Mechling and Zorc seems to have oozed into the county commission campaign.
Zorc denies any inaccuracy or impropriety in the financial statement he filed in June with county Supervisor of Elections Leslie Swan.
Florida law requires candidates for public office to fill out and swear to the accuracy of a document entitled "Form 6 – Full and Public Disclosure of Financial Interest," showing assets, liabilities and net worth, so voters have access to that information prior to casting a ballot.
On his Form 6, Zorc claims as assets $3.35 million in receivables due to Southern Classic Homes, a company he owns one-third of that has been foreclosed on and which has net remaining assets worth less than $700,000, according to public documents and one of the company's other owners.
With the $3.35 million in receivables and another $779,000 he says is due him from Southern Classic Homes to offset $4.41 million in his reported liabilities, Zorc claims a net worth of $232,991. Without the Southern Classic assets his disclosure form would show a negative net worth of more than $4 million. 
Swan says her office does not vet the accuracy of financial disclosure statements it receives.
"We are merely the custodians of the documents," says Swan. "Our responsibility is making sure they are filed on time. If there is a question or complaint about accuracy, that is handled by the Florida Commission on Ethics.
Ethics Commission spokesperson Kerrie Stillman says filing a false or inaccurate report may be punished by disqualification from being on the ballot, removal from office or a fine of up to $10,000.
Zorc went into business with Mechling and his partner Stephen Melchiori in March 2005, buying one-third interest in Southern Classic Homes, LLC and its subsidiary Southern Classic Homes Signature Series, Inc., to build homes at Pointe West and other subdivisions.
Zorc was named president of the Signature Series subsidiary and in August 2005 he signed documents with Wachovia Bank taking out a revolving $3 million line of credit to finance lot purchases and construction of new homes, putting up lots and home contracts for collateral to draw against the line for operating expenses.
Seven months later, in March 2006, when the housing boom was at its peak, he signed another contract increasing the credit line to $5 million.
Shortly after that, the real estate slowdown hit homebuilders in Vero Beach and across the country and Southern Classic Homes Signature Series, Inc. faltered.
According to public documents, it did not pay ad valorem taxes on the lots and unsold homes it owned in 2007 and 2008, and in September 2008, it stopped paying interest on the outstanding balance on its credit line.
In August 2012, Wells Fargo Bank, which ended up with Wachovia's assets after the housing bust, filed a lawsuit against Southern Classic Homes Signature Series, Inc. and its three owners seeking $3.45 million in damages.
Mechling says the company's only remaining assets are some finished lots at Pointe West worth less than $700,000.
That means there is not nearly enough value in the company to satisfy what looks like a slam dunk lawsuit, let alone return to Zorc the $3.35 million in receivables he claims as assets on his financial disclosure form.
Beside the receivables, Zorc also lists as assets $360,000 in back pay, $319,000 he says is due him as repayment of a loan to Signature Series, and $100,000 worth of stock in the failed enterprise. According to Mechling, the stock valuation is a bit high.
"I will sell you my stock in Southern Classic Homes Signature Series for $100," he says. "No, make that $50. In fact, I will give it to you in exchange for a meal if you take me out to lunch."
In other words, according to Mechling, the stock and the company are worthless, aside from the $700,000 in land value which is owed to the bank five times over.
There are also other claims on the company's slender remaining assets that would have to be satisfied before Zorc would see any money.
To be fair, Mechling's critique of Zorc's financial claims has to be considered in light of his outspoken support for Donadio, the man running against Zorc for the District 3 seat. But documents back up his assessment.
The Wells Fargo lawsuit identifies no other assets except 10 lots at Pointe West as the property it is attempting to foreclose on in its $3.45-million suit. Those lots have a list value of $530,000, though it seems likely they would sell for less in the current market.
Mechling says there are another five lots worth around $200,000 somewhere in the mix.
Zorc says his asset claims are accurate despite the insolvent condition of Southern Classic Homes for two reasons.
First, in a lawsuit filed Feb. 9, he alleges Mechling looted Signature Series by transferring its assets to Pointe West, a company Mechling controls, without Zorc's knowledge or consent after he stepped down as president.
Mechling says the allegation is wholly false.
Even if true, it doesn't seem the alleged fact would alter Zorc's financial circumstances because Wells Fargo is also foreclosing on Pointe West, seeking $20 million in a lawsuit filed in September. That makes it unlikely Pointe West would be able to pay restitution to Southern Classic Homes if any is due.
Zorc's other justification is that he consulted with the supervisor of elections, the ethics commission and experts in the field of financial reporting to make sure his disclosure was accurate.
In a statement provided to 32963 Zorc wrote: "As a successful businessman for many decades, it is no wonder that my financial reporting could be confusing and complex to someone who is not well qualified to understand such things . . . . I am not aware of any errors on my Form 6. Any error that may be discovered is not intentional. If found, any error, no matter how large or small, will be amended on the report immediately. My report is based on the best information I had available at the time I prepared my Form 6. Until I am shown otherwise. I stand by the report submitted."
Despite that statement, it is difficult to imagine how Zorc will ever recoup the millions he lists as assets.
Stillman says the Florida Commission on Ethics does not routinely audit candidate financial disclosure forms.
"There has to be a complaint made," she says. "If someone alleges a report is false, the report is reviewed to see if the commission has authority to investigate. If we decide to investigate, we obtain records and statements so the commission can determine if a violation has occurred and, if so, what the penalty will be."