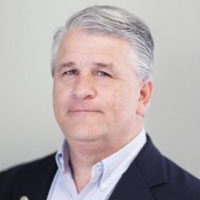 Zorc and backer of political rival embroiled in lawsuits
STORY BY STEVEN M. THOMAS, (Week of September 27, 2012)
Photo of Tim Zorc.
Tim Zorc, who is running against Tony Donadio for the District 3 county commission seat being vacated by Gary Wheeler, is embroiled in a series of high-dollar lawsuits with Chuck Mechling, one of Donadio's chief supporters.
Mechling is the developer of Pointe West, a large residential golf community on SR-60 west of the Indian River mall.
Zorc went into business with Mechling and his partner, developer Stephen Melchiori, in March 2005, buying a one-third interest in Southern Classic Homes, LLC and its subsidiary Southern Classic Homes Signature Series, Inc., to build homes at Pointe West and other subdivisions.
Pointe West was launched and Southern Classic Homes created as a development vehicle in 1999 by Mechling and Melchiori, according to public records. The community and company thrived during the housing boom.
The same day Zorc bought into the Mechling/Melchiori homebuilding enterprise, he was named president of the Signature Series subsidiary.
In August, Zorc signed documents on behalf of Southern Classic Homes Signature Series with Wachovia Bank taking out a revolving $3 million line of credit to finance lot purchases and construction of new homes. 
Seven months later, in March 2006, when the housing boom was at its peak, he signed another contract increasing the credit line to $5 million.
Sometime after that, the real estate slowdown hit Pointe West and its homebuilders.
According to a lawsuit filed by Wells Fargo Bank, in September 2008, the company stopped paying interest on the outstanding balance on its credit line.
Zorc, Mechling and Melchiori all then signed personal guarantees for the $5 million credit line, committing their personal assets along with company assets as collateral.
The Wells Fargo suit names Southern Classic Homes Signature Series, Inc. and the three men as defendants along with several other entitites seeking $3.45 million in damages.
Since the sole remaining assets of Southern Classic Homes Signature Series, Inc. appear to be 10 lots worth less than $500,000 in total, the company will not be able to satisfy much of the judgment.
That would seem to put the personal assets of the three men in jeopardy.  Zorc says the impoverished condition of the signature series company is due to malfeasance on Mechling's part.
In a lawsuit filed Feb. 9, he alleges Mechling looted Southern Classic Homes Signature Series by transferring its assets to Pointe West.
Paragraph 22 of Zorc's complaint is illustrative. It reads:
"Mechling used Pointe West, his alter ego, as a straw-man to accept and then sell the lots to DR Horton for substantially more than Pointe West paid Signature Corp. for the lots; after which Pointe West retained, for the benefit of Mechling and to the determent of Zorc, the additional monies that should have been paid to Signature Corp."
Mechling says the allegation is false. "Tim was the president; he was in control of the checkbook. How could I do that without his knowledge? The bank was fully aware of all transactions and all proceeds went to the bank."
More recently, on Sept. 6, Wells Fargo filed another related lawsuit, as successor to Wachovia, seeking to foreclose on the undeveloped portions of Pointe West as recompense for a $20 million debt.
Zorc says Mechling recruited Donadio to run against him because of their bad business history but Mechling denies that.