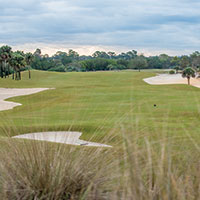 Moorings purchase of Hawk's Nest looking like a huge success
STORY BY RAY MCNULTY

The full impact of The Moorings Yacht & Country Club's $2.5 million acquisition of Hawk's Nest Golf Club might not be known for years, but the early returns seem to mark a major development on the island private club scene
More than 200 new members have joined The Moorings since last spring, when the full-service, island-based club began its pursuit of Hawk's Nest, a 300-acre mainland property that contains a 7,046-yard, Jim Fazio-designed golf course.
According to Ursula Gunter, The Moorings' membership and marketing director, 114 of Hawk's Nest's 144 members have become full members since the purchase was finalized on Oct. 1. In addition, more than 100 new members joined prior to Aug. 1, when the club increased the price of its memberships.
The joining fee for a full membership jumped from $25,000 to $55,000 as a result of the added value of having a highly-rated, full-length, championship-caliber golf course to supplement the club's riverside, 4,434-yard, par-64 short course designed by Pete Dye.
In an April letter explaining The Moorings' interest in acquiring Hawk's Nest, club president Joe Vargas told members that "many new, younger retirees and professionals are looking for a championship long course" and "adding a long course will set us apart in the marketplace and assure the future growth and financial stability of our wonderful club."
Thus far, he has been proven right.
"In terms of membership, we are nearing our cap and closing in on 1,000 members," Gunter said in an email. "We are continuing to sell memberships through the next few months, however we anticipate a wait list starting in the near future.
"Since Oct. 1, membership activity remains strong," she added. "We have sold approximately 10 new memberships and are fielding inquiries daily from prospects."
A full membership includes access to two golf courses, yacht club, tennis club, fitness center and spa, kids zone, fine and casual dining, bridge and Mah Jongg, and club events.
During the summer months, in fact, The Moorings fully renovated and slightly reconfigured its Dockside Grille, the popular, pool-side gathering spot that offers casual dining, drinks and socializing – the club's answer to Quail Valley's Tiki Bar.
The improvements to Dockside and the adjoining Commodore's Room included new carpeting, painting, furnishings and kitchen equipment, as well as a slight expansion to the bar.
Gunter said the club also will be investing $1.3 million over the next five years in its new campus, which is located at 6005 Old Dixie Highway – north of Vero Beach – and has been rebranded "Moorings at Hawk's Nest."
"In the first four months, we have purchased a new golf-cart fleet and invested in new turf equipment, including a $70,000 fairway mower, and major infrastructure improvements to the clubhouse, course-maintenance operations and overall facility," Gunter said.
Golf rounds are up 30 percent at the Hawk's Nest campus and 10 percent at The Moorings course through the first four months of the fiscal year, despite record rainfall this season, Gunter said.
"We have received a fantastic response from former Hawk's Nest members as well as Moorings members," said Bob Gruber, the club's golf director. "The integration is going very smoothly, and members from both clubs are realizing what a win-win this is."
He added: "Hawk's Nest members are thrilled to be able to play championship golf on a track they know and love, and also have the ability to use the fitness center, tennis courts, spa, yacht club, and dining and events available on the island at The Moorings."
More important, though, is what the acquisition of Hawk's Nest is doing for The Moorings. The club now can accommodate golfers of all ages and abilities on two of the area's most picturesque courses.
Hawk's Nest was built along the same sand-based ridge as Red Stick, John's Island West, Bent Pine and the Indian River Club, as well as the county-owned, aptly named Sandridge Golf Club.
However, Hawk's Nest was carrying a debt of slightly more than $2 million, had lost more than 100 members since its pre-recession heyday and needed a long-term solution to the financial challenges confronting many stand-alone golf clubs in a shrinking industry.
That's why Hawk's Nest members voted in late May to sell their 28-year-old club to The Moorings.
Gunter echoed Gruber's remarks about the successful merging of former Hawk's Nest members with The Moorings membership.
"Former Hawk's Nest members are using The Moorings Club facilities and Moorings members are playing golf and dining at Hawk's Nest," she said. "Member satisfaction is high and will continue to climb as we strive towards the ultimate goal of excellence in all we do."