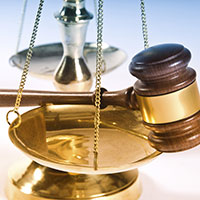 Hit-and-run driver offered plea deal in Orchid man's death
STORY BY RAY MCNULTY

The case against the woman charged with killing Orchid Island winter resident Peter Meyer in a hit-and-run accident in Savannah, Ga., in January 2015 might not go to trial.
The lead prosecutor said he has made a plea offer to Darcia Lavonde Hymon, who faces felony charges of vehicular homicide and leaving the scene of an accident involving injury or death. Under Georgia law, she could receive between three and 15 years in prison if convicted.
"There's no agreement yet – we're still negotiating – but there's no hurry," Chatham County Assistant District Attorney Frank Pennington said. "We've got a couple of months to get something done."
Hymon's next court date is Aug. 31, when Superior Court Judge Penny Freesemann is expected to set the case for trial if no plea deal is reached. Assistant Public Defender Robert Attridge, who is representing the 50-year-old Jacksonville woman, did not return several calls to his office.
In an email sent last month to Orchid Island resident Pat Walsh, one of Meyer's former Merrill Lynch colleagues and closest friends, the victim's daughter expressed relief that a plea deal was in the works.
"We spoke to the DA last week and the defense attorney has approached him about a plea negotiation," Sue Ross wrote. "It's good news that we won't have to endure a trial."
In that same email, Ross asked Walsh to approach her father's Orchid Island friends and Merrill Lynch business colleagues and neighbors about sending "victim impact statements" – written expressions of how Meyer's tragic death affected them – to the judge.
"The statements will be part of the permanent record and will be considered in the sentencing, but, just as important, by the parole board when she is eligible for parole," Ross wrote. "I would love to flood the courts with letters."
She said Pennington requested the letters be sent "sooner rather than later," and that she hopes to get them this month. Also, she invited her father's friends and business associates to attend the sentencing, if Hymon accepts a plea deal.
"A full courtroom would be awesome," Ross wrote.
Meyer, 72, was driving from his home in Quechee, Vt., to his winter residence at the Orchid Island Golf & Beach Club on Jan. 4, 2015, when he stopped for the night in Savannah.
Traveling with his beloved Yorkshire terrier, Chili, Meyer checked into the midtown Residence Inn. It was already dark when he walked across Abercorn Street to have dinner at the Bonefish Grill, near the Twelve Oaks Shopping Center.
Meyer was struck by an SUV as he waited in the crosswalk to return to his hotel.
The impact knocked his body into some bushes, where it was discovered more than an hour later. Police told his family that he was killed instantly.
The case went unsolved for 10 months – until the Savannah-Chatham Metro Police Department's Crimestoppers program received a call from an anonymous tipster who identified Hymon as the hit-and-run driver who killed Meyer.