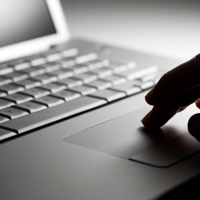 Island man accused of computer hacking
STORY BY ALAN SNEL

A nasty soap opera involving the owner of a Miracle Mile consignment shop and three former workers has resulted in the store owner's husband being charged by the Indian River Sheriff's Office with illegally hacking into an online account belonging to one of the ex-employees last September.
James Timothy "Tim" Wakeland, 52, who lives in the River Ridge neighborhood in the south barrier island, is married to Jordan Wakeland, owner of Labels at 2050 6th Avenue.
Wakeland was charged with an offense against computer users, a third-degree felony, and was booked at the Sumter County Sheriff's Office at 5:40 p.m. May 17 on a warrant that had been issued four days earlier by Indian River County.
There was no explanation of why Wakeland turned himself in at the Sheriff's Office in Sumter County, but Sumter is 150 miles and two and a half hours from Vero Beach – well outside the circulation and coverage area of Indian River County newspapers.
Wakeland, who is listed on state documents as a manager with Labels, is also a Bank of America loan officer, according to his attorney John Unruh and public records. He is accused of accessing the www.realreal.com account of former Labels worker Reetu Haave, according to the Indian River Sheriff's Office warrant affidavit.
Realreal.com is an internet consignment site where people sell luxury goods online, and receive 60 percent to 70 percent of the sales price.
Indian River Detective Kevin Heinig wrote in the warrant affidavit that Wakeland told a Vero Beach Police detective his wife "popped open" Haave's realreal.com account with a password obtained from a "source."  Tim Wakeland also had an assistant checking Haave's realreal.com account twice a day, according to the warrant affidavit,  
Unruh told Vero Beach 32963 Wakeland is innocent.
"It's a shame that an honest, hard-working couple like the Wakelands have to go through this because of unfounded allegations," Unruh said. "The truth will come out and prove that Reetu Haave is a liar and a thief and she's doing her best to damage the reputation of these honest people."
"The Wakelands believe Reetu has stolen items from the Labels store and sold and attempted to sell them on eBay and on realreal.com and she's making accusations at the sheriff's office," Unruh added.
Reetu, however, said she had done nothing wrong, and added that a city police investigation of the Wakelands' accusations found no evidence of a crime being committed.
Labels sells women's clothing, shoes and pocket books with fancy designer names. In 2015, the Wakelands contacted Vero Beach Police because they suspected Haave, along with two other workers, of stealing items from their store.
The Vero Beach Police nine-page investigation report includes a number of allegations and counter allegations made by the Wakelands and the former employees. 
While the Wakelands accused Haave and former co-workers Abby Wright and Kathy Toole of stealing items at Labels, Haave said the Wakelands made the theft accusations only because she had joined Wright and Toole in going to work for a new rival consignment shop called Threads, also located in Vero Beach.
After a lengthy investigation, Vero police did not bring charges against Haave or the other former Labels employees "due to lack of physical evidence, no witnesses, no further information provided, no distinctive features to investigate on the missing property and conflicting information," according to a Dec. 17 report prepared by officer Sean Crowley.
Ironically, it was the Vero Beach Police investigation into the Wakelands' complaint against Haave that led to the sheriff's office charge against Wakeland.
County detective Heinig cited Wakeland's statements about gaining access to Haave's computer account from the city police investigation in his county warrant affidavit.
Heinig told Vero Beach 32963 that the sheriff's office – and not city police – filed the charges because Haave's computer account was allegedly accessed at a location outside the Vero Beach city limits. He said Jordan Wakeland was not charged because her husband could not be forced to testify against her. For that reason, his comment to police about her involvement presumably could not be used in court.
Wakeland was released on bond the same evening he was arrested. He did not respond to attempts to contact him at his wife's store or by email.