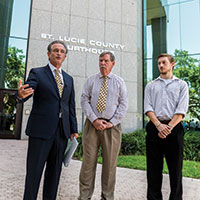 Emergency room doctor Dudley Teel seeks full inquiry into wife's death
STORY BY NICK SAMUEL
Photo: Attorney Guy Rubin, Dr. Dudley Teel and Connor Teel address the media outside the St. Lucie County Courthouse in Ft. Pierce.

Former Riomar resident Dr. Dudley Teel has hired an attorney to investigate the death of his wife Susan Teel, 62, who was shot by Indian River County Sheriff's Deputy Jonathan Lozada July 26 at the couple's home in the 600 block of Carriage Lake Way, Vero Beach.
Teel and his attorney Guy Rubin held a press conference at the St. Lucie County Courthouse on Friday to announce the investigation.
Rubin said there was never any indication Susan Teel, who was 5-feet-2 inches and 118 pounds, was a threat to anyone other than herself.
Officials said at the time that Susan Teel, who was depressed and threatening suicide, lunged at Lozada with a butcher knife.
"We're not here today asking for criminal charges against the deputy," Rubin said at the Aug. 4 news conference. "What we're asking for is fairness, transparency and integrity."
He said he and his client don't know yet if a civil lawsuit is coming.
"We're not going to put the cart before the horse," Rubin said. "We'll let the facts play out, see what the evidence is and make a determination."
According to Sheriff Deryl Loar, Dr. Teel found his wife in the bathtub cutting her wrists with a razor knife shortly before 8 p.m. on July 26.
Loar said the Sheriff's Office believes Dudley Teel contacted his daughter, Sara Gordon, who was not at the home, and asked her to call 911.
In the 911 call, which was released July 27, Gordon told a dispatcher "My mom just tried to kill herself." She also said that her mother might be intoxicated.
Lozada arrived at the scene within three minutes and spoke to Dr. Teel, who told him Susan Teel was upstairs trying to harm herself.
"He ran upstairs with the intention of saving her life," Loar said. "When the deputy entered the bedroom, she became combative."
A taser was not used and it's unknown if the deputy had time to warn Susan Teel to drop the knife, Loar said. When asked about the possibility of shooting the woman in the leg, Loar said, "We're not trained to shoot the leg."
Loar hasn't commented on the number of times Susan Teel was shot, but Rubin said three shell casings were found at the scene. Information on where bullets struck her has not been released. 
Dr. Teel said he and his wife were married for 40 years and that Susan was wonderful. He said they had just moved into the home on Carriage Lake Way.
"We spent lots of time together, sat on the back porch, had coffee and watched the birds," he said at the news conference. "She would go to the gym and work out and I would go walking. We would get back about 1:30 and go play golf and go out to dinner that evening."
"We were the happiest we had ever been," Dudley Teel said. "Then, she got into this spiral of depression, secondary to some of the incidents that happened at the home."
He declined to elaborate on the incidents, but said Susan Teel had been taking anti-depressants for a year. Rubin said an incident July 24 where Susan Teel's son, James Teel, attacked her at her home was probably a major factor in her inconsolable depression.
Sheriff Loar previously said deputies had been called to the home several times within the past few years, with some incidents involving other family members.
The Teels lived at a home on Lady Bug Lane from 1984 until 2003, according to court records. They had four children: James Teel, Sara Gordon, Emily Riegger and Connor Teel. 
Dudley Teel has been an emergency room doctor on the Treasure Coast for more than 30 years, Rubin said. He was issued a medical license in 1984, has worked for the Indian River Medical Center and currently works for the Sebastian River Medical Center, according to court records and the Florida Department of Health.