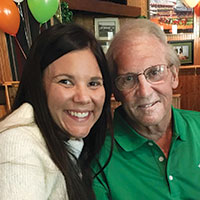 He's baack! Bobby returns to his restaurant on St. Patrick's
STORY BY RAY MCNULTY
Photo: Bobby McCarthy with his daughter, Mallory.

St. Patrick's Day is a festive occasion at Bobby's Restaurant & Lounge, where the bar area again this year was decorated with shamrocks, leprechaun hats, and green, white and orange balloons.
Last week's celebration, though, was particularly memorable.
"This was my target date," said Bobby McCarthy, who opened his popular, beachside eatery 36 years ago. "It's been tough going the past three months, but I got through it. I'm about 90-percent back.
"My balance is still out of whack, but I'm working out three days a week and I'm getting there," he added. "It was important to me to be here today."
It also was important to dozens of his green-clad customers, many of whom hadn't seen McCarthy since he suffered a seizure and collapsed at the restaurant on Dec. 13.
When McCarthy, wearing a Kelly-green golf shirt and khaki shorts, walked into the bar shortly after noon last Thursday, a standing-room-only gathering filled the room with applause and welcomed him back with handshakes, hugs and kisses.
The 67-year-old restaurateur soon put down his cane and joined his wife, daughter and grandchildren in a bar-side booth, where a steady stream of customers, friends and employees stopped by to wish him well, remark on the nearly 40 pounds he had shed and ask when he expected to return to work.
Some of them took photographs with him, though he later admitted that repeatedly getting up and down affected his balance. Not that he was complaining: He was thrilled to be back at Bobby's and back among friends.
"I'm a lucky guy," McCarthy said, adding that he hopes to return to work in the next two or three weeks. "The friendship and support I've received the past three months has been incredible. The people who came to visit me in the hospital, the phone calls, all the get-well cards ... I must've gotten 600 of them.
"A lot of these people aren't just customers or employees; they're friends," he continued. "Even the doctors still call me to see how I'm doing. But if you do right by people – if you treat people the right way – it comes back 100-fold.
"It's tough being away, especially during the season, because I miss being here and seeing everyone. I really didn't expect all this today, but it means a lot to me."