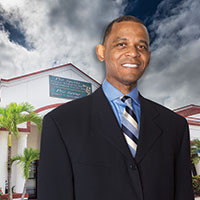 No bail for surgeon being held on drug trafficking charges
STORY BY BETH WALTON
Photo: Dr. Johnny Benjamin

Vero Beach spine surgeon Dr. Johnny Benjamin Jr. will have to stay in jail as he awaits trial on federal drug trafficking charges after a judge in West Palm Beach ordered him held without bond.
The evidence against Benjamin remains uncontroverted, said Federal Magistrate Judge John Hopkins at the Oct. 25 detention hearing. Since he is accused of manufacturing and illegally selling drugs that resulted in death, it would be hard not to see him as a danger to the community or a flight risk, he said, calling Benjamin's case one of the most tragic he has seen in his career.
The defendant became aware the Fentanyl he allegedly sold was hurting people and it appears he proceeded to obstruct justice anyway, Hopkins said. He has large debts, is facing a potential life sentence, and had more than 20 loaded guns at his house.
The United States Drug Enforcement Agency began investigating Benjamin last year after tracing the source of fentanyl-laced oxycodone that led to the 2016 overdose death of a Palm Beach woman.
The Pro Spine Center physician has been incarcerated since his Oct. 12 arrest after allegedly stealing the phone of an undercover informant involved in the investigation during a heated exchange at his office.
After his arrest, the U.S. government charged Benjamin with two felonies: conspiracy to possess with intent to distribute a controlled substance resulting in death, and attempted possession of a controlled substance with intent to distribute.  He faces life in prison if convicted on the first charge.
Benjamin is currently being held at the Palm Beach County Jail. An arraignment hearing is set for November pending an indictment by a grand jury.  At that time, Benjamin will enter a written plea of not guilty, according to his attorneys.
A federal prosecutor spoke at length in the West Palm courtroom during the Oct. 25 hearing, arguing the doctor should remain in custody as he awaits trial. There is no doubt that people will say that Benjamin was a good man, but those people aren't seeing the defendant in custody here today, said Assistant U.S. Attorney John McMillan.
He said Benjamin had distributed poisonous, counterfeit drugs and discussed dealings with violent criminals. He had "guns galore" in his residence and car.
The courtroom gallery, lined with two rows of Benjamin's friends and family, sat quietly as the prosecution played a video of Benjamin outside his Vero Beach office. The doctor, dressed in business attire, accepts a brown bag which authorities say was filled with thousands of fake, Fentanyl-laced oxycodone pills and places it in the trunk of his Mercedes.
The doctor is a registered controlled substance prescriber in Indian River County and holds staff privileges at the Indian River Medical Center. Fentanyl is a powerful, addictive narcotic often used as a cutting agent by heroin dealers. Misuse and over-prescription of the opioid has become a serious problem in the United States, resulting in tens of thousands of deaths.
In a secretly recorded conversation played in court, Benjamin acknowledges he understands the dangers of the pills he has received, and says he will warn his buyers, but adds that there is a reason why they distribute far away from where they live.  "At some point someone is going to have a problem, someone is going to do something stupid, and when it does it needs to be so (expletive) far away," he tells the informant.
At no time was Benjamin pressured, McMillan told the judge. Instead, the opposite is true. "Benjamin exists as a guidepost as to how to commit the criminal activity better," he said.
Shortly after his arrest, DEA agents searched Benjamin's island home on Painted Bunting Lane and found more than 20 loaded firearms, including two AK-47s and an AR 15 rifle, said McMillan. Two loaded pistols were in the sports car the doctor used to traffic the drugs, he said.
The physician was recorded discussing his involvement with professional criminals in Philadelphia and he is tied to a Michigan State Police drug investigation for a commercial marijuana growing operation, the prosecutor added.  He was charged with a felony in that case, but later plead to a misdemeanor. All this fits with Benjamin's plans to do things far away from where he lives.
Sitting at the defense table, shackled and handcuffed, Benjamin was no longer wearing the shirt and tie he had on in the video played before the court. The doctor looked straight ahead in his prison-issued navy jumpsuit as his attorneys argued for his pretrial release. They offered a $500,000 bond secured by the property of his family members and a $150,000 cash contribution from his father.
Friends and family have come to this courtroom today from all over the country to vouch for him, said a defense attorney Larry Donald Murrell. The guns in his house were legal and stored in a locked case. The ones in his car were in a holster and the doctor holds a concealed carry permit.
Murrell spoke of several Vero Beach community members who wrote letters or were willing to speak on Benjamin's behalf – people like Merchon Green with the nonprofit Pioneering Change, Anthony Brown with the local NAACP and his mother, Jacqueline Warrior, an Indian River County education and racial equity advocate who holds a doctorate degree in psychology.
The most remarkable story comes from a high school valedictorian Benjamin met at a commencement ceremony, Murrell said. She was struggling to pay for college, and even though the two had never met before, Benjamin offered to help her continue her education. The doctor, who has no children of his own, bought her a used car and offered her an allowance so she didn't have to work during the first two years of her studies.
At the hearing, Dr. Robert Mills, a Fort Lauderdale surgeon, testified that he met Benjamin some 25 years ago when the two were both young, aspiring doctors. Mills said he had no doubt Benjamin would meet his obligations to the court and that he did not believe the doctor would harm anyone.
But, during cross examination, the prosecutor asked Mills if he was aware his friend was dealing in counterfeit Fentanyl-laced oxycodone, and if he, as a medical provider, would prescribe such drugs or attempt to manufacture them on his own. Mills answered no. Those allegations, he said, did not match the doctor he knew.