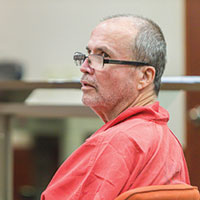 Accused island killer seeks hypnotist to recall details of his wife's murder
STORY BY BETH WALTON

An island man's request to use hypnosis for help recalling events that led to his estranged wife's murder prompted an assistant state attorney to suggest that pretrial arguments were entering into the realm of the ridiculous
Asbury Perkins II, who was indicted for first-degree murder in 2015, told Circuit Court Judge Cynthia Cox it was his right to introduce hypnotically-induced testimony in court.
Perkins is acting as his own attorney as he stands trial for the murder of Cynthia Betts, whose gunshot-riddled body was found rolled up in a rug in the couple's home on Seagrape Drive on the island.
Investigators claim Perkins confessed to shooting his wife because "she took money out of their banking account without his knowledge and because she continually nagged him." 
Perkins has been found indigent by the court. Fees related to his defense, such as mental health evaluations, investigative and forensic work – including hypnosis – and the assistance of standby counsel, are paid for with public funds.
"My memory is not clear on the morning of the incident," said Perkins, who, according to court records, is planning an insanity defense. The court-appointed mental health expert, psychologist Bruce Borkosky, could use hypnosis to help him recall what happened, he said.
Perkins wants permission to hire a videographer to record the exchange per statutory guidelines. He said he was obligated to tell the prosecution of his plan.
Perkins was unable to explain why the court should side with his request, other than to say it was a legal right. He provided two cases to back up his claims, but could not detail specific legal arguments.
"I think we're on the verge of ridiculousness," assistant state attorney Christopher Taylor told the judge in the Indian River County courtroom. "It would not be relevant because [hypnotically-induced testimony] is so unreliable."
Florida case law varies on the use of hypnosis in trial, Cox told the parties after doing a preliminary review from the bench.  One court decided a jury should decide if such testimony is credible, while another left it to  the discretion of a judge.
Cox reserved ruling on Perkins' motion.
Betts was found dead in her home Nov. 3, 2015, after her father asked authorities to check on her.  He hadn't heard from his daughter in a few days and there was a history of domestic violence between her and her husband, according to an affidavit for Perkins' arrest.
Perkins was inside the residence near the Moorings with the dead body in the laundry room, the report notes. Someone had shot the 63-year-old woman four times, Detective Ross Partee wrote in the report.
There was a blood trail between the laundry room and a bedroom and a loaded .38 caliber revolver in a dresser drawer, Partee noted. "Perkins advised that he was going to put Cynthia Betts' body in the trunk of her car and then drive it into a lake, but there were complications with his plan," the report notes.
Perkins intends to argue his wife's behavior propelled him into temporary insanity, court records show. Betts' prolonged mental and emotional cruelty caused severe emotional distress, he wrote in a handwritten notice to the court flied last September. This resulted in "an irresistible impulse so extreme that the defendant, although knowing right from wrong, could not control his actions," he said.
The couple had violent run-ins as far back as 2008, court records show. Besides being married, they were partners in a home-based business, Target Electronics, which marketed products to the military.
Perkins is being held at the Indian River County Jail without bond. A trial date has not yet been set.