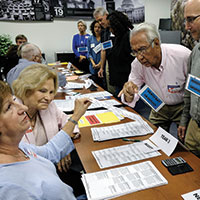 Florida vote: Claims again of irregularities – but not here
STORY BY RAY MCNULTY

The supervisors of elections from each of Florida's 67 counties meet twice each year to discuss the latest technology, security threats and other issues connected to their jobs.
The hot topic for the 2018 midterms?
"We had cyber-security pounded into our heads," Indian River County Supervisor of Elections Leslie Swan said. "It was all about intrusion-detection systems and how to prevent hacking. And after all that, it turned out to be something totally different."
It turned out to be another Florida election in which Palm Beach and Broward counties made national headlines for disputed results, botched recounts, equipment glitches and legal challenges – all of which provided late-night comedians with plenty of material.
"We've all heard the jokes about Florida's elections," Swan said, referring to the mocking the state has endured since the hanging chads of the 2000 presidential race. "But a big reason we end up in the national spotlight is because we're a large state and a swing state that's evenly divided.
"We have very close elections."
Such was the case again this year, when Florida's midterms featured high-profile, hotly contested races for a U.S. Senate seat and governor. Both required recounts.
Unlike Indian River, where Swan said the elections and state-mandated recounts went smoothly and produced only minimal changes in vote totals, the aforementioned South Florida counties again served up plenty of controversy, including Palm Beach's overheated counting machines and Broward missing a recount deadline by two minutes.
Swan said she couldn't comment on the Broward situation "because I really haven't been paying attention to it," but she knows her much-maligned Palm Beach County counterpart, Susan Bucher, and is very familiar with the antiquated voting equipment used there.
That same system was used in Indian River County until 2017.
"The biggest problem with those older machines is that they're limited: You can recount only one race at a time," Swan said. "We've done it before with that equipment, but only for one race. They've been dealing with four races and a lot more ballots."
Palm Beach was required to complete a machine recount of nearly 600,000 ballots and, because of the aging equipment's limitations, didn't come close to beating the state-imposed deadline with only eight ballot-counting machines.
Swan said Palm Beach is the only county in the state still using the equipment purchased in 2007 from Sequoia Voting Systems, a California-based company that is no longer in business.
Bucher has repeatedly requested funding to update the voting system in Florida's third-largest county, and she's hoping to receive more than $11 million from Palm Beach commissioners when they embark on their budget- approval process in the spring.
"You'd have to think she'll get it now," Swan said.
Swan had no such problem here. Three years ago, she alerted county officials to the need to upgrade her voting system and asked them to start setting aside money for the purchase.
She submitted her formal request in early 2017, seeking $1.4 million to purchase new state-certified, more-secure voting equipment produced by Election Systems & Software, and the county commission approved it.
After putting it out for bid, Swan was able to buy the new system for only $944,000 last year. ES&S now provides voting equipment and support to more than 40 Florida counties.
"I was trying to be in compliance with state law, and I knew it would take some time to come up with the money, so I started early," Swan said. "The county put the money aside, and it's worked out great.
"Programming the old system was a bear," she added. "We program our own elections, and just to set up an election – not only recounts – was more difficult. This company is awesome. They even have a help line we can call when there's a problem."
There were no problems this year, Swan said, with voting or the two recounts, which revealed little discrepancy with the initial results. Similarly, she knew of few complaints from voters about the process.
One reason, she surmised, is that more voters are opting to vote early or by mail and fewer are casting ballots on Election Day. In fact, only 25,423 people voted on Election Day, while 25,699 voted by mail and 23,870 voted early.
The only puzzling result locally was the large under-vote in the U.S. Senate and Florida gubernatorial elections.
"All in all, I'm happy with how things went," Swan said. "We had a great system in place, a great team at the polls, and my staff did a great job."
She's even happier she's not the supervisor in Palm Beach or Broward counties, where her peers are again the butt of Florida election jokes.
"I love my job, but I wouldn't want theirs," Swan said of the supervisors in Palm Beach and Broward. "If I had to deal with what they're going through, I'd probably be in a hospital by now."