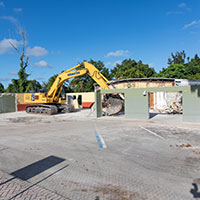 Lawnwood prepares to build an ER on the former site of the Quilted Giraffe
STORY BY MICHELLE GENZ

Relief for Indian River Medical Center's crowded emergency department may be coming from an unlikely – and perhaps unwelcome – source. HCA, owner of Fort Pierce's Lawnwood Regional Medical Center, is moving forward quickly with plans to invade Indian River County and build a freestanding emergency room.
If completed – as soon as next summer, provided permits are forthcoming – it could become the only 24/7 healthcare facility in the county other than Indian River Medical Center and Sebastian River Medical Center.
The facility also marks the entry of hospital giant HCA into the southern Indian River County market; currently HCA has no presence along the coast north of Fort Pierce until you reach Jacksonville.
Last fall, HCA made it to the final round in the bidding to take over Indian River Medical Center. After entertaining Vero hospital leaders at its Aventura and Coconut Grove hospitals – Lawnwood was notably not on the tour – HCA lost out to Cleveland Clinic last January.
Cleveland's IRMC takeover has been approved by local hospital leaders and currently is moving through government regulatory hurdles. Cleveland also has announced plans to acquire the Martin Health System, which includes a hospital in Tradition just 15 miles on the other side of Lawnwood.
Beyond feeling surrounded, Lawnwood was jolted in July when three of its highly specialized neurologists decamped for Vero to turn IRMC into a comprehensive stroke center.
But last Thursday night, the news was more positive for Lawnwood when its South Vero project got a partial green light from the Indian River County Planning and Zoning Commission.  "We're waiting for site plan approval and the building permit," said Rick MacDonald, project executive at Proctor Construction.
The 11,000-square-foot, single-story facility is expected to take eight months to build once permits are issued, according to MacDonald, It will include an ambulance bay, a CT scan, X-ray rooms, and a bariatric treatment room.
MacDonald would not discuss costs, but a similar facility being built by HCA near the Mall of the Milllenia in Orlando is expected to cost $10 million, according to news reports. Two other HCA freestanding ERs are planned for Orlando and Sanford.
Proctor Construction submitted a bid in late July and won out over several large, out-of-town general contractors, including one who had built 13 freestanding ERs, according to MacDonald. "They like to use local folks, so they came to us," he said.
Proctor built the Scully-Welsh Cancer Center at Indian River Medical Center, among several other projects at the hospital. The company's work at IRMC dates back to 1985, when it did the first renovation of the emergency room.
Demolition has already begun on the Quilted Giraffe site, which is zoned for general commercial use and is adjacent to the South Vero Square shopping center anchored by a Publix. According to county records, two parcels totaling 1.29 acres were sold to Lawnwood in July for a total of $1.99 million.
Today, the former restaurant and a small office building on the site are encircled by a chain link fence and are undergoing demolition. "The fence went up last week and we've been nibbling at the building," said MacDonald.
A recently posted sign out front has a mock-up of the new ER, with a banner, "Your go-to ER is coming soon!" next to the HCA logo.
Freestanding ERs, while new to Vero, have been a trend for the past decade; one expert tallied 400 in 32 states in 2016, and projected another 800 to 1600 in the future.
Costs at freestanding ERs are significantly higher than at urgent care centers because like a hospital ER, they charge a facility fee as well as fees for professional services. HCA's freestanding ERs are required by the federal law known as EMTALA to accept all patients with life-threatening emergencies regardless of ability to pay. Typically, though, such off-site ERs tend to treat less severe conditions and symptoms, more in line with what an urgent care would treat.
Last year, HCA Holdings announced a broad expansion of its urgent-care and free-standing emergency departments in 14 of its biggest markets, including Orlando. HCA had a record capital budget that year of $2.9 billion, and planned to open 19 new locations by the first part of this year. With multiple HCA marketing personnel not responding to 32963 inquiries, it's not clear whether the Vero project is tied to that expansion, which was to have added 48 urgent care clinics and 19 freestanding ERs system-wide by the end of 2018.
HCA is the largest investor-owned healthcare company in the nation. It has 169 hospitals and posted revenues of $41.5 billion in 2016. The company courted IRMC aggressively, promising the largest capital outlay if they were selected: $386 million over 10 years, plus an additional upfront payment of $75 million.
The south Vero facility will be the first freestanding ER affiliated with Lawnwood. HCA's other hospital in St. Lucie County, St. Lucie Medical Center, has a freestanding ER 10 miles away in western Port St. Lucie. Built three years ago, the 11,000-square-foot facility at Darwin Square has a bay for ambulances, separate pediatric rooms, a lab, and imaging and diagnostic equipment including a 32-slice CT scan.
In addition to freestanding ERs, HCA owns the urgent care clinic brand CareNow, a privately-held company acquired by HCA in late 2014. Along the Treasure Coast, there are five CareNow clinics in south Fort Pierce, Port St. Lucie and Jensen Beach.
"While we can't predict the impact this (new Lawnwood ER) will have on healthcare ... the healthcare landscape is changing everywhere," said Cleveland Clinic spokeswoman Heather Phillips. "Our focus remains on our commitment to advance care and access across southeast Florida and work together for the benefit of patients."
While Cleveland Clinic Florida hasn't built freestanding ERs in Florida, it is about to acquire one in its takeover of Martin Health Systems. The Martin Emergency Center at St. Lucie West was built in 2009.
While freestanding ERs do not have in-patient rooms, they sometimes spawn micro-hospitals or full hospitals. Two weeks ago, Florida Hospital announced its freestanding ER in Winter Garden will be expanded with a seven-story, 100-bed hospital. That required a certificate of need from the state; freestanding ERs do not.
Indian River County, the south Vero location, is close to ample vacant land. Apart from the adjacent shopping plaza, "it's sitting out there all by itself," said MacDonald.
It is also near the intersection of U.S. 1 and the recently widened Oslo Road, which is slated for an interchange on I-95 due to be completed in 2027.
While other healthcare systems are scaling back on freestanding ER construction, HCA's president and COO Sam Hazen – soon to become CEO – pinned its expansion to heavy volume in its hospital ERs, according to Modern Healthcare.
Freestanding ERs have generated considerable controversy in the healthcare industry. Unlike urgent care centers, the nation's 400 freestanding ERs can charge hospital prices, and, according to one analysis, patients with the same diagnosis can be charged 10 times the fee they would pay at an urgent care facility.
Experts worry that convenience rather than the severity of an injury or illness may be driving consumer use of freestanding ERs, and that in turn will contribute to soaring healthcare costs.
Contrary to HCA's move here, freestanding ERs are typically going up in middle- to upper-income neighborhoods where residents are more likely to have commercial insurance – and providers are more apt to be paid.
HCA has instead chosen a location convenient to moderate- or low-income neighborhoods along the Oslo Road corridor, to its north along U.S. 1 and south to Indrio Road in St. Lucie County.
Though the freestanding ER will be affiliated with Lawnwood, it is not known whether patients needing more intensive treatment or overnight stays would be taken exclusively to Lawnwood, a Level II trauma center, or if they could opt for Indian River Medical Center, which is considerably closer, not only for emergency transfer but for visiting family members.
At HCA's Port St. Lucie freestanding ER, there is an arrangement with an ambulance company to transport patients needing more extensive care or an overnight stay to the ER's affiliated hospital, St. Lucie Medical Center, and requests to go elsewhere may require extra arrangements and incur added costs, according to a staffer there.