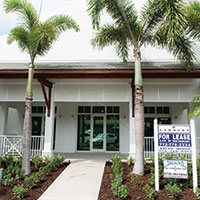 'Very interested' restaurateurs eyeing Ocean Drive location
STORY BY RAY MCNULTY
Photo: New restaurant under construction on Ocean Drive.

Several parties have shown interest in leasing the new restaurant under construction on Ocean Drive, according to Vero Beach-based commercial realtor Billy Moss, who said he's hoping to have a contract signed within the next two months.
"There's nothing final yet, and the property is still available, but we have some very interested suitors and we're working on it," Moss said last week. "We're getting a lot more interest now that the building is taking shape.
"People buy with their eyes, and they're excited about what they see," he added. "We're just looking for the right tenant."
Moss, a Lambert Commercial Real Estate agent who specializes in selling and leasing restaurant properties, said he has been marketing the property from Miami to Los Angeles and that he's getting interest from "individual entrepreneurs and well-known chefs" in Vero and other parts of the country.
He would not identify the parties, saying only that he's using his coast-to-coast connections in the restaurant business to attract potential tenants, all of whom he said probably would serve lunch and dinner.
"Everyone has different ideas," Moss said, "but all of them also consider the bar business to be very important."
The property, located across from Bobby's Restaurant & Lounge, is owned by Sony Investment Real Estate Inc., the Miami-based company that also owns the adjoining buildings to the north and south, on the west side of Ocean Drive, between Acacia and Banyan roads.
Moss, who took over the listing in April, said Sony is seeking a tenant that will sign a five-year, triple-net lease for the restaurant – the tenant would pay all taxes, insurance and maintenance expenses that arise from the use of the property – with rent of $12,000 per month.
"But everything is negotiable," he said.
Sony is hoping the restaurant will be open for business this coming winter, Moss said, adding that, once a contract is signed, the build-out for the restaurant's interior should be completed within 90 days.
Moss said Sony president Jose Valle, who owns a home on Vero's South Beach, has flown in prospective tenants from Miami to show the property.
Sony received approval from the Vero Beach City Council last year to build a 2,685-square-foot, 143-seat restaurant on the site.
Vero-based Parent Construction was hired to build the structure's shell, and the tenant will help design the interior.
"This is a very important property for Vero Beach – not only for the people who live in this community but also for our guests and the tourists who come here," Moss said. "I'm an old-time deal maker, and my goal is to make the best deal for the owner and Vero Beach."
Enthusiasm for a successful new restaurant on the site is not universal.
Some island residents and nearby business owners have voiced concerns about a busy restaurant's impact on an already-challenging parking situation along that stretch of Ocean Drive, especially during Vero Beach's crowded winter season.