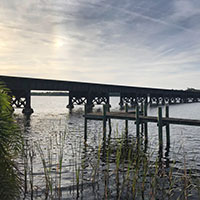 Homeowners worry about new bridge for Virgin Trains
STORY BY GEORGE ANDREASSI

Homeowners near the 93-year-old St. Sebastian River Railroad Bridge fear pile driving during construction of a new bridge for the Virgin Trains USA passenger rail project could damage their homes.
"I'm worried about the foundation," said Maria Leclair, whose small, concrete-block home on 133rd Court in Roseland sits about 100 feet from the train tracks.
"My biggest concern is the house being shook and damaged," Leclair said last week. "If they do cause damage, are they going to fix our houses?"
Leclair has received a certified letter from Virgin Trains asking permission to inspect her house before and after the railroad bridge construction to determine whether pile driving operations cause any structural damage. Many of her neighbors got a similar letter.
"This is being done to protect the interests of property owners, Virgin Trains and its contractors in the rare instance any damage may result from vibratory or impact driving of sheet wall elements," the letter says.
But the letter did not explain what VTUSA intends to do if post-construction inspections find structural damage in homes caused by construction.
Work on the new railroad bridge linking Brevard and Indian River counties is expected to start in 2020 and last 30 months, VTUSA officials said.
Virgin Trains anticipates providing passenger rail service between Orlando and Miami in late 2022 after completing new railroad tracks from Orlando to West Palm Beach, a date that has repeatedly been pushed back and still seems optimistic to some observers.
A new railroad bridge across the St. Sebastian River is needed to handle the addition of 34 VTUSA passenger trains per day expected to use the tracks owned by Florida East Coast Railways. FECR operates about 20 freight trains per day that rumble north and south across the existing bridge.
The planned construction includes installing sheet pile wall elements. Piles will also be driven into the riverbed to anchor columns that will support a construction trestle, a new western bridge and a new eastern bridge.