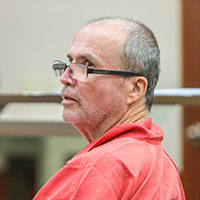 Taxpayers dig deep for murder defense
STORY BY FEDERICO MARTINEZ
File photo of Asbury Lee Perkins in court.

Florida taxpayers have coughed up $170,000 so far to pay for the defense of Vero Beach resident Asbury Lee Perkins, who is charged with premeditated murder in the 2015 shooting death of his estranged wife at a house on South Beach. By the time Perkins' case is over, the cost to taxpayers could be close to $1 million, according to court documents, attorneys, judges and other legal experts.
That's because Perkins, who was deemed indigent after his arrest on Nov. 4, 2015, has fired multiple assistant public defenders and private court-appointed attorneys during the past three years and four months, prolonging proceedings, and filed a blizzard of motions and requests while acting as his own attorney for much of that time.
Perkins, 60, was arrested Nov. 4, 2015, and charged with the shooting death of Cynthia Betts, 63, at her home on Seagrape Drive. Deputies said at the time that Perkins admitted to killing her.  But he later pled not guilty and has been housed at the Indian River County jail for the past 40 months.
During that time, he has forced the court to hire multiple private detective firms, psychologists, ballistic experts and forensic experts – along with a hypnotist and videographer – to try to build a defense against the life-and-death charge he faces. By law, the state must pick up the tab for Perkins' defense, spending the taxpayers' money to make sure he gets a fair trial.
Besides hiring a slew of professionals to assist him, Perkins has also filed an astounding 263 motions thus far that have slowed his case and added to the cost of trying him – even though the vast majority of his motions have been denied and deemed nonsensical. And a trial date is still nowhere in sight.
"His whole strategy is to drag this case out for as long as possible," said one attorney who was appointed and then dismissed by Perkins.
The attorney asked that his name not be used because Perkins on several occasions has subpoenaed former attorneys and added them to the list of witnesses he wants to question during his trial.
"The judge is in a very difficult position because if he doesn't allow Perkins' access to the experts he requests, he can claim he was denied a fair trial. That's why Perkins is filing so many motions – he's blowing smoke, and he's very good at blowing smoke. He hopes the judge screws up somewhere along the way."
According to court records and invoice statements from the Florida Justice Administrative Commission, the state has paid approximately $120,000 to private court-appointed lawyers who have represented Perkins for various lengths of time during the past three years as counsel, co-counsel or stand-by counsel when he was acting as his own lawyer.
That is addition to money that was paid to salaried assistant public defenders in the 19th Circuit Public Defender's Office who represented him.
The state has also paid more $50,000 to various experts requested by Perkins, including $19,000 for a forensic expert and private investigator firms, $7,233 for a hypnotist and videographer, and $6,400 for ballistic experts.
The almost $200,000 spent on Perkins so far is just the tip of the iceberg, the attorney who represented him said. If Perkins is found guilty, he is certain to appeal.
"We'll be having the same conversation about Perkins in 10 years, but by that time we'll be talking about $1 million, not $200,000."