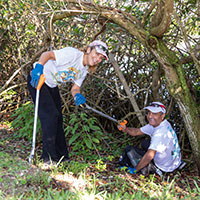 Still time to sign up for Saturday's Coastal Cleanup
STORY BY SUE COCKING

If you want to do something to help the Indian River Lagoon, there's still time to sign up for the Indian River County edition of the world's largest volunteer trash pick-up – the 34th annual International Coastal Cleanup – set for this Saturday
More than 500 have registered at www.keepindianriverbeautiful.org to collect trash on foot, underwater, from kayaks and boats at some 20 sites along the county's lagoon and ocean beaches. Keep Indian River Beautiful executive director Daisy Packer says she can always use more volunteers – especially at four lagoon sites managed by the Indian River Land Trust.
"There's not as much trash on [ocean] beaches since the king tide has taken everything," Packer said,"[but] the trash that washes into the lagoon is just stuck there."
Packer added that more trash could still show up along the ocean, as debris pushed across from the devastation in the Abacos and Grand Bahama Island earlier this month washes ashore.
Keep Indian River Beautiful will supply volunteers with gloves, trash bags, data cards, pens and – while they last – tee shirts. Late registrants are asked to call 772-226-7738 to secure a site.
The 2018 event drew about 900 volunteers who collected more than 15,000 pounds of trash – mostly small pieces of plastic less than two inches, Packer said. The second most discarded items were cigarette butts, followed by plastic beverage bottles.
Volunteers are asked to jot down the types of refuse they collect or log it on the free Clean Swell app.
The Ocean Conservancy, which organizes the international cleanup, downloads all data worldwide and compiles an annual report that's available to the public as well as U.S. and United Nations ocean policymakers. Last year, more than 1 million volunteers in 122 countries collected about 23 million pounds of trash.
Local volunteers are asked to bring water and sunscreen and to wear closed-toed shoes.  The event will run from 9 a.m. to 11 a.m.