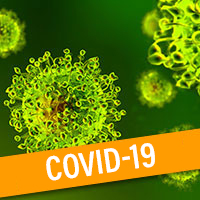 Easing of curbs here sees surge in COVID-19 cases
STORY BY LISA ZAHNER

The number of Indian River County residents who tested positive for the coronavirus shot up by 28 in one week, with almost all the new cases under 50 years of age, including three children and an infant.
An 84-year-old resident of an assisted-living facility who died brought the county's death toll to 11, and eight long-term-care facilities are actively battling COVID-19 outbreaks in their communities.
Florida had reported nearly 65,000 cases of COVID-19, with 11,000 people hospitalized at various times over the past three months, and 2,712 deaths statewide at press time. Yet it's supposedly safe enough to get a massage, a tattoo or a haircut, or to view a first-run movie on the big screen again.
It's safe enough to pull up a stool at the local watering hole and drink a cocktail, or to dine indoors in a restaurant. It's safe enough to visit the dentist or get a routine medical procedure. But apparently it's not safe enough yet for you, the taxpaying public, to enter and move freely about the people's government buildings.
"Please note the Florida Capitol is currently closed to visitors in response to COVID-19," is the welcome message plastered on the home page of the building that houses the offices of Florida Gov. Ron DeSantis, plus the Florida House of Representatives and the Florida Senate.
This same state government moved most of Florida to full Phase Two opening last Friday.
Vero Beach City Clerk Tammy Bursick said of city offices, "City Hall is not open yet. However, when we do open, masks will be required."
Indian River Shores Town Manager Joe Griffin said, "We have opened with restrictions." One person at a time can now enter town offices, but the new community center remains closed.
Mayor Tom Slater said Monday that everything in the town is still "fully functioning," that the post office has re-opened so that one person at a time can enter, and that in-person town meetings resumed in May. "We're following guidance from the state and the county," Slater said.
Indian River County offices are a bit more open, but most county employees are still in a protective bubble. "Most county offices are still open by appointment only and we are encouraging the public to continue taking advantage of our online services as much as they are able," said county spokesman Brian Sullivan, adding that people should find the "Appointment Request tab" for guidelines.
To make an appointment, you must click "Yes, I agree" to adhere to social distancing and hand washing requirements. Children or other family members are not permitted, and all visitors are strongly encouraged to wear a mask.
A Vero Beach 32963 staff photographer on official business at the county administration building last week reported that within the closed doors, county employees were not wearing masks.
"Although we strongly encourage it, the county does not have a requirement that staff or visitors wear masks," Sullivan said.
Vero Mayor Tony Young confirmed that City of Vero Beach employees also do not wear masks in their own offices. He said city employees have a general "comfort level" with their co-workers and even though they are in close quarters, most do not wear masks in the building.
"City Hall is not closed," Young said, pointing out that despite offices being closed to general foot traffic, the public is now allowed to attend council meetings in person. And Young said he is still accessible and ready to meet with constituents should they have a concern. He said people should contact him directly or call the city clerk's office.
Young said there are no immediate plans to resume normal City Hall access to the public. He said that while  Vero sent a resolution to Tallahassee asking Gov. DeSantis to move swiftly in reopening Florida's economy, he did not see this as being hypocritical. He said city employees should not be put at undue risk as they show up for work to keep the city running smoothly.
"As the state's planned reopening is progressing, the city is mirroring that," Young said. "It's a tightrope to walk, getting people back to work and protecting our most vulnerable."
Private businesses of course have the prerogative to keep their doors closed to customers or clients if they feel that's prudent. If a business is not ready to reopen, or prefers to keep employees working remotely, that's a private decision.
But should government employees being paid by taxpayer dollars be allowed to remain closed, or open by appointment only, while the officials of those same government bodies are saying it's perfectly safe to throw the doors wide open to the entire economy?
By not opening all government buildings immediately, officials are sending a mixed, confusing message about how safe it is to be out in public.
The old saying, "Do as I say, not as I do" perhaps applies here.
If residents want to truly gauge whether it is indeed "safe" to go back to business as usual in the age of COVID-19, maybe the best test is whether you can walk unfettered into every government building and office.