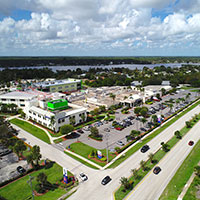 Sebastian River Medical Center gets 'D' grade for safety from Leapfrog; Cleveland Clinic Indian River gets 'B'
STORY BY MICHELLE GENZ

At a critical time for patient safety concerns, Sebastian River Medical Center has slipped to a 'D' for its Leapfrog Hospital Safety score – down from an 'A' one year ago, which was up from an 'F' the year before that.
The 'F' grade, one of only two in the state, was widely publicized when the Leapfrog Group, a national hospital safety organization, made the announcement in spring 2018.
The jump to an 'A' grade in spring 2019 was proudly cited by Sebastian River executives as a sign of strong new leadership under its parent company, Steward Health. Now, the hospital has fallen back to a 'D'.
While Sebastian River offers testing for COVID-19, it has very few COVID-19 positive in-patients. That is because Steward Health has decided to consolidate patients with the disease at Rockledge Medical Center, one of two hospitals it owns in Brevard County. That move is intended to limit the spread of the disease as well as to conserve personal protective equipment.
Cleveland Clinic Indian River, which has dealt with most of the county's COVID-19 hospitalizations, earned a 'B' as its safety score – the same grade it has for the past three scores.
"Patient safety and quality care are at the center of everything we do, and our goal is to not only meet quality standards, but exceed them," said hospital spokesperson Scott Samples. "We are constantly striving to enhance the level of care we provide. That includes incorporating industry best practices to improve quality and ensure patient safety."
Lawnwood Regional Medical Center in Fort Pierce also earned a 'B' as did Cleveland Clinic Martin Health's three hospitals in St. Lucie and Martin counties. Sebastian River's sister hospitals in Brevard County, Melbourne Regional and Rockledge Regional, both scored 'C's. So did Sebastian River's competitor to the north, Palm Bay Hospital.
Cleveland Clinic Weston got an 'A' just as it did in the fall. Leapfrog grades come out twice a year.
Sebastian River's 'D' grade included below-average scores in C. difficile infections and infections in the urinary tract, with a better than average score in surgical site infection after colon surgery. The Sebastian hospital appeared to do well in addressing problems in surgery, with none of the seven measures falling in the below-average range. But practices to prevent errors were problematic in four categories: safe medication administration, handwashing, communication about discharge, and communication about medicines.
Bedsores were a problem area at Sebastian as were patient falls and injuries. And issues with staff fell below average in five out of six categories: Nurses and ICU doctors were in short supply, the hospital safety institute found, and communication with doctors and nurses fell below average, as did responsiveness of hospital staff.