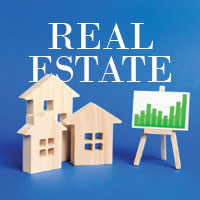 Island housing market still strong, but is 'the great deceleration' coming to Vero?
STORY BY STEVEN M. THOMAS (Week of June 2, 2022)

Real estate Jedi are feeling a disturbance in the force.
Island brokers say they're seeing subtle but significant changes in the housing market as a nationwide phenomenon Fortune.com last week labeled "the great deceleration" comes to Vero.
More houses are coming on the market, and some are lingering longer, pushing inventory slightly higher and leading to price reductions, something seldom seen in 2021 and the first couple of months of 2022.
The market isn't crashing. Demand for homes in Vero still far outpaces supply and prices are still rising. But, according to Douglas Elliman broker associate Sally Daley, "anyone who thinks this is the same market we were in during January and February isn't paying attention.
"There's still a ton of excess demand but it is like we have gone from racing down the highway at 150 miles an hour to going 120."
The change – if it continues and becomes more pronounced – could bring some relief to buyers and be the beginning of balance returning to the market.
The shift came suddenly.
Inventory rose 12 percent nationwide in April compared to March, according to cnbc.com and other sources. By the third week in May, "the supply of homes jumped 9 percent compared to the same week a year ago," the first time in a long time inventory was up year-over-year.
ONE Sotheby's broker associate Hank Wolff first noticed something was going on in mid-April when the local "hot sheet" got longer.
"Throughout the first part of the year the market was generating about 20 new listings a week [countywide], but in the last two weeks of April that jumped to 45 per week," Wolff said.
When the May numbers for Indian River County come out, they will almost certainly show the first year-over-year inventory increase in since 2020.
On the barrier island, new listings increased from six in February and eight in March to 31 in April, according to figures provided by Wolff. The trend continued in May, with 26 homes coming on the market by May 25.
Even with more new listings and longer days on market for some properties, standing inventory on the island inched up only slightly, but other stats reinforce the sense that sellers are losing some of their power.
"The biggest shift we are seeing is that 25 percent of the active listings have had price reductions," Daley told Vero Beach 32963 last week.
"My staff tells me that for the first time, more inventory is trickling in, there are more price reductions, and some listings are expiring unsold," agreed ONE Sotheby's broker associate Mike Thorpe.
Thorpe said the slowing market is due to a range of factors, including rising interest rates and "psychology and sentiment. A lot of our island clients are wealthy, second and third home buyers who have seen a diminishment of their equity assets.
"That gives them pause and might cause them to put off buying that third home or condo. For the first time in years, some of them are starting to watch and wait instead of rushing to purchase."
"So much of real estate is about confidence," said Daley. "Some of what has been happening in the world has shaken buyers' confidence a little bit. A buyer who's been hurt in the equity market who was thinking about a $600,000 purchase, may now be thinking $500,000."
The same factors giving buyers pause are pushing more sellers to list, according to Wolff.
"Perhaps sellers and their listing agents viewed the interest rate hike and stock market correction as the first indication in a long time that buyers may lose some momentum or perhaps lower their budget," he said.
"The island has a large percentage of cash deals, so the interest rates are less of a factor [than on the mainland], but the S&P 500 is down 14 percent year to date. If a buyer with $1,000,000 stock portfolio in January looks at that account today and sees $860,000, that would have to be factored into their mindset. Sellers might be trying to get ahead of that scenario and take advantage of the today's market."
"Home sellers are in a hurry to find a buyer before demand weakens further," Redfin chief economist Daryl Fairweather said last week, according to a cnbc.com article.
"Higher home prices and sharply higher mortgage rates have reduced buyer activity," said National Association of Realtors chief economist Lawrence Yun. "Housing supply has started to improve, albeit at an extremely sluggish pace."
One paradox that jumps out of the current real estate picture is the phenomenon of many more price reductions during a time when overall home prices in Vero Beach continue to increase.
The median price of a single-family detached home in Indian River County jumped from $320,000 in April 2021 to $390,000 last month, according to the Realtors Association of Indian River County, and Wolfe said the median price on the island was up from $750,000 to $880,000.
Daley said price reductions are in a specific band of the market where buyer pullback is showing up first.
"It transcends price point," Daley said. "It has to do with the condition of the home and its amenities. Houses in great condition, that are up-to-date and of the moment, and have amenities like being on deep water or between the bridges or having a beautiful pool still go instantly, but houses that lack amenities or aren't in such great condition aren't moving as fast or selling as high.
"Those houses were flying off the shelf at the height of the market but now homes that are lacking in some way or need upgrades aren't attracting buyers to the same degree, in part because of ongoing uncertainty about remodeling costs and timeframes. People don't want a house with a 15-year-old roof that may be uninsurable or one that needs other work because they don't know how much the projects will cost."
Berkshire Hathaway agent Chip Landers agrees.
"Buyers will still pay a premium for houses in perfect condition with features they like, but if it is just an ordinary house and needs updates, there is no way they are going to overpay," he said. "They just won't do it at this point."
Landers said price reductions are also due to sellers getting "overly optimistic" after many months of dramatic price gains.
"If you tell them the house is worth between $500,000 and $525,000, they want to list at $600,000. A lot of times that price ends up being adjusted when there are few showings and no offers."
"Some people have gotten a little too heady about asking prices," Daley said. "Analysts are now advising sellers not to try and put a 'no-inventory price' on their homes, especially homes that are livable but not of the moment."
Despite the tangible market shift, island agents all say the housing market here remains unusually strong due to the fundamental dynamic of supply and demand.
"The good news is [deceleration] ... hasn't affected us too radically because it will take a long while to work through pent-up demand and replenish our inventory," said Thorpe.
"Serious buyers are still out there in big numbers ready to pull the trigger as long as the price is somewhat reasonable," said Landers.
Experts say the housing market here will continue to be supported by pandemic-era migration patterns, which are bringing some 900 new residents to Florida each day.
Ten of the top 15 fastest-growing places in the Untied States are in Florida, according to U.S. News and World Report's latest analysis, including two markets that bump up against Indian River County – Port St. Lucie at No. 7 and Melbourne at No. 12.