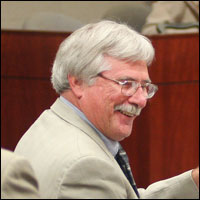 Wilson out; Council openness out too
BY LISA ZAHNER - STAFF WRITER (Week of December 10, 2009)
A day after Charlie Wilson was removed from offi ce, the changed dynamic of the Vero Beach City Council was immediately obvious Tuesday as the three holdovers from last year quashed Brian Heady's efforts to keep interviews for Wilson's successor public, instead choosing to conduct most of the process in City Hall back rooms.
Heady, who along with Wilson was elected to the Council in November on a wave of voter anger over the secrecy that surrounded the new 20-year electric contract with the Orlando Utilities Commission, pleaded with Council members to interview candidates to succeed Wilson on television.
"I think it is important that we do it publicly and that the public see it. The public needs to see this process happen," Heady said.
"If we go behind closed doors and do this, the public is never going to buy into this. It's public business and should be in the public eye and anything less than that I'm going to vote against," Heady said.
In the end, no one supported Heady's motion to interview all candidates in public session, so it died on the floor. And the other three Council members did not need his vote. They did the most political thing, despite a variety of speakers who pleaded with the board to either appoint the next highest vote getter in the November election, Ken Daige, or keep interviews in the open.
Swayed by arguments from Councilman Tom White and Vice Mayor Sabin Abell that the city has used a tried-and-true process of interviewing candidates for its various boards and commissions – which are not elected offices — Mayor Kevin Sawnick fell in line opposite Heady.
"If there's nothing political going on in the backroom, then do it in front of the public," Heady said.
The eagerness of old-time City Council members and senior city staff to be rid of Wilson – whom a judge on Monday ordered removed from the Council because he did not meet the city's one-year residency requirement for office – was on clear display at Tuesday's Council meeting.
Not only had Wilson's nameplate been expunged overnight from in front of his empty seat on the Council dais, but when Councilman White suggested that perhaps they ought to wait a month before fi lling the seat because of his right to appeal, City Attorney Charles Vitunac quickly slapped down that proposal.
"I think you could ignore the appeal," he told the Council.
But the key element in the plan the Council adopted for choosing a successor to Wilson is no matter how many candidates step forward and apply, the Council members intend to choose three finalists in a process that will be totally invisible to the public.
Abell and White both spoke out strongly in favor of having the applicants questioned by City Council members one-on-one, eliminating the possibility of any public record of the questions that were asked of them or the positions that were taken.
Abell conceded that the three finalists might subsequently be questioned in public.
"I think that by the time we get down to the final three, we will have a humane process," he said, noting both that private interviews prevented candidates from "piggy-backing" on each others' answers and that television coverage of public meetings could be disconcerting to some candidates.
A frustrated Heady protested, saying that any potential council member should be prepared to speak and answer questions in public and on television, because that's what the council does every time it has a meeting.
City Attorney Vitunac notified Council members that, though the one-onone meetings were, in themselves, not a matter of public record, any notes Council members took during those meetings would become public record.
Heady scoffed at this, saying facetiously, "Then I guess I won't take any notes."
Sawnick briefly wavered and said he would ask a city clerk to come in and take minutes of the interviews he conducts with candidates. Heady fired back at Sawnick's suggestion that having minutes was akin to on-camera interviews.
"If we are going to task the staff, then why not just do this in public?" Heady said.
Tom White described the need to conduct closed-door interviews by explaining how job interviews work in the world of private industry.
"When you apply for a job, you go in for an interview with the boss," White said. "We do that with all the boards."
In the instance of the city's many advisory boards, members are appointed by the City Council and board members serve at the pleasure of the City Council. Council members have the power to remove their own appointees if they disagree with them, are not happy with their performance or their attendance.
So, in that case, the Council members are, in fact, "the boss" to the appointee being interviewed for a volunteer post.
But the point Heady was trying to make throughout the discussion was that "the boss" in these particular job interviews for a seat on the City Council is neither the collective City Council nor any individual members. The bosses are the residents of the City of Vero Beach.
While Council members were battling over the process by which to take applicants from the larger pool of City of Vero Beach residents, another movement took hold, briefly, from the podium. Former Councilman Ken Daige, finished third to Wilson and Heady in the November election, requested that the City Council immediately appoint him to the seat.
"Please honor the vote of the people," Daige said. "Take all the politics out of it."
Daige went on to say that appointing him would allow the city to immediately get on with business.
Former Mayor Warren Winchester, who testified for the city in the Wilson case, spoke this time on behalf of all the people who summarily ousted incumbents Bill Fish and Debra Fromang and ushered in staunch critics of the city in November.
"I believe if there was a clear message given to the city during the November election, it was that they wished to see a different perspective on the city council," Winchester said.
In the Council members' discussion over when and where and how to question the people who wish to take a seat on the dais, Winchester reminded council members that an extensive interview process — with the voters — has already taken place.
"Look at the people that the people have looked at," Winchester said, gesturing to Daige, Jack Shupe and Susan Viviano, who all were seated in the gallery.
"All three of them have expressed a desire to serve. They've already been grilled by the people, grilled by the newspapers and grilled by the homeowners' associations," he said. "The process that you're talking about putting them through does not equate to the process that they were put through by the election."
Wilson's replacement will come from a list of candidates who submit a one-page resume to the city.
Those applicants will be interviewed on Jan. 6 in one-on-one private sessions with each City Council member, where they will be ranked. The basis of how the Council members will rank the candidates they interview was not made clear.
The three top-ranked candidates – however they wind up being anointed — will then go before the full City Council for public interviews in chamber on Jan. 12.
Barring any major diffi culties, the Council will choose a replacement at that meeting. Whoever is chosen will serve until the next municipal election in November 2010, when four seats will be up for grabs.
The terms of Abell, White and Sawnick all expire in 2010, and candidates for these seats will run for new two-year terms.
The seat previously held by Wilson will also be on the ballot in 2010, but candidates for that seat will seek a one-year term.
As for the man ousted by the courts earlier this week, Charlie Wilson, his future is yet to be determined.
On Monday, after Judge Kanarek ruled that Wilson was not eligible to run for office, Wilson was disappointed that he would not be able to return to his seat and fi ght for the people and the issues that got him elected. But he asked for some time to put everything into perspective.
"I think he (Kanarek) made an error and used the wrong standard," Wilson said. "The wrong information was presented to him, but I think he is a fair man."
He talked feistily about considering an appeal, then worried about how much it would cost and whether the community should be put through another battle.
"I don't know if it's worth it," Wilson said.
"Armed camps don't help anything, what we need is a complete change at City Hall," he added.
He issued a statement that said he had no regrets, that he did the right thing, but that the forces against him were too much. He left another run for office wide open.
Wilson came into the election as an old hand at politics. Not only has he run for offi ce several times before; he's run campaigns and worked as an operative. He predicted he and Brian Heady were the likely winners before anyone else saw Heady as a viable candidate.
But even Wilson learned a few things from his run for — and short term on — the Vero Beach City Council.
"I always thought that as long as you didn't take money that didn't belong to you, you didn't sleep with someone other than your wife and you didn't take drugs, they couldn't get you," Wilson said. "Now I know that they can."
Politically, some would say, Wilson did a lot of things right in his bid for offi ce. First of all, he took the time to get to know the issues and the players, time spent observing all of them from the outside as a citizen journalist, and also as a voter and taxpayer.
He attended just about every city and county meeting, as well as major public events. This was partially an effort to have people get to know him, but served Wilson well in what professionals call opposition research.
Wilson captured the attention — and the rage — of the public. Candidate Wilson, always accessible, always ready with biting one-liners.
But this was not enough to counteract the legal and political forces that did not want to see the white-haired rabble rouser on the council. Wilson took a shot that an ambiguously-written ordinance would not hold water if there was a legal challenge. In the end, a judge followed the intent of those who wrote the city's ordinance.
He encourages others to run for office and to fight for change, to not be scared off by what happened to him.
"It's been a brutal, one-sided fight," he said. "So if someone does want to run for office, they'd better be ready for anything."
Despite his experience and his aptitude for issues, some of Wilson's personal choices, in hindsight, did not reflect a lot of wisdom. It is still questionable — based upon information ferreted out by attorneys — whether he was truly fully living in the city, under what an average person would consider reasonable.
Wilson stands by his actions and sees his candidacy as a populist movement against a city government that would keep its citizens and ratepayers locked into an electric utility that has shaken them down badly this summer with soaring rates and which shows no promise of being competitive in the future.
As far as taking advantage of loopholes, Wilson has something to say about that.
"Being lectured about loopholes by a city that changed its number of (electric) customers they had to get around state legislation offered by the late Rep. Stan Mayfi eld is disingenuous at best," Wilson said, referring to an abrupt change in the way the city counted electric customers to circumvent legislation that would have required an independent authority to govern the utility.
No matter what he decides — to appeal, to run again next year, or just to blog about city offi cials in his newsletter — you can bet Indian River County hasn't heard the last of Wilson.
"If I have one thing to say to the public, it's don't give up," he said.