Vero Beach 32963, a weekly and online newspaper now in its ninth year of serving the Vero Beach barrier island, is published by Vero Beach 32963 Media, LLC, a locally owned media company.
Our editorial and business offices are located at 4855 North A1A, Vero Beach, FL 32963. While we prefer to be contacted by email at editor@32963staff.com, our phone number is 772-453-1196. For subscription or circulation inquiries, please call 772-226-7925. For advertising inquiries, email us at ads@32963server.com or call 772-559-4187.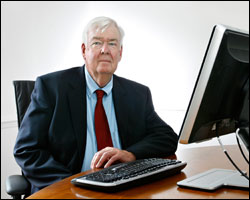 The CEO of Vero Beach 32963 Media and the Publisher of Vero Beach 32963 is Milton R. Benjamin, a former editor and executive of the Washington Post Company and United Press International who has lived in Vero Beach for 29 years.
The managing editor of Vero Beach 32963 is Steven M. Thomas. Before moving to Vero, Thomas was editor of a monthly magazine in Orange County, California, and is the author of two novels.
Assistant managing editor of Vero Beach 32963 is Michelle Genz, a newspaper reporter and writer for the Miami Herald and Tropic magazine. Associate Editor of Vero Beach 32963 is Paul Keaney, formerly front page editor of The Boston Herald.
The staff editor of Vero Beach 32963 is Lisa Zahner, a newspaper reporter for Florida Today. The society editor of Vero Beach 32963 is Mary Schenkel, who was previously society editor for Vero Life magazine.
Vero Beach 32963 Media, LLC, also publishes VeroNews.com, the only locally owned and locally focused online news resource for Indian River County. While VeroBeach32963.com is updated weekly, VeroNews.com is the place to go for the latest news, 24 hours a day.
Online editor of VeroNews.com is Debbie Carson, who joined us from newspapers in the Tampa Bay area.
Creative Director for Vero Beach 32963, VeroBeach32963.com, VeroNews/Sebastian River News and VeroNews.com is Dan Alexander. He is assisted with graphic design for Vero Beach 32963 by Robert Simonson, Jennifer Greenaway and Tania Donghia-Wetmore.
Photography for Vero Beach 32963, VeroBeach32963.com and VeroNews.com is provided by Denise Ritchie, Phil Sunkel, Leah Dubois and Keith Carson.
Vero Beach 32963 columnists and correspondents include Ray McNulty, Tina Rondeau, Ron Holub, John Owens, Rev. Robert and Dr. Casey Baggott and The Bonz.
Vero Beach 32963 is always looking for reporters, columnists, photographers and editors committed to doing a better job than existing media of covering the news that impacts the lives of the 17,000+ residents of the barrier island.