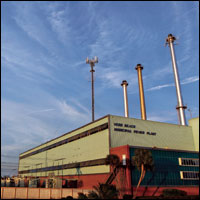 Vero electric consultants paid millions
BY LISA ZAHNER - STAFF WRITER (Week of December 10, 2009)
A Boston consultant and her handpicked Boston lawyers were paid more than $840,000 by Vero Beach electric customers for their work on locking the city into the new 20-year contract with the Orlando Utilities Commission, city records show.
By far the biggest moneymaker in this deal was Sue Hersey, who was hired to lead this effort even though earlier she had led Vero Beach's losing multi-million-dollar battle with the Florida Municipal Power Agency.
Hersey served as project manager and "expert witness" on the FMPA case. At that time, she was employed by Navigant Consulting, which billed the city $910,000 for battling FMPA. Then, right after the FMPA arbitration was over, she started her own company, and the City of Vero Beach soon became her major client.
Over a six-year period starting in 2003, Hersey, her former employer Navigant, and the out-of-state lawyers billed the City of Vero Beach $3 million for their work on these electric projects.
During this period, Hersey herself billed more than $60,000 for the time she spent driving to the Boston Airport, fl ying to Orlando and driving to Vero Beach, in addition to the nearly $40,000 billed for airfare, hotels, parking and tolls.
On some occasions, Hersey generously paid for meals with Vero Beach's top brass – and subsequently fi led for and obtained expense reimbursement from the city.
During the latest round of work on the Orlando Utility project, the City of Vero Beach paid $244,031 through Hersey to Boston law firms LeBeouf, Lamb, Greene & MacRae, and its successor, Dewey and LeBeouf. The firms were not required to submit time sheets directly to the City of Vero Beach detailing the work they had performed in support of hourly fees that ranged from $470 to $550. Instead, Hersey simply included their total fee each month on her invoices, as if the attorneys were working as a subcontractor to her.
LLGM was also used in the failed FMPA arbitration effort in 2003- 2005, but during that time it billed the city separately for the $1.1 million in legal costs. It also called in reinforcements during that earlier battle from Stuntz, Davis & Staffi er in Washington, D.C., which cost Vero another $135,000, mostly to work with key witnesses.
All of these fees – including those to the Boston and Washington, D.C. lawyers – were paid out of Vero Beach Electric Utility funds. The invoices were signed off on by top staffers and approved piecemeal on the City Council's Consent Agenda, where the amounts were not provided — just a summary of whom the city was paying and for what project.
To put the consulting costs in perspective, over six years they totaled a little less than the city spends annually for the entire Recreation Department employing 34 people and maintaining all the city's parks, pools, fountain, tennis courts, recreation buildings, classes, and beaches.
And the consultant tally is still mounting. Most recently Hersey and attorney Meabh Purcell were called into town to meet with investigators from the State Attorney's office as part of a grand jury probe into the OUC contract. Those detailed bills have yet to be brought to the council for payment.
Who was in charge? Who is to blame?
The lead-up to the FMPA arbitration began in the summer of 2003 and the case was finally ruled on in September of 2005. In response to citizen outrage over soaring electric bills, the city made a costly gamble that it could win a feud with its power provider, the FMPA. Records show the City Council was repeatedly told by top staffers that the city's position was a good one and it could win its fight.
At the time, Mary Beth McDonald was the mayor and Tom White the vice mayor. Councilman Sabin Abell and Councilwoman Debra Fromang were serving at the time, as was Bob Solari, now a county commissioner. Fromang and Solari came on board in March 2005, which was near the tail-end of the FMPA proceedings.
In the City Manager's office, there were a lot of people — some of whom are long-gone from the City of Vero Beach but who at different times played roles in the negotiations.
The procession of leaders requires a scorecard to keep up. City Manager Rex Taylor had been forced to resign in late 2003, ironically, over a scandal related to expenditures on consultants doing work for the electric utility. So the Interim City Manager at the time the FMPA case started incurring charges was Tom Nason.
David Merkarski took over in the summer of 2004, but was forced out in May 2005 amid an ethics probe. Former Police Chief Jim Gabbard slid over into the interim City Manager spot and was hired on in September 2005 as City Manager, and serves in that capacity to this day.
The city has recently gone through a half dozen directors of the electric utility, with Customer Service Manager John Lee an ever-present stand in, so it's almost impossible to track the chain of command there.
Charles Vitunac was promoted from Assistant City Attorney to City Attorney in 2002 after a tragedy in the family of City Attorney Julie Schutta. Vitunac was in his post throughout the FMPA process and the subsequent OUC deal. Vitunac, White, Abell and Fromang were the continuous presences during this era in the City's history.
On July 5, 2005, records show, Vice Mayor Tom White questioned the exorbitant fees being charged by consultants and attorneys to get the city through an arbitration process to get out of the FMPA deal. White pulled the request to pay an invoice off the Consent Agenda and discussed it with then-Utilities Director Paul Thompson.
He was told that the city originally had expected to pay Navigant a total of $250,000 and was assured that the city was nearing the end of the negotiations. Furthermore, Thompson assured White that once out of FMPA, the city would have "significant" savings.
The minutes went on to say that, at that point in July 2005:
"The cost for Navigant Consulting firm is $960,000 and the cost for attorney's fees so far is $966,000."
And that "both Mr. Thompson and Mr. Vitunac had good feelings that the City was going to win this case."
But the city lost the case, and then was forced to wait out the five years it had to fulfill before exiting the FMPA contract.
Fast forward about four years. Now the City of Vero Beach is getting ready to turn over its 34,000 electric customers to the Orlando Utilities Commission under another contract that has been cloaked in secrecy and is under grand jury investigation.
City Council steered and studied away from selling electric utility
Just a few months after Vero Beach lost the FMPA mediation and was left with a tab of more than $2 million in consulting and legal bills, the City Council again hired Boston consultant Sue Hersey to embark upon the next expensive adventure — deciding what to do after the FMPA contract would end on Jan. 1, 2010.
Newly minted City Manager Gabbard held a workshop with the City Council on electric issues on Jan. 31, 2006.
Hersey was hired to facilitate the workshop and the council authorized the first $6,500 for her to contact Florida Power and Light about contracting for power transmission to City of Vero Beach customers after Jan. 1, 2010.
We're not sure where those talks went, because the city soon embarked upon a market study and a base case study and put out a formal request for a new power provider who would work with — not take over or purchase — the city's electric assets.
But it was on Feb. 7, 2006 that the city every-so-briefly considered finding out how much the electric utility was worth.
From the minutes:
"Mr. Gabbard spoke to Ms. Hersey about this and she said that she would be happy to do this but it would cost between $300,000.00 to $500,000.00 and take several months to accomplish. Mr. Gabbard feels that the information may be valuable at some point, but at this time it is premature to do it. He advised Council at this time to hold off on this."
The Council went along with Gabbard's recommendation. This subject appears to have never come up again until the Special City Council meeting of Nov. 16, 2009.
Regarding the next three years of consultant work, how the $6,500 approved by the City Council for one small project mushroomed into the $842,000 that Hersey billed for her services and for legal fees between March 2006 and November 2009 is hard to understand.
While she charged Vero close to a cool million dollars for her services related to the FMPA mediation debacle, the City Council appears to have made no effort to see if alternative, possibly less costly consultants were available.
Council members instead signed onto what would become a veritable blank check made payable to Hersey and to the Boston-based law firm of Dewey & LeBeouf, the same group of lawyers, now operating under a different firm name, that lost the FMPA mediation.
The question of why the City of Vero Beach went all the way to Boston to hire a consultant and lawyers — and then kept them on the payroll after they lost a very important case — is still a matter for speculation.