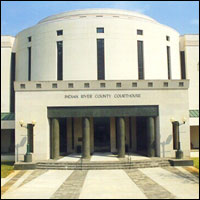 Grand Jury decides to not pursue electric probe
BY LISA ZAHNER - STAFF WRITER (Week of December 17, 2009)
State Attorney Bruce Colton may be looking into possible bid-rigging as part of a Grand Jury inquiry into Vero Beach's contract with the Orlando Utilities Commission, public records show.
The bidder which came in second, Florida Power & Light, a fact that was never disclosed to Vero Beach City Council members at the time the contract was awarded, confirmed to Vero Beach 32963 on Monday night that investigators had contacted it about the bid process, and said its employees were cooperating with the probe.
Email correspondence between Vero Beach and investigators show the State Attorney's office requested from consultant Sue Hersey copies of several documents related to the process by which the City of Vero Beach selected the OUC over FPL to become the power provider to the city's 33,000 customers as of January 1st.
Assistant State Attorney Chris Taylor would not comment on the content of the emails obtained by 32963, or on whether the scope of the investigation had expanded to include the bid process by which OUC was chosen over Florida Power & Light.
As part of the probe, investigator Edward W. Arens was sent via email a copy of the fi nal bid instructions and draft bid documents for the bid request issued by Vero Beach through Hersey's Boston office.
Arens also asked for a copy of the electronic presentation Hersey gave at the special call Vero Beach City Council meeting this past Nov. 16th about electric issues.
The Nov. 16 Powerpoint presentation incorporated a portion of the information which was given to each member of the City Council on April 7, 2008 during individual meetings in City Manager Jim Gabbard's office.
According to Gabbard, Electric Utility Director R.B. Sloan, City Attorney Charles Vitunac and Hersey were present with him at each meeting. Finance Director Steve Maillet was also present for the meeting with then- Councilman Ken Daige, as Daige requested a fi nancial perspective on the contract documents.
On the same date that Arens made his requests of Hersey, Gabbard received from Hersey a requested copy of the market study done by Hersey in 2003 while employed by Navigant Consulting.
The survey targeted 12 regional power providers — but not OUC — to be polled regarding their interest in doing business with the City of Vero Beach Electric Utility.
Survey results were collected from seven providers and the city was given results of the surveys, with the identity of the providers being kept secret. Hersey analyzed each respondent in relation to their assets, their involvement in the local area and their interest in providing power to Vero Beach, as well as their interest in possibly purchasing the power plant and/or the transmission and distribution assets of the city.
What is unclear is why those documents were not already in the city's possession since by law, the city is the record keeper of such documents.
Hersey in April, May, June and July 2007 mailed out the bid packets, answered correspondence and collected bid submissions from her homeoffi ce in Massachusetts. It appears from charges on Hersey's invoices for numerous postage expenses for mailing out bid packets and instructions that the city's purchasing office did not directly handle the bid documents.
Though the city maintains a purchasing department with clerical help, it paid Hersey nearly $300 per hour, plus mileage and expenses, to make copies at Staples, compile and package correspondence to bidders, and take bid packets to the post offi ce, presumably to keep the documents out of the Vero Beach City Hall and hence out of the public record.
Hersey did not return an email seeking comment or to clarify why she was requested to supply the bid documents to the investigator.
City Attorney Vitunac also did not respond to questions about whether or not the bid documents were being held solely by Hersey, or if the city retained copies of these documents.
The bid evaluation process, for reasons never made clear, was handled in Boston Sloan and Vitunac flying up for a meeting on March 17, 2008 to "review bid modeling," as detailed in an invoice.
Bidders were ranked by some asyet undisclosed criteria, and OUC was declared the winner over FPL — even though electric customers' rates are expected to be 27 to 35 percent higher than FPL after OUC takes over in January.
City Manager Gabbard and new Mayor Kevin Sawnick drove to OUC a week ago Thursday to ask whether selling the electric utility would trigger the $50 million penalty clause in the city's contract for service.
Though neither FPL nor the bid process was up for discussion, both topics seem to have come up. That afternoon, Gabbard issued a press release including the following comment from OUC Vice President of Power Resources, Jan Aspuru.
"As a general comment, Mr. Aspuru stated that OUC responded to a competitive bid process, as did FPL. In good faith, OUC entered into the contract, and they plan to honor that commitment."
Rejected bidder Florida Power and Light, which would be the injured party should the bid process be found to not totally be on the up and up, confi rmed Monday night that "FPL was contacted by the State Attorney's investigator.
"He recently met with a few of our employees and asked general questions regarding our involvement as a bidder," said FPL spokesperson Jackie Anderson.
South Beach resident Dr. Stephen Faherty has contended, ever since he was emailed the confi dential bid evaluation criteria and fi nal ranking statistics by Vitunac by mistake this summer, that FPL was not given a fair shake.
"When you set FPL as the standard and evaluate all the other bidders in relation to FPL, how can FPL win?" Faherty said.
"They should have used FMPA as the standard because that's the provider we currently have and evaluated all the bidders in relation to FMPA. FPL would have scored higher, maybe higher than OUC."