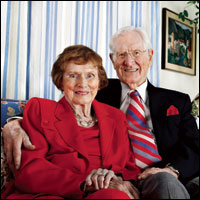 Philanthropist Dick Stark:
Making a difference in Vero
BY MICHELLE GENZ - STAFF WRITER (Week of December 3, 2009)
Home has a powerful meaning for Dick Stark. A longtime resident of John's Island, and one of Vero Beach's most signifi cant philanthropists, Stark has spent three decades reaching outward to his adopted home of Vero Beach, the place he came to retire – and made a second career out of doing good works.
His generosity is in evidence on the walls of Vero Beach's two major cultural institutions: the Stark Galleries at the Museum of Art, and the Stark Mainstage at Riverside Theatre. His close association with the Leonhardt family has benefi ted those institutions as well: the family has allowed him to designate a portion of a family fund for causes of his choosing, hence the museum's Leonhardt Auditorium, and the theater's Leonhardt Administration Wing.
These days, increasingly, Stark's notion of home has turned inward, to his family. This time of year, the term conjures up a crowd: his fi ve children include three lawyers, a doctor and a CPA. Between them there are 19 grandchildren and great-grandchildren.
Beyond the holidays, home is solace, derived of and given to the woman who raised that brood: Barbara Stark, Dick's childhood sweetheart, to whom he has been married nearly 66 years.
"She was Phi Beta Kappa at the age of 20. Life is not dull with a lady of that kind," Stark says. "She has a whole different set of interests from mine, so there is always something fascinating to talk about."
Both in their late 80s now, Stark tells his wife there is nothing they can't still do, that the things they wouldn't dream of missing a few years ago can still be on their calendar – that they'll just leave early if fatigue sets in.
The list of invitations is seemingly endless. Toasts of gratitude are raised to Dick and Barbara Stark from disparate quarters all over town. Apart from the museum and Riverside Theatre, their philanthropy has included causes as diverse as Dr. Gerald Peirrone's AIDS clinic in Fort Pierce, and Joan and Roman Ortega-Cowan's grandly evolving Vero Beach Opera.
Today, as home becomes a place of rest and refuge for the Starks, no cause remains as close to Stark's heart as fighting homelessness. It is that need so essential in his own life now that he wants to guarantee for those less fortunate than he.
From his vantage point as a former Wall Street attorney, an experience that felt to him "like being at the center of the world," he fully grasps how the economic downturn has cast many into the shadows of homelessness, and closely follows efforts to ease its effects.
Raised in Indiana, Dick Stark's uncle was press secretary to Calvin Coolidge; his father, a judge and prosecuting attorney, was visible enough to need protection during controversial trials. He ran for Congress in 1932, defeated by only 500 votes.
Dick had no interest in carrying that flag. "I had some tastes of politics that were not very reassuring," he says. "Some of the things I've done had more lasting value than many of the things that people who've run for offi ce can claim."
Dick was a year ahead of Barbara at DePauw University; he edited the school paper one year; she edited it the next. Dick went on to Harvard Business School, serving three years as a paymaster in the Navy, then went to Indiana University for his law degree.
From there, he went to work for Milbank, Tweed, Hadley and McCloy, a prominent Wall Street firm. "Major transactions likely would have our firm involved in their business," he said.
His client list grew to include entities in India, Egypt and Europe, as well as people of renown, including the Maharishi of Jaipur, and several great-grandchildren of the Rockefeller family, whom he has served for 30 years as trustee. He still fl ies up yearly to meet with them. He also has served as advisor and friend to members of the Leonhardt family, who over the years have entrusted him to designate recipients for a third of a family philanthropic fund. He has chosen several causes in Vero Beach, including the art museum and the theater.
Key among his criteria in making those selections: that he himself would derive satisfaction from working with the causes. His giving created a new career in retirement, tending projects he enjoyed.
"If you're only casually acquainted with these causes, you never really understand what's going on. But to get involved, in the museum for example, is fascinating. One day I was there when a school bus pulled up and all these children rushed inside. That's what it's all about. Those kids were just eating it up. The more you get involved, the more important it becomes to you."
The Starks have been at the apex of Vero's cultural scene for three decades, after visiting friends here and deciding to buy a second home in the Moorings in the 1978. Retiring here permanently in 1990, they now live in John's Island.
Barbara Stark, who had gone on to earn a master's degree in education and counseling when their youngest child turned 10, joined her husband in philanthropy. Having worked for a decade in hospice care and grief counseling on Long Island, she continued that work at Vero's Community Church, volunteering at the hospital as well. She remains a member of the board of the Children's Home Society.
In 1999, Stark's time was preoccupied with serving as board chairman of the museum; his wife chaired the community committee there. But a very different need struck him that year. At a donors forum organized by another local philanthropist, Ellie McCabe, the plight of the homeless came into focus for Stark, sharpened further when, at a county commission meeting, the local Coalition for the Homeless was turned down for its usual $50,000 annual grant due to a paperwork snafu. Stark took it upon himself to go talk to offi cials at the homeless shelter, and "told them what to do to get themselves organized," Stark says.
"Then I went home and thought about it, and concluded that the county wasn't really off the hook, just because the coalition didn't tell them enough for them to make a decision."
He went to see then-County Commissioner Ken Macht, and recommended the county form a task force on homelessness. Macht wasted no time recruiting Stark. "I'll be chairman and you can be vice-chair and by the way, you'll do all the work," Stark says Macht told him.
It was then that Stark founded the Treasure Coast Homeless Services Council, which he now chairs.
"Somehow he walked into a homeless shelter and he recognized the need," says Louise Hubbard, Stark's tireless partner in the effort. After fi nding Hubbard to serve as executive director, Stark raised $50,000 towards her salary in just one morning of talking to a few of his friends: McCabe, Harry Walker and John Schumann, among them.
"He has been open-minded, loyal and continuously vigilant about going into an area he knew nothing about," Hubbard says.
---
Two years later, Stark would breach an unknown when he was sure he would never see home again. On the morning of Sept. 11, 2001, Stark, then 80 years old, stepped onto a eightinch wide steel beam leaning at a 45-degree angle over the wreckage of the South Tower of the World Trade Center, which had just collapsed, the ensuing violent rush of air seeming to suck out the wall where Stark was standing.
Moments earlier, an only mildly alarmed Stark had calmly left his room one floor above, accompanied by a bellboy whom he had summoned to gather his bags. Oblivious of the bedlam surrounding him, and signifi cantly hard of hearing, he had not heard the efforts to clear out nearly all the fully-booked hotel's 1,000 guests by then. It was only after glancing out the window at papers fl uttering outside his window, a few of them on fi re, that he suspected a calamity, confi rmed when he turned on the TV in his room, and saw that the neighboring monument to commerce was in flames.
Stark was on familiar ground. A Wall Street lawyer for 42 years, he worked just a few blocks away until retirement. He was in fact there on business, having flown up from Vero Beach.
He put on his suit and tie, grabbed his briefcase when the bellboy arrived, and took his advice to avoid the elevator. Downstairs, dozens of fi refi ghters were using the hotel lobby as a staging area for the adjacent burning tower, and waiting to confirm the hotel's evacuation.
Stark was one of the last guests out. An estimated two dozen remain unaccounted for.
Two firefighters trying to evacuate the building were in the same stairwell as Stark. They were to be his "angels" — both were named Angel, and they slid down the rubble to the point where he stood. Seeing the rubble below, one firefighter sent the other up a floor to get a rope. He never came back down. The building shifted, and his body wasn't discovered for some weeks.
As the dust cleared, the remaining firefighter saw a path down the four flights: two steel beams, one 40 feet, leaning against the building at a 45 degree angle, and then, another one 20 feet long just beyond. Ignoring Stark's protests of advanced age and failing heart, the firefighter sent him down backwards straddling the beams, to a flatter pile of debris, which they were able to cross to safety.
The trauma combined with the memory of the fi refi ghter who died rescuing him has haunted him since, Stark says.
"I knew the world had changed," he says, recalling the moment when, covered in dust and debris, he climbed into the car of a young law partner friend to drive to his home in New Jersey, and he began sobbing uncontrollably.
Back home in Vero, Barbara Stark, kept company by friends and fearing the worst, intuitively breathed a sigh of relief. Stark thinks it was a moment of telepathic exchange.
Days later, when flights resumed and his limo headed over the Wabasso Causeway toward home, he had a strange sense of seeing the world without him in it, as if he had not survived.
"It was clear to me that in the total scheme of things, it didn't make any difference whether I was alive or dead.
"It filled me with an overwhelming sense of humility and at the same time a sense of wonder that I would have a second chance at life," he later wrote.
"It's extraordinary how resilient he is," says Hubbard. "It impacted him severely but it didn't deter him or make him bitter. It made him more introspective and more aware of quality of life."
A year later, Stark and his wife fl ew back to New York to an informal memorial service they had organized for the firefighter who died trying to save him. That night, in their hotel, Barbara Stark suffered a stroke. For a time, she was unable to speak and partially paralyzed; she has recovered her speech and movement, but Stark says she has never regained her stamina. It further serves to remind them both how fragile life is.
Stark himself had had a close call prior to the World Trade Center collapse. In 1980, he had a quintuple bypass procedure, which was relatively new. It restored his health to some degree, but he credits his ability to survive 9/11 with a non-invasive method used by Vero cardiologist Nancy Cho.
After his World Trade Center ordeal, he returned to Cho for another seven-week-long treatment, called EECP, short for external enhanced counterpulsation, a procedure used for 30 years in China that is only recently becoming common in the states. Stark said it changed his life.
"I didn't even need naps anymore," he says. "Dr. Cho is brilliant."
If Dr. Cho helped heal his heart, it is clearly not impervious to breaking again.
In 2007, the day after 9/11 ceremonies in New York, The New York Times ran a front page photo of a woman a ground zero holding a firefighter's photograph: it was the Angel who died.
"It's hard to put this tragedy out of my mind with recurring reminders like this," Stark said.