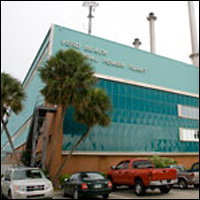 Grand jury is probing Vero electric contract
BY LISA ZAHNER - STAFF WRITER (Week of November 26, 2009)
For the past several weeks, State Attorney Bruce Colton's office has been quietly conducting a grand jury investigation of the City of Vero Beach over a confidential contract with the Orlando Utilities Commission to provide electricity to city customers for the next 20 years, top city leaders confirmed.
The details of the investigation remain unclear, as well as whether the grand jury is focusing on any person in particular. Assistant State Attorney Chris Taylor would not confirm or deny the existence of any investigation.
The grand jury is apparently looking into possible Sunshine Law violations, the City Council's limited access to the contract document prior to approval, and whether or not the Council approved the final document that was actually executed with the utility, according to City Council member Charlie Wilson.
City Clerk Tammy Vock confirmed the investigation, adding that the office of the State Attorney has requested a recording of the April 2008 meeting in which the council considered the OUC contract.
"I received a request to make a copy of the DVD of the April 15 city council meeting for the State Attorney's office," Vock said. "That's the only thing I've been asked to provide for them."
City Manager Jim Gabbard denied there was a grand jury investigation when initially contacted by Vero Beach 32963.
"There is no grand jury investigation," he said. "I would refer you to the State Attorney's office."
Gabbard later responded that there was an investigation and that he would issue a statement to 32963, but that he had to consult with the State Attorney first to see if he was allowed to talk about it. In the meantime, surprisingly, a more benign version of events was leaked to the city's daily newspaper.
Wilson said he was told of the existence of a grand jury probe, after he was sworn in as a newly elected member of the City Council, during a meeting with Vock and Gabbard.
"What they were trying to tell me was that they were not against me and that they were being very forthright," Wilson said. "I was sworn to secrecy and then they told me that the city was under a grand jury investigation."
Gabbard, as part of his initial denial of the investigation, said there had been no meeting with Wilson and Vock.
Vock, however, said that a meeting of the three indeed took place.
"I was in that meeting when the the City Manager went over some things with Councilman Wilson, and that was one of the things that was discussed," she said.
Former City Council member Ken Daige said he has been contacted by an investigator for the grand jury – but has yet to be questioned.
The investigation started sometime in late October, when news reports surfaced about a bombshell candidate forum of the Indian River Taxpayers' Association. During that forum, Debra Fromang and Bill Fish responded to a question from Glenn Heran, that they had not fully read the contract and Fish called the $50 million early-exit penalty that was redacted out of the contract he had been shown a "surprise."
"It's been going on since sometime between when the stories came out that the Council members hadn't read the contract and election day," Wilson said. "I don't know why they were telling me, they just wanted to assure me that they felt like the city was in the right. They said it was still an ongoing investigation."
Wilson said he was told that a sitting grand juror approached State Attorney Bruce Colton and asked him to look into whether or not any laws had been violated. Taylor did confirm that any member of the grand jury, or any citizen for that matter, may request that the State Attorney look into a matter of concern.
The grand jury investigation is the latest twist in the signing of the utilities contract, which was negotiated with much secrecy and with limited provision of information to City Council members.
The secretive bidding process – and the fact that details of the deal were kept confidential for two years, including the up to a $50 million penalty if the city bailed out early – plagued top officials for months and became the rallying cause that ousted two sitting council members during municipal elections earlier this month.
When asked in October about his knowledge of and access to the contract prior to the April 15, 2008 vote to move ahead with the agreement with OUC, Daige said that he was not offered a copy of the unredacted contract to read.
Vice Mayor Sabin Abell said that he did not take a copy of the contract because negotiations were so confidential, they were like those with Piper or with the Baltimore Orioles. Councilman Tom White added that checking a copy of the contract out through the City Clerk and taking the contract home would have made it a public record.
Abell, who was mayor when Gabbard met with an investigator on Oct. 26, said he was not told anything about the grand jury investigation.
"I'm not aware of a grand jury investigation that has to do with OUC," Abell responded, and when pushed to clarify whether he was aware of any grand jury investigation of the city about anything, he replied, "No."
It is not clear why the former mayor, who was a member of the City Council at the time the OUC contract was considered, was not privy to the proceedings while a newly sworn-in council member was fully briefed.
In addition to the skepticism about the need to keep the utility contract a secret from the public for two years, Wilson said there are also questions about whether the redacted version of the contract that the City Council approved on April 15 is materially different from the final version signed by then-Mayor Tom White.
"There have been about 30 differences found between the redacted version of the contract and the unredacted, final version," Wilson said.
An investigator who identified himself as being from the office of the State Attorney contacted Ken Daige shortly after the Nov. 3 election, but did not question him.
"A guy called me and said they were looking into things regarding the city and the contract with OUC, but he didn't ask me any questions," Daige said.
"He also said that I was not required to answer any questions, but said that they may contact me later on. I haven't heard 'boo' about it since then. Basically, they're on a fishing expedition."
Wilson confirmed the grand jury investigation only when 32963 questioned him as to why he did not immediately fulfill his campaign promise to challenge the legality of the OUC contract.
"I didn't feel like I needed to inform anyone and I would not have said anything, should I have not been asked," Wilson said.
Grand juries have broad legal abilities to take up cases or legal matters or investigate people and entities, said beachside criminal defense attorney Jeff Battista. He is not involved in the case, but, as a former state prosecutor, is knowledgeable about grand jury proceedings.
The grand jury is made up of 15 to 21 people and is seated seasonally as needed to hear evidence produced from investigations conducted by the state attorney' office. The current grand jury was called up in September and will serve until the next one is called in March for the spring and summer.
Taylor said the current grand jury will publish a report of their season of activities once their time has concluded and that report is a public record.
Jurors hear evidence presented by the State Attorney, and occasionally they hear an argument from the attorney of the person or entity being investigated.
Based on that evidence, jurors decide whether or not there is enough evidence to pursue any indictments, or charges.
A two-thirds majority of the jury is needed to indict.
Battista said that investigations are generally kept secret by the agency conducting the investigation, but that anyone being investigated or questioned by grand jurors is free to talk about it.
As the State Attorney is an elected position, and cases involving public officials, law enforcement officers and public entities are often political hot potatoes, Battista said putting something before a grand jury can often give prosecutors a way to air the evidence and say they've investigated something without filing charges in public. Or, it bolsters their resolve and gives political cover, if enough evidence is found to prosecute.
Battista said he's heard of instances where a member of a grand jury actually asks to open a case, but that "it hasn't happened around here," at least in recent memory.