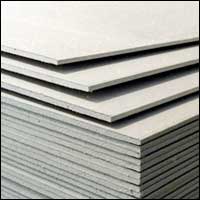 Chinese drywall found on island
BY LISA ZAHNER - STAFF WRITER (Week of November 12, 2009)
An ultra-luxury riverfront residence built in a 32963 gated community by one of the island's leading builders of high-end custom homes has been found to contain a large amount of Chinese drywall, according to the home's owner.
The news, which has been spreading among Realtors since the discovery killed a multi-million-dollar sale, seems certain to trigger a wave of concern among Vero beachside homeowners who until now viewed the Chinese drywall crisis as a "can't happen here" problem primarily affecting tract homes built on the cheap.
The good news appears to be that what was found in this island home was a species of Chinese drywall which, while clearly stamped "Made in China," was determined by an independent laboratory to not contain high levels of the substance that damages wiring, fixtures, and appliances as well as causing health problems.
Nevertheless, the mere discovery of any drywall from China – even if virtually indistinguishable from American drywall -- in a high-end island home seems likely to heighten awareness of the potential problem among beachside residents.
Compounding concerns are the increasingly widely told experiences of two people well known on the island – Realtor Tripp Hernandez and accountant Keith Morgan – whose lives have been turned upside down by discovery of the more dangerous Chinese drywall in their homes across the Indian River Lagoon in Antilles (page 6).
A group of county, state and federal offi cials were scheduled to tour four homes in the Antilles today (Thursday) and meet the homeowners to discuss the problem.
While we agreed not to publish the exact location of the island residence found to have Chinese drywall in 32963, the home was built by RCL Development, a highly regarded developer of homes in many of the most prestigious barrier island communities.
Based on the RCL's reputation for building some of the best homes in Vero Beach, the owner – who lives in Orchid -- had hired Bob Lyles, Charles Garrett and their team at RCL Development to construct his dream project.
RCL's website boasts more than a decade of providing "unparalleled craftsmanship and quality," and building some of the area's fi nest homes in the communities of Windsor, John's Island, the Moorings, Marsh Island and Orchid Island.
Until an inspector who tested each of the 360 plus sheets of drywall in the home RCL had built reported that 30 had come from China, the possibility appears to have never entered Lyles' mind.
"I was shocked to fi nd out that we had drywall in the home that was made in China," Lyles said. "I immediately called our drywall subcontractor and he was shocked. I would never have dreamt something like this would have happened."
"He contacted the supplier and the supplier confi rmed that the drywall was not manufactured by Knauf, the (Chinese) company that was producing the toxic drywall."
Lyles said the drywall contractor subsequently "stepped up to the plate at his own expense" and replaced the drywall at no charge to RCL or the homeowner. "He was as embarrassed as I was," Lyles said of the drywall contractor.
RCL spent about $30,000 getting the house back together, re-tooling all the custom moldings, repainting, refi nishing and re-installing the light fi xtures after the new domestic drywall was installed. Repairing the damage was not covered by RCL's insurance company.
Lyles said he feels not only RCL, but other top beachside builders, have been exposed to potentially having Chinese drywall since RCL's drywall supplier "supplies 98 to 99 percent of the builders who work over here on the beach."
The barrier island resident we spoke to is one of the few lucky ones for two reasons: fi rst, he apparently had a harmless kind of Chinese drywall; and second, his builder came forward to make the house right after the owner learned of the presence of the drywall when he tried to sell the home.
The home inspector for the buyer raised the question of Chinese drywall during the due diligence period of the contract for sale.
"The evidence that he saw was that the coils on the air-conditioner handler had turned black, and when we brought in an A/C guy, he said that was normal, he said that by us being on the water, the coils outside were blacker than the ones on the handler," the home owner said.
It never entered his mind that Chinese drywall could have been installed in the home, which was started in 2005 and completed two years later.
"I didn't even know what Chinese drywall was until I had to sign a Chinese drywall rider on the sales contract," he said. "I got on the internet and read everything I could fi nd out about it and found out that it really attacks metal, especially the A/C and copper wiring and the bathroom fixtures -- that it eats through the finish.
His buyer wanted out of the contract to take advantage of the opportunity to buy another barrier island home, so another inspector was brought in who said it wasn't Chinese drywall. Eventually, the seller's insurer brought in a expert, who used a Strontium meter to test every piece of drywall in the house by identifying a trace-element marker which is generally present in higher levels in Chinese drywall.
The Strontium itself does not cause the corrosion, but it helps identify the materials made in China.
"He found Chinese drywall in 12 to 15 percent of the sheetrock walls," the owner said. "So the buyer got out of the contract and I lost the deal because of it."
Still, there was some good news. The type of drywall in his house was not made by any of the several manufacturers that are considered worst offenders. His sheetrock didn't emit as much of the sulfur dioxide and therefore, had not damaged the wiring, fixtures, appliances or other areas of the house. Regardless, the homeowner had the distressing task of gutting a couple of rooms in his brand-new spec house.
"I've had all the legal expenses, plus the loss of value in the house and I'm still trying to sell it," he said. "Now I have to disclose to any potential buyer that the house had Chinese drywall."
It is not clear whether any other RCL homes built during the time period that the house in question was under construction -- 2004 to 2007 -- contain the benign Chinese drywall.
Upon finding and repairing the case of our anonymous homeowner, RCL decided not to inform the other clients who had drywall hung at about the same time.
"It would be one thing if it was the toxic drywall, but it was not," Lyles said. "And we had letters from the supplier saying that they did not buy from the manufacturer who produced that drywall."
Lyles said a laboratory in Atlanta verifi ed that the drywall in the home was not the type with the dangerous, high-sulfur content.
Relying on those laboratory results, the company did not even test one of its own spec houses that is currently for sale and was built during the same time period.
Lyles said he is currently living in an RCL spec home and that he's seen no signs of Chinese drywall in the house. Garrett said they had no reason to fear that the type of Chinese drywall, even if it had been installed in other homes, was a danger to the health or to property of their clients.
"There was no corrosion or reaction to it," Garrett said. "It was not the gasemitting kind."
When asked if there was a thought process about giving or not giving RCL clients with homes built during the same time period a "heads up," and giving them access to the lab results so they could choose whether or not to have the home inspected or tested for Chinese drywall, Lyles responded, "I think any potential buyer needs to be afforded as much information as possible in respect to the home they're buying. I would never try to obscure the facts or to hide anything for them."
The owner of the home in question was fortunate to have chosen a builder which would stand by its work once the imported drywall was found. There is no recourse out there for most homeowners, as only a handful of builders have paid for remediation.
Most of the time, the typical oneyear new home warranties had expired by the time residents pinpoint the odd things they're seeing and experiencing to Chinese drywall. And even when homes are under warranty, builders are blaming subcontractors.
Subcontractors are claiming it was a product issue, but how can an individual American family fi gure out how to fi le a claim with a German company making products in China? Homeowners' insurance doesn't cover Chinese drywall as they call it a pollutant and deny the claims.
Home builders, hit hard by the recent recession, have sometimes disappeared or don't have the funds to tackle the problem, even if they wanted to.
Brian Connelly, a partner with beachside law firm Gould Cooksey Fennell and native of Vero Beach, has been hearing variations of this sad story since he launched a crusade against Chinese drywall in May.
He is using his experience in personal injury and product liability law to devise a strategy to help homeowners get some relief.
He represents clients who live in at least four different communities. The thing they all have in common is the brick wall they're running into when they try to get someone to pay for the damages.
"It has been frustrating for everyone involved because there is no remedy and it's a cascade of problems because it's not only the fi nancial issues but also the health issues," Connelly said.
The vast majority of Connelly's clients are owners of brand-new homes. So far, Connelly said he has not been able to get builders to make any of the homes right, but he's not giving up on holding accountable any of the folks who derived fi nancial gain from selling or installing Chinese drywall in his clients' homes.
"We're exploring all the avenues for our clients," Connelly said, referring to options offiling in state court, mediating with suppliers and contractors or potentially joining the federal effort to bring the German manufacturer to the United States to face the damaged parties.
Connelly said he thinks there is a lot more Chinese drywall in our community than has been uncovered at this point, and that there is a certain amount of denial, especially among people who have sunk small fortunes into their homes. The fact that he's taking these cases on contingency makes Connelly even more determined to fi nd a way to help put his clients' lives and houses back together.
Our homeowner said he's done with the spec home business, that he'll fi nd another hobby to fi ll his spare time. But until there is some resolution for homeowners, the anonymous barrier island homeowner is trying to look on the bright side.
"If I was a buyer today, I think the fi rst thing I would do is to eliminate homes built during that time period," he said. "But I feel like I'm a step ahead and have a leg up with my house because I've already gotten rid of the Chinese drywall and can show buyers that it's not there anymore."
Chinese drywall takes a toll
While some Chinese drywall does not emit enough sulfur dioxide to cause health problems, a lot of it was imported that does.
The Hernandez and Morgan families, who bought homes at The Antilles off US1 just across the Indian River Lagooon, are examples of those whose health was impacted by the drywall.
Tripp Hernandez, a Realtor for Dale Sorensen Real Estate who has dealt in the beachside home market since 2006, today is in the process of buying a home on the barrier island. The Hernandez family has been living in a rental home for five months.
Keith Morgan, a 40-year Vero Beach resident and partner in the accounting firm Morgan, Jacoby, Thurn, Boyle & Associates, also is living with his family in a furnished rental.
Both families evacuated their homes in The Antilles after confirming the presence of Chinese drywall.
"Right after we moved in, we could see something happening with the bathroom fixtures, they were pitting and the coils on the air conditioner looked like someone had painted them with flat black spray paint," Hernandez said. "And there was a smell, it wasn't like rotten eggs, it was more like the smell of fresh paint and we just thought it was the smell of a new house."
Or possibly the smell of the $50,000 in new furniture the couple moved into the home — a home they were making for their new baby son, Noah. "Noah was 4 months old when we moved in and he's been really sick," Hernandez said. "He's had pneumonia twice in a six-month period and his immune system is just about nonexistent."
Hernandez and his wife, Sherri, took Noah to specialist after specialist trying to fi gure out what was wrong and no one could explain what was happening - how a healthy baby could deteriorate like that for no apparent reason.
Sherri Hernandez was suffering from terrible headaches and Tripp Hernandez said his blood chemistry was very abnormal while living in the house. Fortunately the family's health has bounced back. Their finances, however, are permanently damaged.
"All of our stuff is in the garage and we'll probably have to get rid of all of it because it all stinks," he said. "We had to dry clean our clothes and then wash them and hang them outside for a week. There's just nothing to do with all the fabric furniture and they're not sure if the hardwood furniture is safe or not, nobody knows.
"You can bring somebody in to gas the whole house and the furniture, but we're not going to do that because we're not staying in the house," he said. "Why would you pay $60,000 to gas the furniture when you can just go buy new furniture that you know is not contaminated?"
Hernandez said many of the affected homes in The Antilles have been selling for about one-third the value and that buyers are gutting them down to the studs and starting from scratch.
He said Ironwood Properties, the builder of the Antilles, is a quality builder and he bought his home on developer Cary Glickstein's reputation for building great communities in Palm Beach County. However, he said the builder has been unresponsive to complaints from Antilles residents. Ironwood did not return a phone call to Vero Beach 32963.
"I don't think anybody purposely put Chinese drywall into homes," Hernandez said. "They just needed the materials and that was the product available at the time, so they used it. Nobody knew back then what it was going to do."
The government is also confused about which department is responsible for patrolling for Chinese drywall and hunting down those who sold it and installed it. Is it a public health issue, a building code issue, an economic issue or a consumer issue?
Hernandez said he's seen the most hope and voice on Chinese drywall come out of U.S. Senator Bill Nelson's offi ce. He said Nelson has "beat the drum" on Chinese drywall, since Florida reportedly has more than one third of the estimated 100,000 cases in the nation.
Keith Morgan agreed that Senator Nelson is providing homeowners with some hope that things will get better. The Morgans bought their Antilles home in February 2007 and moved in October 2007.
Morgan said the situation he finds himself in was completely unavoidable.
"We did our due diligence," he said. "I can honestly say that there is nothing I could have done differently or anything else that I could have checked. This is happening at all levels of society, it's happening to everyone."
The health problems both were having were the first clues.
"Shirley started having headaches 24/7 and I was just having various symptoms, my eyes were burning, my skin was burning and I was having respiratory problems at night," Morgan said.
"We noticed that if we went away, even for a long weekend, that the symptoms started to clear up."
In time, the house started to reveal its own symptoms.
"In March, we kind of started to put it all together, the corroded coils, the black jewelry and silverware, even the deterioration of some of the mirrors," he said. "But it was the health issues that finally dictated that we leave the house."
The Morgans are pursuing legal action to try to recoup some of their losses and come up with a plan to repair their home.
"We eventually want to get back into the house, we had planned to live there until we have to go to a nursing home, which I don't anticipate to be anytime soon," he said. "What we're hoping for is for the government to develop some sort of protocol to follow so that when we do the remediation, we can say we followed the protocol established by the state or federal agency and so we can preserve some of the resale value of our home."
Dr. Harold Weiner of Boca Raton has treated or consulted with about 15 patients who have experienced health problems due to Chinese drywall.
A board-certified internist who also specializes in allergy and immunology, Weiner is considered an expert in occupational and environmental medicine. He holds a master's degree in public health and is certifi ed in forensic medicine, so he's often called on to testify about matters related to irritants such as the ones emitted by Chinese drywall.
Weiner said the most common symptoms caused by the sulfur contamination of the Chinese drywall are burning of the eyes and irritation of the respiratory system, starting with the nose and progressing onto a sore throat, cough, headaches from congestion, etc.
The actual physical symptoms can be exacerbated by the extreme stress that dealing with the emotional and fi nancial aspects of having Chinese drywall.
"This is evolving and we are on the low end of the learning curve," Weiner said. "The good news is that we have every indication that the symptoms clear up very shortly after the patient is removed from exposure to the irritant and that there are no lasting effects."
Attorney Brian Connelly of the beachside fi rm Gould Cooksey Fennell is representing people who have endured the anguish and fi nancial pain of dealing with toxic Chinese drywall. Connelly said that the only protocol currently established is one for preserving the evidence of Chinese drywall so that homeowners can move forward with fi xing their homes but retain the documents, samples and photographs required to carry forth litigation.
Though he's pursuing a way to compensate homeowners for what they've been through, he said it's a tough thing to quantify when you hear stories like the ones from these two families.
"When you look at costs, how do you measure the cost of someone getting sick from living in a house with Chinese drywall and then the illness clearing up after they move out?" he asked rhetorically. "What is the value of that time that they were ill?"