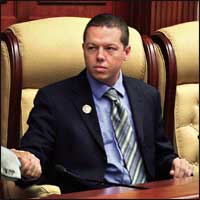 Sawnick: 'It'll definitely be interesting'
BY MICHELLE GENZ - STAFF WRITER (Week of November 12, 2009)
The morning after 28-yearold Kevin Sawnick was elected Vero Beach mayor by his fellow city council members, he stopped in at a downtown cafe. Leaving his bike parked outside, he settled into a corner table.
Bypassing breakfast – he absolutely hates eggs, he says — he ordered himself a chicken salad sandwich on a croissant. When it came, he paused and stared. He lifted a corner of croissant. "I'm wondering if this is tuna," he said. "I hate tuna."
He poked the filling with his fork and finally took a bite. Nothing registered on his youthful face. Not disgust, not acceptance. Unconvinced, he walked to the back of the restaurant where his server was standing behind the counter. "Is this chicken salad or tuna?" he asked matter-of-factly.
The server looked startled. "It's chicken," she said. "Wait, I'll check."
She disappeared into the kitchen. A moment later, she smiled reassuringly. "It's defi nitely chicken." she said.
"Ok, thanks," said Sawnick, who came back to his table, and contentedly tucked into his sandwich.
Some might say Kevin Sawnick is the perfect swing vote on what promises to be a contentious council: deliberative, open-minded, keeping his own opinions in check until hearing out the voices of authority.
"I'm not going to align myself with any person," he says. "I'm just not going to really care how anyone else votes."
Right away, his first action as mayor drew ire: two hours after the council voted him in as mayor, he authorized a workshop requested by newly elected council member Charlie Wilson, a powerful challenge to the council's status quo. The subject of the hearing: utilities, a topic as distasteful to many as tuna is to Sawnick.
"A lot of people are unhappy that I called this workshop," he says quietly. "There are a lot of issues that a lot of people haven't talked about. That's why we'll have the meeting and go from there."
Then Sawnick pulls back from his offi cial role, stepping out of in-camera mode in an almost impish way.
"It'll defi nitely be interesting," he adds with a knowing smile.
"Kevin's doing a good job, he's young, he's got a good education," said Sabin Abell last spring, before the utilities issue exploded.
Sawnick just replaced Abell as mayor, who received only one vote for a second term in the post, from another former mayor, Tom White. "He's brand new to the process. He's done his work, what he had to do to get elected. I suggested a couple of things like going to a couple of classes through the League of Cities, and he took them right away, that was good," said the 77-year-old Abell.
This week Abell added this: "He's got some catching up to do, and so do the others who are new. There's a lot that transpired in the last fi ve years that they need to be aware of, so they understand things."
"I don't view Kevin Sawnick as an entry-level mayor," says Wilson, 58, obviously pleased with Sawnick's first executive decision to grant him his requested workshop. "If others view him as a kid, I really do not. He's been a council member for a year."
"I think the way he thinks, in that you don't want to form alliances because sometimes forming alliances doesn't make for the best policy," Wilson says. "He takes things issue by issue. He treats people with respect. He has made a point of making new people feel welcome."
The city's involvement in the business of utilities is a subject that has provoked such powerful emotions that every option seems suspect; like the questionable sandwich, everything seems fi shy, from contracts to co-ops to even what past council members said they saw or didn't see, read or didn't read, in particular, the contract they signed that committed the city to a massive $2 billion deal to buy power from the Orlando Utilities Authority.
Now everyone wants someone else to step up and certify that what they're getting from the city's utilities dealings isn't something they already know they don't like.
There are those who say the council desperately needs a someone tough enough hto stand up to City Manager Jim Gabbard. Traditionally, Gabbard, a former police chief, is the council members' first line of information.
Because of Sunshine laws, they cannot talk privately to one another about city business, so Gabbard has met with them one by one on the council's agenda prior to each meeting, which is not required under law. Some say Gabbard's persuasion, informed though it may be as administrator of the city government, prevents other views from being heard.
Whether newcomers Wilson and Brian Heady, a radically independent fi rebrand of a truth-seeker – to put it mildly – continue the tradition of premeeting consults with Gabbard is anyone's guess.
But Sawnick, starting his second year with the council, has relied on him with regularity and trust.
He believes Gabbard when he said that that indeed the former council members were shown the new contract for buying electricity from the OUA – and that it was just so long ago, they don't remember. He shrugs at a mention that key portions were blacked out, including a $50 million fi ne should the city break the contract. Getting out of the contract is precisely what Wilson is suggesting in demanding that the city sell off its power plant and get out of the power business all together.
"From what I've been told by the city manager, they all read it," Sawnick says.
No one can dispute that Sawnick comes to the issue untainted: before this month's election, he alone was not on council when the agreement was signed.
That so measured a man would hold the gavel amidst what is certain to be a tornadic term on the council comes as reassurance to those whose jaws dropped at the election of two new council members known for their sometimes contumacious ways.
"I'm a pretty laid-back person," Sawnick says. "I'm not rude to people. I treat everybody with respect. It may be difficult to get the council to work together – some people are very outspoken, and they want the microphone all the time."
And here he catches a reporter's raised eyebrow: he is referring to the 62-year-old Heady, who won on his 13th try at office, essentially without spending a dime, apart from some poster paper for a few handmade signs.
As the youngest mayor in Vero Beach history, Sawnick is also the lone Democrat on the city council. He owns his youthfulness and carries it with confidence, speaking up for young people and progressives wanting to be part of the process but who feel the town is dominated by wealthy, conservative retirees, most of them living beachside.
Sawnick rents a place downtown. On his Facebook page – yes, he has a Facebook page -- he is a fan of the bands The White Stripes and Phish, and his list of favorite movies includes Quentin Tarentino's Pulp Fiction and The Cohn Brothers' The Big Lebowski.
If Sawnick had his way, he would skateboard to city council meetings. He's always seen it as a cheap, clean and sociable form of transportation, and laments that the means of getting around that served him so well in college is no longer an option in the town he helps to govern.
The man whose former honorific was president of the Young Democrats, Sawnick has endeared himself to his council cohorts as eager to study hard, think hard and then make hard decisions.
"I do a lot of homework reading articles online, talking to people, trying to get as much information as possible."
Five days a week, Sawnick, who has a master's degree in criminal justice, drives to the southwest part of the county to teach math and social studies to inmates at the Indian River County Correctional Institute, a state facility housing convicted felons age 14 to 20. Some are in for two years, he says; others are in for life.
"It's crazy sometimes," he says. "About 99 percent of them are wanting to learn. So most of the time it's pretty good. But it's pretty stressful.
"What's more stressful? City council, or being around prisoners eight hours or day? I'm not for sure," he says, shaking his head. "I enjoy the heat. That's the job. That's why we paid the big bucks to listen to the citizens."
He is kidding again, at least about the big bucks. With the long hours prepping for the council, and added ceremonial duties as mayor, Sawnick knows he can't live on just the city's salary, a mere $10,000 a year. But he's seriously considering quitting his job or at least reducing his schedule.
"It's challenging for me just to balance everything," he says. "Imagine if I had kids. I couldn't possibly do this. I know there's no chance of raising city council pay. There'd be such a backlash. But I want to prove you don't have to be retired to be on city council, and I'd like to represent the people who work full-time."
Asked if his prison experience will help him control fl are-ups on the council — a fair question given that newly-elected Brian Heady has actually served jail time after speaking at a public meeting, Sawnick says, "I work in a prison with teenagers who are felons. If I can handle that, I can handle someone who wants to speak more than three minutes about something."
Here, he steps out of character again, smiles, and adds: "It's going to be fun."
Younger by half than the next youngest member, Sawnick chats up a very different constituency on street corners and downtown.
He is very protective of the downtown area, and longs to see it thrive. Sawnick supports a ballot initiative similar to one just passed in Sebastian, offering tax abatement to downtown businesses, including those that renovate or enlarge.
He had moved to Florida from the suburbs of Detroit, where he grew up, and Ferris State University in Michigan, after earning a master's degree in criminal justice. Working in Orlando for a month, he was offered the job at the prison in Vero Beach. That was four years ago.
"It still feels like I'm on vacation," he says. "It's still new to me how nice the weather is all the time."
His parents, meanwhile, have moved to Sebring, where Sawnick's sister, who works in the medical field, is raising a toddler. His father, circulation manager for the Detroit Free Press, was active in the Teamsters' Union; his mother worked in retailing.
From the time he was little, Kevin Sawnick has been interested in criminal justice. "I've always been intrigued by crime," he says.
With an undergraduate degree in sociology, his interests fell more toward rehabilitation of inmates. "I wanted to do something besides be a cop or a corrections officer. Not that what they do isn't important – it's very important, but I wanted to help people more directly," he says.
After a day at the prison, Sawnick comes home and goes online, looking up issues on the internet, from utilities to health care to urban development.
At the other end of the demographic spectrum, Sawnick fi nds admirers who look at him with pride. "They'll say I'm like their son or grandson, or they'll compare me to their kids, like 'My son's 25 and he's not involved in anything.' It's like a parent-son thing with them."
"I'm just getting into this," he says. "Some people don't get into it until they're 50 or 60. I'm getting a head start on being a productive citizen."