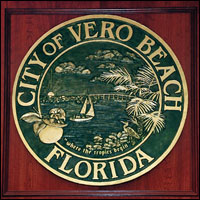 Vero Council's brain brownout
BY LISA ZAHNER - STAFF WRITER (Week of October 29, 2009)
Of the five-member Vero Beach City Council serving in April 2008, only one claims to have actually read the entire 68-page, multi-billion-dollar contract with the Orlando Utilities Commission.
The other four were offered a copy of the new 20-year agreement and declined to take it, according to City Manager Jim Gabbard. Mayor Tom White said he had already read a complete copy during contract negotiations.
In an interview last week, Gabbard told Vero Beach 32963 that each of fi ve members was given a one-hour general briefi ng on how Vero Beach officials and their consultant had chosen OUC, and was shown a copy of the contract with 13 pages that had portions blacked out.
When asked what was blacked out, City Attorney Charlie Vitunac said "it was just the numbers"— the rates and penalties and fuel costs delineated in the contract — and Gabbard said Council members were told the contract mostly contained "stuff put in there by the lawyers" that they did not need to focus on.
Nevertheless, at the conclusion of each briefi ng, Gabbard said "we offered to give them a copy of the (unredacted) contract" to take and review.
"None of the Council members took one," Gabbard said.
Since no members of the City Council took a copy to read, one of the key questions that remains unanswered is whether any were aware – prior to signing the contract – that a blacked out section on page 12 provides for up to a $50 million penalty should Vero Beach break or seek to renegotiate the contract within 10 years.
"That was a surprise," said Fish. "You know you have to trust the staff on these things."
White said he didn't take the contract because, as mayor at the time, he was privy to the negotiations and had read it both in parts and as a whole document.
"I don't remember a one-hour meeting, there were so many hours of meetings," he said. "I never had the contract in my possession due to confi dentiality reasons. I reviewed it in my offi ce at City Hall. I didn't want to take it home because, in my view, it would then become public record and as long as it stayed with the city manager and the utility director, it wasn't public record."
White said there had to be confi dentiality in making the selection.
"Look, when you open things like this up to the public, other parties can know what's going on and there's a lot of problems when you do that, corporate raiders and other bad things," he said.
Other than White, the members of the City Council at the time were Sabe Abell (then vice mayor, now mayor); Debra Fromang and Fish, who are both currently seeking reelection; and Ken Daige, who subsequently lost a reelection bid but who is seeking to return to the Council in next week's election.
Council didn't know who else submitted utility proposals
Almost as surprising as the fact that City Council members would approve a huge contract that four of them had not fully read is the fact that none, according to Gabbard, was told the identity of any of the dozen other parties interested in the Vero Beach contract, or any details of the half dozen other formal proposals.
According to leaks since, Florida Power & Light and Progress Energy were among the others expressing interest and at least one option -- which was quickly dismissed -- included selling the city's power plant.
Vitunac said Sue Hersey, the consultant from Boston-based Energy Advantage Consulting who managed the process and recommended OUC, did not look closely at all the proposals committing Vero Beach to spend billions of dollars because, at her hourly rate of $400, the city could not afford the time to scrutinize all of them.
Instead, Vitunac said, Hersey developed a ranking process of the seven companies who had "executed confi dentiality agreements and became qualifi ed bidders" but only conducted a full review of the three top-ranked bids.
Abell, then vice mayor, said he was very comfortable with the information he was given in his one-hour meeting on April 7, which he recorded in his diary. Abell said he did not take a copy home from the April 7 meeting and does not remember a copy being offered to him prior to the Council vote to contract with OUC.
"To me it was like Piper and the Orioles, where you were allowed to take notes but you couldn't take them with you because of the confi dentiality," Abell said.
When the full contract was released this fall, Abell obtained a copy and went through it. He said he feels like he didn't miss anything by not reading the entire contract prior to voting.
"Frankly, the contract language, that's something for the lawyers and the individuals who are experts to look at," Abell said. "We need to know what the contract means and that's a matter of interpretation."
Then Council member Daige remembers the April 7 meeting well, but his version of the story is a little different than the one presented by Gabbard and Vitunac.
"If I could have taken a copy of the OUC contract without any legal repercussions, obviously I would have taken it to review," Daige said. "But I was told that the situation was very delicate."
Daige said he asked that that Finance Director Steve Maillet be brought in at one point. He was surprised to learn that Maillet had not been asked to review the contract, or provide input on the fi nancials.
"I found that very peculiar, that they wouldn't bring the fi nance guy in on it," Daige said. "He came into the meeting and looked it over and, though he hadn't read the whole thing, he did say that, based on what he saw of the numbers, it looked okay."
Staff did not make clear the stipulations about the early exit penalties, Daige said, something he raised as a concern.
"The management team knew that I did not want to have the same problems we had with the FMPA contracts," Daige said.
Administrators keeping the council in the dark?
The fl ap over whether the Council members fully understood what they were voting on has only fueled more questions about how the city's top bureaucrats manage Council members who are supposed to independently represent the public.
The Council, under the city charter, does not work for staff. Conversely, staff does answer to the City Council. The controversy resurfaced two weeks ago when Council Member Fromang said at a candidate forum hosted by the Indian River Taxpayers' Association that she hadn't read the OUC contract.
Fromang, an attorney who handles mediation in foreclosure cases, subsequently said in an email to Rosemarie Spytek, vice president of the Indian River Taxpayers Association, that the contract was "presented to her," but she still did not go so far as to say she had read it.
Shortly after that forum on Oct. 14, Fromang sought the advice of Gabbard and city attorney Vitunac to refresh her memory.
"It was two years ago," Gabbard said. "And Ms. Fromang was in a very stressful situation being questioned and she forgot."
County Commissioner Bob Solari, who served on the Vero Beach City Council from 2005 to 2007, said the culture of staff leading the Council is nothing new.
He said Council members were often called in for private meetings with Gabbard on issues – ostensibly to prevent Sunshine Law violations.
"It seems to me that a lot of information is being passed on from Gabbard one-on-one rather than in the arena of a Council meeting in open and frank discussion," Solari said. "It's been clear to me for a long time that policy is being made by the staff."
Under Florida's Sunshine Laws, no two elected members of a public body can meet privately to discuss matters before their board. The laws were passed to prevent back-room deals without public scrutiny. Calling Council members in for individual pre-meeting meetings with top staffers, though perfectly legal, tramples on the spirit of the law.
Solari said not only electric, but major decisions regarding the water and sewer utilities have been handled in the same way.
"If they're (Council members) only getting a limited amount of information and it's coming from the staff, then they're a whole lot more likely to vote with the staff recommendation," Solari said. "It's a lot easier to vote with the others than to be singled out in a 4-1 vote."
Daige remembers the one-on-one meetings with Gabbard during his term on the Council, which ended in November 2008. He didn't like them, he said, and often opted out.
"I felt that Gabbard did a lot of consensus- building before the meetings," Daige said.
"The council needs to take the control of the city, the city manager is not in charge," Daige said. "The public has a right to know what's going on and how their money is being spent."
Sloan: City Council had no need for "too much information"
Gabbard and Vitunac did not address why they didn't just give the Council members a complete copy of the contract in the fi rst place. All top managers repeatedly point to advice by their Boston-based consultant that bidders would insist that "trade secrets" be kept confidential.
In an email on Oct. 17, Sloan responded to questions about the way Council members were provided with the contract. He believes they didn't need to know too much.
"This was my fifth power supply contract of my career, and I'd learned over the years you cannot give the approving body too much information. I'd like to think that experience gave me good insight into what needed to be done to inform the Council."
Sloan has resigned his position as of Nov. 6, after about two and a half years with the city, to take a job in Virginia. He has said he would help the city through the transition to the OUC arrangement.
City leaders say that contract will wash out to a nearly 20 percent decline in electric bills, despite the 12.5 percent increase in base rates the city is planning to approve in November.
Sloan has been a vocal supporter of the confidential nature of the OUC contract.
He believes the city got a better deal because power providers who submitted proposals would not have participated unless their trade secrets were protected from other competitors – and, by default, the public was left in the dark, too.
So two years after it was signed, on Sept. 30, 2007, the contract was made public last month.
Columnist Mary Beth McDonald contributed to this report.