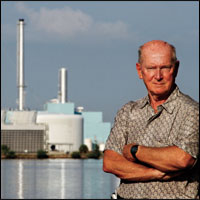 Stephen Faherty's fight to break the choke hold of Vero Utilities
BY MICHELLE GENZ - STAFF WRITER (Week of October 15, 2009)
These days, Stephen Faherty's hours are nearly as long as when he ran a $17 billion pension fund with 500 employees. But Faherty is working for nothing, putting in up to 50 hours a week dredging through a soup of statistics, statutes and Catch-22s.
His singular mission: to undo what he regards as the stranglehold of the city's utilities on county residents. That vice grip, he declares, calmly and unhesitatingly, is flat-out unconstitutional.
While most residents might have been slow to anger over Faherty's constitutional concerns, skyrocketing electric costs this summer – the result of several bad decisions by the co-op through which the Vero Beach utility purchases most of its power – got barrier island blood boiling.
Those surprises costs — which saw bills spike to double the amount Florida Power & Light customers were paying, sometimes affecting a city utility customer directly across the street from a home served by FPL — catapulted Faherty to the stature of local folk hero.
For many, Faherty became the David going up against the Goliath that terrorized 33,000 customers at the hottest time of the year. On the beach, one affluent doctor's wife carefully hid the bill from her husband, like a shopping bag from Saks.
On the mainland, Faherty heard of a financially struggling father who had to choose between keeping the AC on (albeit at 80 degrees) for his sick children and buying them decent food. And of a 88-year-old man in Rock Ridge on a fixed income of $900 a month, slapped with a $400 power bill.
Suddenly, the invisible commodity that makes Florida summers survivable – cold air – became a luxury. The haint behind the billows in our ductwork had to be expunged. Outraged citizen turned to outraged citizen, no matter where they lived, and asked: Who you gonna call?
---
Dr. Stephen Faherty has a rare confluence of the traits needed to tackle such a massive, complex problem: he has time, tenacity and training. And he relishes the workout.
Trim and compact, with emerald eyes, his glasses at the ready atop his head, he has the intensity and discipline of the stereotypic military man, though his service was limited to the Reserves. An avid fitness buff, his running is limited now as he approaches 70, though he diligently lifts weights.
For most of his career, he has worked in high-level federal posts, most significantly, administering a huge insurance pension fund in Washington.
At one point, in executive training, he was required to take a personality assessment, the Myers-Briggs test. It found him to be a thinker, and an introvert, who didn't need "pats on the back," he says. "My character is 'systems builder.' That fits me exactly."
Faherty was the first in his Irish-American family to graduate from college. Early in his career, his mind turned to fixing systems, in particular, taxation.
After earning his Ph.D. in public administration at George Mason University (an undergrad biology and chemistry major who also earned a masters in accounting and financial analysis), he worked for the IRS, assigned to a department that researched income tax law, eventually turned to drafting complex pension legislation.
Part of his skill set was an innate ability to track innumerable layers of paperwork: submitting reports, drafting letters, and staying ahead of penalty deadlines. That training, he says, is invaluable today in dealing with the morass of bureaucracy he has encountered as he seeks to analyze Vero Beach's multi-million dollar investment in utilities.
Lines have been drawn in the battle. Mayor Sabe Abell is said to seethe when discussing Faherty. Former mayor Warren Winchester called Faherty and his cohort, CPA Glenn Heran, "scheming Pied Pipers" and warned followers to "mix their own Kool-aid" in a letter to a local paper.
One aspect of Faherty's Washington insurance work was to dismantle failed companies and sell off their assets. That afforded him a curious spectrum of niche knowledge, as he learned how to best unload everything from fine art and coin collections, to protected wetlands, contaminated property where soil had to be dug out and burned, outmoded factories and even – propitiously — power plants.
"It made sense to take these assets and convert them to cash and invest it, which is what I did," he says. "We would bundle up the plants and ship them somewhere, anywhere," he says.
He could see the same thing happened to the bright blue plant on the causeway. It is not the only city asset he would like to see sent down the river.
---
"Steve's been an incredibly responsible citizen," says Bob Solari, a county commissioner representing beachside residents who has also served on the City Council. "Steve's worked on this doggedly for years now. The work has been of high quality and has helped to further the issues."
Faherty is hardly the cynic peering down his nose at small-town administrators. In fact, he has high praise not only for Erik Olson, the county's director of utilities, whom he calls a "brilliant businessman," but also for R.B. Sloan, who holds the same post at the city level.
"I think he has done an absolutely magnificent job with what he's been given. I really respect him," he says of Sloan. "He came into this job two-and-ahalf years ago from another utility, and he walked into something he never expected before. He's an incredible manager trying to do the job with the assets that he was given – and the liabilities."
Amidst all the controversy, Faherty must hold his meetings in low-key places where he isn't likely to be overheard. The popular Panera is out, he says. Sunny Days, the tiny Cuban café downtown, is his hideout of choice.
Sometimes, all the dry statistics take on a surprise patina, as when an email suddenly appeared in his Inbox, accidentally sent by the city: the confidential evaluation sheet of the final three bidders for a new $2 billion, 20-year contract to buy power for the city starting this coming January.
Heran and Faherty had been hounding officials for precisely that information, and were turned down flat; the city had demanded of bidders a mummifying two-year silence on the subject, including signing off on any right to challenge the bidding process.
When the email showed up that morning, his implacable demeanor went out the window. "That was a moment of glee," he says, still breaking into a broad grin. "I thought, Oh, my God! You talk about a happy moment."
He claims the city quickly threatened him with legal sanctions if he or Heran disclosed what the city sent. But after the Vero Beach city attorney consulted with attorneys in Boston – (Boston? Faherty asks) word came that they could say whatever they wanted.
Faherty immediately wrote a piece for the local paper, with an astute analysis of the bidding.
"You can't just leave all the government to elected representatives," says Bob Solari. "You need to prod them along."
---
The Fahertys moved to Vero Beach from Arlington, Va., in June of 2000. Faherty volunteered for the county's Board of Zoning Adjustments just a year after he arrived; he continued in that post until last year.
In December 2006, the city began talking about requiring its utilities customers in the county to convert from septic tanks to the city's sewer system. Faherty was on the board of the homeowner's association in Oceanside, a development across from the Moorings golf course.
"Our guess-timate was that it would be $35,000 to $50,000 per house. That led me into, 'Who's controlling this?'" Faherty said. "That led to the City Council. And I asked, 'What say do we outside the city have?' There's none. They can tax us, but we have no say, we don't have equal representation."
It was then that his wife, Joyce, a retired Treasury Department information specialist, said, "Why not look into electricity?"
---
Today Joyce Faherty may wonder why she ever got her husband started; Faherty says she is beginning to complain that the volunteering has reached a limit. Faherty himself says he is careful to make sure he still has a life, as he puts it.
Rising at six or earlier, he lets out the dog and makes a pot of tea, reads the papers, and scrupulously clips and dates any articles or letters to the editor concerning utilities.
"I've got the whole history," he says. He then boots up his computer and checks what is typically a packed calendar of meetings and appearances, related to the cause.
When his brain whirs from looking at too many numbers, he floats in the pool. "I look up at the sky for about an hour, and that just does wonders."
"The work keeps me mentally active. It lets me give something back to the community. More people need to do that, getting involved in volunteer work and using your skills and abilities."
Like a corkscrew driving through a stopper, Faherty's penetrating mind, with a veritable photographic memory and an ability to colate layers of disparate agencies' rules and regulations into manageable piles, cannot seem to stop itself until Faherty finally pulls the cork on the bureaucratic bottleneck that has kept him from his goal: to free the genie that will reduce residents' soaring utility bills.
For the past two years, Faherty has served on the county's Utility Advisory Committee. What struck him as unfair when he began was the fact that county residents cannot vote for City Council members who govern their utilities, and therefore are unconstitutionally taxed without representation.
Those taxes can range from nothing at all – for a resident of the northern end of the barrier island whose house is tied into FPL lines — to a staggering 16 percent for a county or Indian River Shores resident whose house is tied into the Vero Beach city utility. It all depends on jurisdiction and supplier, Faherty says.
Taxes aside, the basic rate for electricity is much higher for all customers of the city utility. In January, when the city starts a new contract with a different provider out of Orlando, the rates will be 30 percent higher than FPL's, Faherty claims, in part because FPL is scheduled to reduce its rates that same month by 9 percent.
---
Here, in a nutshell, are Faherty's three wishes: The right to reasonable rates. The right to elected representation. The right to switch to competing providers.
Getting there has involved innumerable tactics. With the help of the late State Representative Stan Mayfield, legislation was passed in Tallahassee in 2008 requiring municipal utilities serving more than 30,000 customers to have an autonomous utility authority to oversee the utility and utility rates.
That would have immediately resolved Faherty's chief complaint of unconstitutional "taxation without representation." But immediately following passage of the law, the city of Vero Beach's utility customer list shrank mysteriously from some 34,000 to around 27,000, letting the city slither out of the law's grasp.
Faherty was stunned. The city appeared to be fudging on the term "user": does one meter represent one customer? Not in that all-important count. Instead, the city was now claiming that "customer" meant people who were mailed bills.
Owners of more than one building, or buildings with more than one electric meter, were being counted as one customer, even if there were tenants, commercial or residential, for each of those meters. Tenants who monthly reimburse their landlords for power would not show up as customers.
The city defended its reduction in count by saying it simply eliminated duplication of names. Faherty is more than skeptical. "That 27,000 number has not been used since," he says. "They're back to calling it 34,000."
When Faherty pleaded with the PSC to rule on what constituted a "customer," the PSC responded with a classic Yossarianism: We can't address that unless the city asks us to. Why on earth would the city do that?
---
If the rule of local law follows the circular logic of Joseph Heller's Catch-22, Faherty turns to another older classic to predict outcomes as he labors: Machiavelli's The Prince.
"That was our bible," he says of his former work with the government. "It was always a staple in grad school and in my doctorate classes, and it's part of what we're going through here: individual motivation. How do people work within an organization of individuals? It helps to be aware of it so you can see it cropping up."
Despite the brush off of the Mayfield law, Faherty proposed creating a city Utility Authority that would include representation by county residents hooked into city utilities. The city appeared to agree, but on Sept. 11, included a caveat that gave the City Council total authority over the authority – therefore, relieving it of any authority at all.
Last week, the city's existing Utility Advisory Commission voted to recommend that the city not create such an Authority. The city is expected to put the final nail in the Authority coffin in a vote next month.
More importantly, Faherty has proposed a referendum on whether the municipal power plant should be sold.
That possibility already arose once on Faherty's watch, early in 2006, when selling all or part of the city's electric utility system were two of six options proposed to city staff by consultants as ways to replace the co-op responsible for this summer's soaring rates.
But the consultants were overruled by city manager Jim Gabbard, in one dismissive wave of the hand.
"The city manager said if the selling options were taken out, it would save a lot of work and money for city staff," says Faherty. Gabbard also pointed out that the utility is a major revenue generator for the city – transferring almost $6 million each year to the city's general fund – thus keeping property taxes down.
"The City Council didn't question these statements," says Faherty. "The two selling options were then taken off the table."
---
That tabling meant no one ever got an estimate of what the power plant and its transmission lines are worth. The aging and inefficient plant, the turquoise '60sera cratelike building, its stacks tottering over the western end of the 17th St. Causeway like antennae from a lobster's crag, now generates only 10 percent of the power the city sells to its customers.
Maintaining the municipal plant has already forced the city to take on a debt of $58 million, revenue bonds which bequeath its non-city customers in essence a $36 million liability – though how the city would collect on it without monthly utility bills, no one yet has said. Faherty likes to make that number more personal: that's a debt of $1,730 per customer.
That debt could rise dramatically. Under the new 20-year contract that take effect in January, the city's new power supplier, Orlando Utility Commission, or OUC, can demand that the city spend $100 million more to rehabilitate one of the old plant's generators, and another $50 million to build an added one.
Faherty says that mammoth sum can be spent without the city asking a single soul's permission, city resident or no.
Last month, the state Public Service Commission approved a new rate structure for the city utility. Faherty smells a rat there too. He narrows his eyes at the fact that the "rate structure" approved is written so that there is a separate category – left blank, since it is only a structure — for the rates of city residents and those of non-city residents.
He warns that the Vero Beach City Council could suddenly decide, for whatever reason, that the county residents should pay more. With the PSC involved only in approving "structure," and not rates, such a differential would be without recourse, and perfectly legal.
That Faherty has an eye for exactly such potential sleights of hand is what makes his take on things so invaluable.
Few would argue with him that the utility itself is invaluable to the city, seeing as how it currently funds more than half the city's budget.
But is that funding fair? Faherty's position is that municipal utilities are "stateauthorized unregulated monopolies."
"Local utilities are now BIG BUSINESS," he writes with vehemence in a rundown of his grievances. He says cityrun power, water and sewage plants charge high rates, take in massive amounts of revenue, and maintain significant capital assets like plants, transmission and water lines.
Those assets, he points out, can require substantial capital expenditures and result in significant liabilities to taxpayers. They have also been paid for with impact fees, the accounting for which is unclear, he says.
Yet, unlike private utilities like FPL, municipal utilities are run largely outside the regulation of the Public Service Commission, a fact that makes Faherty fume like a smokestack.
Another referendum Faherty is pushing would allow county customers to switch to FPL. Those customers now amount to a staggering 61 percent of city utility customers, all unable to vote for the very officials setting their rates and taxes. Faherty says it is the highest such percentage in any of the state's 34 municipal electric systems.
---
This fall, as island residents cautiously watch home values stabilize and some think about selling or moving, they are hearing from Realtors of another variable they've never had to consider: whether properties are on city utilities or FPL.
Buyers are asking brokers, says Faherty. "Market values are being affected by this."
And it isn't just by electric rates. Water and sewer rates are also way out of line, Faherty says. This edition of VB32963 reaches homes on a day when four local government entities meet at the county commission's invitation to discuss sewer and water utilities. The city of Vero Beach very nearly chose not to attend: the vote was 3 to 2.
"You beat your head against the wall," says Faherty of his quest for what he says is a constitutional right to representation. "You've tried your legislators and you've gotten the legislation passed, but then it isn't followed. We've gone to law firms and they won't take it pro bono, not even the ACLU. This would be a costly piece of litigation."
"If you want good government, you've got to chip in," he says. "I don't want to run for public office. I don't want the hassle. I don't want the demand on my time without the control. I have the demand now, but I can control my time."
Meanwhile, as the debate heats up, the Faherty-meter keeps spinning – fast as an electric meter — and its users don't have to spend a dime.