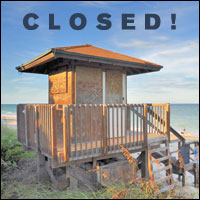 For $7.8 million in taxes paid...
BY LISA ZAHNER - STAFF WRITER (Week of October 1, 2009)
County Commissioner Joe Flescher was probably sorry he attended the meeting of the Indian River Shores Town Council last week, as the town – whose residents pay $7.8 million in property taxes to the county each year – expressed anger over the county decision to save $110,000 by ending lifeguard service at the town's only guarded public beach.
"People have been taking Indian River Shores for granted," said Mayor Bill Kenyon.
Kenyon and other members of the Town Council were irate over the County decision to terminate the two full-time lifeguards and one part-time lifeguard who staff Tracking Station Beach, which is located behind the 7-Eleven at the southern end of Indian River Shores.
This would be the only one of five county beaches where lifeguards are being eliminated. Other county beaches were said to be more heavily utilized.
"The supervisor of the lifeguards has told me that he's not scheduling anyone after October 1," said Indian River Shores Town Manager Robert Bradshaw.
"We put $7.8 million into the county's general fund every year, but what do we get?" asked Councilman Mike Oschner. "You need to sharpen your pencils."
While town residents pay about 15 percent of total county receipts from real estate taxes, they do appear to get little back in the way of services.
Roads inside the many gated communities in Indian River Shores are private and privately maintained. The town has no parks other than the beach access points maintained by the county. Its water and sewer utilities come from the City of Vero Beach, as does its electricity.
The Town's Public Safety Department provides police and fire services for the 7,000 residents, with the Sheriff's Office or Indian River County Fire Rescue only rarely called in as back-up in the event of a major incident requiring inter-agency support.
Residents of the town don't ride public transportation and probably very few of them use the health department. Town residents are required to use a private hauler for garbage, waste and recycling pickup. All in all, town residents don't seem to be much of a burden on the county's services for all that they pay into the system.
So when they found out that lifeguard service at the Tracking Station beach was being eliminated – the only county beach where it is being curtailed — to save money, members of the Town Council and some residents present at the meeting were pretty steamed.
"Has the county had a change in its priorities regarding safety? said Councilman Gerard Weick. "Is it still not the safety and welfare of the people?"
Flescher took the brunt of the criticism because the town is in his commission district.
"The North County Aquatic Center shut down its zero-entry pool and the Gifford pool is also not going to be fully open," he told the Council. "The decision was made that the Tracking Station was a less attended beach of all of the guarded beaches and was located in a reasonable proximity to two other guarded (City) beaches," he said.
But that explanation did not take him very far.
"What the County Commissioners don't understand is how quickly someone can get in trouble," said Joe McManus of the U.S. Lifeguard Association.
McManus said he felt obligated to speak out about the impending lack of lifesaving coverage at the Tracking Station from a safety standpoint, as a person who has made hundreds of rescues in his career.
"Quite a few year-round residents use that beach, I know a lot of them by name, it's a popular beach," McManus said.
Town Council members made it very clear to Flescher that they want the beach guarded, preferably at full staffing – two full time and one parttime lifeguard would cost $110,000 — but at minimum with part-time staffing for $42,000.
"I've heard you tell me that you want me to find $100,000?" Flescher said, indicating he would try to do just that. Kenyon suggested that in a $300 million county budget, Flescher and his colleagues should be able to find at least $42,000.
"We send you $7.8 million ad valorem taxes," Kenyon said. "The problem is that we're in the last week of the current situation and we need to get some coverage. We love your agreement, but what are you going to do about it?"
County Commissioner Bob Solari, who represents the central and south end of the barrier island, also attended the meeting and took a different tactic with the town fathers.
Solari chided members of the Town Council for not taking an interest in the county budget workshops and hearings where the lifeguard line item first came up in July, and was discussed again at two public hearings in September.
"Public safety and the lifeguards are very important, so is mental health and so are children's services where we also made cuts," he said. "I didn't hear anything from Indian River Shores. I didn't think of this as an Indian River Shores issue."
Barrier island resident Dr. Peter Wernicki, an orthopedic surgeon and medical advisor to the United States Lifesaving Association, told council members that people will die if the Tracking Station beach is left unguarded.
"It is a swimming beach and has been marketed as such, it's a place where families go," he said. "If there is nothing in the budget for lifeguards there, than it should be closed because we are saying it's a swimming beach."
Wernicki stated that the Tracking Station beach had 40,000 visitors last year, which he cited as more than the two county-run swimming pools put together. He said there were 4,800 "preventative actions" at the beach by lifeguards. A preventative action could be a lifeguard telling someone to move to shallow water or to move away from a rip current.
"Next year, when someone gets into trouble, who will they call? Wernicki said. "Your public safety department is who they will call and they are not trained in ocean rescue."
Wernicki said that, in the absence of a lifeguard, other beachgoers often swim out to attempt a rescue and then get into trouble themselves, especially if rip currents are the culprit. "Then it will probably be a multiple drowning," he said.
At the end of the discussion, Mayor Kenyon again addressed Flescher directly about the budget item. Flescher tore out of the chambers, cell phone in hand, in an attempt to contact county staff and search for the funding to reinstate the lifeguard service.
"You've captured the imagination of the council and if you go back on this, we're going to raise hell." Kenyon said. "If it's $110,000, let (county administrator) Joe Baird go dig it up. We've got very little sympathy for the county for the amount of taxes we pay. We're entitled to get some of that tax money back in services."