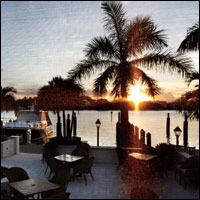 Oceanfront real estate sales heat up
BY LISA ZAHNER & MILTON R. BENJAMIN - STAFF WRITER (Week of October 1, 2009)
The arrival of October may finally be bringing cooler days to Vero's barrier island, but the high-end real estate market appears to be heating up with a flurry of oceanfront sales activity unlike anything seen here for several years.
Long-time beachside Realtor Kay Brown of Premier Estate Properties, who specializes in properties in excess of $1 million, said she and her associates have five oceanfront properties under contract and scheduled to close in October. They also have three sales of oceanfront lots in the works.
"We are definitely having a greater number of people look at the homes in the $4 to $5 million range," Brown said.
All together, there currently are 10 oceanfront residential properties under contract – as well as two oceanfront condos. This is over and above the eleven oceanfront residences and three oceanfront condos already sold this year.
And these numbers don't even include oceanfront sales in John's Island, where the John's Island Real Estate Company does not report its transactions to the Multiple Listing Service.
In contrast, only 10 oceanfront residences on Vero's barrier island were sold in all of 2008, 9 in 2007 and 12 in 2006, according to MLS data.
"It's obvious why the oceanfront properties are selling. There have never been prices like this — they have definitely been adjusted," said Matilde Sorensen, long one of the island's top high-end Realtors. "
"I think a wonderful, wonderful thing is happening to Vero Beach," she added. "I think buyers are realizing the great opportunity that exists right now. If you have the money and want to buy something, this is definitely the time."
The sales of two spec homes priced at over $10 million – one just north of John's Island and one a half-mile south of the Moorings – are expected to close in the next few days, according to real estate sources.
Virtually all of the oceanfront transactions are cash sales, Realtors say, with an increasing number of those looking at high-end Vero properties coming from South Florida.
One surprise result of this increased activity is the inventory of oceanfront homes on the market currently is at a seven-year low, according to sources at Premier. Right now, the number of oceanfront homes for sale – not counting those in John's Island, which does not report through the Multiple Listing System — is down to 53.
Michael Thorpe, owner of Thorpe Sotheby's, said he felt the market is improving, but that it's not at a cork-popping level of celebration just yet.
"We have sold more oceanfront properties in the past 60 days than in the last year," Thorpe said. "So it is getting much better, but I wouldn't classify the market as hot."
"If you talk to the guy who just made a $10 million sale, he will surely say the market is hot and people are getting their houses shown and so that's excit ting, but it's a small number of people looking at oceanfront homes right now, and many of them are people who have been hanging back and waiting," Thorpe added.
But for the first time in a couple of years, some of those who have been looking but not buying at homes on Vero's beaches seem to be concluding that the time has come to make their move.
"We're in the midst of negotiating a contract right now," said Bob Gibb, broker at John's Island Real Estate.
Kay Brown said her entire last weekend was booked with showings to and meetings with high-end clients, many of them considering Vero's oceanfront as their next address.
Thorpe said he's seeing an upsurge in the number of people from South Florida looking at Vero – some of them presumably drawn here by Gloria Estefan's new Costa d'Este Resort, which has been packed most summer weekends.
This past weekend, among those visiting Vero and the Costa d'Este was Food Network star Rachel Ray. The late summer also produced a spate of Bon Jovi sightings as well as those of other notables.
But beyond celebrities, Vero also has been playing host these late summer weekends to what Thorpe described as a "new wave" of pre-retirees – some of whom are making Florida their primary residence for tax reasons.
While some focus on existing homes, others prefer the brand-spanking new quality of the area's selection of lavish spec oceanfront homes. Thorpe said there are pros and cons to spec houses, both in meeting buyers' needs and sellers' expectations.
"It's great to get everything new, but there's a different cost factor there," he said. "You're going to pay $5 or $10 million for a spec house where you could get an existing home for $2 or $3 million."
"But the owners of the spec homes might be more willing to deal, where the owner of an existing home is living in it and enjoying it and possibly not as motivated."
Thorpe said the spec homes on today's market were designed and begun at the height of the real estate boom and they reflect that in their size, opulence and the materials used in construction.
"It takes 2 to 3 years to take an oceanfront estate from conception to completion," Thorpe said. "A lot of the spec homes were conceived of in 2004-2005 and they were laid out like there was no tomorrow, like there would be no end to the market."
Whether owned by developers, private investors or architects, a number of these oceanfront estates have now sat empty for a couple of years, almost serving as museum pieces to the irrational exuberance which occurs at the height of any market where only the best of everything will do.
Clark French of Premier Estate Properties, who developed one of these oceanfront estates at the southern end of 32963 and has had it listed for $17.9 million, falls in the camp of those who are bullish about the recent sales trend.
He's actually concerned that the number of existing spec homes — with few new ones under construction — might leave the types of buyers he's seeing with limited choices if all the existing spec homes are scooped up.
"Many buyers are in the market for brand new, and the spec home market has never been better," he said. "I'm getting a sense that we're going to run out of oceanfront spec homes. In the next 3, 6, or 12 months, we could end up with only a handful of new homes on the oceanfront left to show to buyers."
French said buyers from South Florida have definitely pushed the high end of the market since he arrived in Vero Beach seven years ago.
"When I moved here, the highest price a house had ever sold for (outside of John's Island) was $8.5 million, and of the 10 highest sales since then, I've had the top three and five of the top seven," he said.
After establishing a client base in Palm Beach, French said he recently has been seeing many of his former clients — people he sold homes 10 years ago in Palm Beach who now think they might prefer to live in Vero Beach.
"We have 23-24 miles of beach and with the 35-foot height restriction, you can go over the causeways and not see a bunch of tall buildings on the beach," he said. "I find myself introducing people to Vero and playing tour guide for a couple of days."
French indicated that the buyers he is seeing typically are not the buyers that are looking at John's Island, Windsor, and the Orchid Island Golf & Beach Club.
"When John's Island was founded in 1970, you had mostly people from New England and the Midwest coming here, they were over 60 and were seeking the club communities," he said.
Buyers from South Florida and other parts of Florida, French said, are looking for second homes in Vero and they don't really care about being in a community or having a country club.
"They want to their privacy, but not necessarily in a gated community, they want to have their own estate with a gated entry," he said.
"And if they want the amenities of a club, well Quail Valley has changed that, it's been a kind of equalizer. You can belong there and have all the recreation and amenities and live anywhere. It's changed a lot."
"Many of these buyers are looking for a turnkey residence, decorated and furnished with upscale furnishings," added Thorpe.
French said that, with some exceptions, the days of buyers coming largely from the ranks of seasonal residents and long-term visitors have also changed. Many of his buyers spend one or two nights in Vero while they look for a home. Some drive up from South Florida for the day or fly into the airport.
"They might not even spend a night, sometimes they come every weekend for two or three weeks and spend four or five hours at a time," he said.
"If they do want to stay, we own a suite at the Vero Beach Hotel and Spa and offer that to them to stay there while they're looking at homes," French said.
"The Vero Beach Hotel and Gloria Estefan's Coste d'Este have been wonderful for Vero, those hotels have introduced a whole new clientele to our area, where they can come and stay at a 5-star hotel and it makes them want to look around and see more of what's here. We didn't have that before."
French said he previously would put up prospective buyers at Disney's Vero Beach Resort, but those accommodations served up a different atmosphere and sequestered buyers away from Vero's Ocean Drive and the ambience of the town.
One of the things that has minimized the time buyers need to actually be in the area, according to all the Realtors we spoke with, is the internet.
"We're seeing lots of new people from New Jersey, Connecticut, South Florida and New York who are finding out about Vero and about what a great value it is, mostly through the internet," said Matilde Sorensen.
Clients coming into the Thorpe Sotheby's office to look at oceanfront properties have been doing their research on the web and "know what they want and don't want to waste a lot of their time," according to Thorpe. He said it is actually easier to sell multi-million dollar houses because prospects know what their goals are.
"Before, it would take two days of driving around just to narrow down what we were looking at and now they've already narrowed down before they get here," French added.
"The internet has made it possible for buyers to access so much more information," said Dale Sorensen Jr., whose agency has been a leader in use of the web. "From satellite imagery, pictures, videos, virtual tours and so much more, nine out of ten buyers we work with have had some experience on the internet before arriving at our office.
"It certainly helps," he added, "because it has been a very busy summer – and we are working with several other oceanfront buyers as this prints."