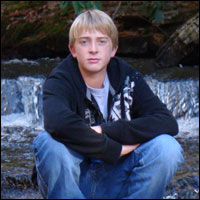 The miracle of Transplantation
BY MILTON R. BENJAMIN - STAFF WRITER (Week of October 15, 2009)
Taylor O'Hare Smith, 15, of Panama City Beach, spent the afternoon two Mondays ago with his friend Mark Ecklund. The 10th graders from Arnold High School sometimes went skim boarding after school, but on this Monday, they decided in late afternoon to ride their bikes over to the home of Ecklund's father.
Five hundred miles away in Vero Beach, Jennifer Benjamin was spending another Monday afternoon on a dialysis machine at the Da- Vita Dialysis Center. No longer able to go to her volunteer job, in-and-out of the hospital on almost a monthly basis, she usually left dialysis in late afternoon with a crashing headache, her blood pressure over 200, fighting waves of nausea. That Monday was no exception.
Shortly before 6 pm that evening, a hit-and run accident forever altered the course of these and a number of other lives.
A 2007 Nissan Altima struck Taylor Smith and Mark Ecklund as the two boys rode their bikes on the paved shoulder of Thomas Drive, and then fled the scene. Smith, who was struck first, suffered a brain injury. He was unconscious when paramedics arrived, and rushed both boys to the Bay Medical Center.
While Ecklund was less seriously hurt, a CT scan showed that Taylor had suffered a severe brain injury. In the days that followed, surgeons operated twice in a bid to save the boy's life. "The doctors tried everything," said Laura Smith, the boy's mother. "He never, ever regained consciousness. The neurosurgeon said it was just too much of an impact."
By Friday, with a scan showing no blood flow to the boy's brain, Laura and husband Shawn were wrestling with end-of-life issues. "We all just stood around Taylor and we just talked about it," Laura said. Michelle Riggs, a representative of LifeQuest, one of four Florida organ procurement organizations (OPOs), gently urged the Smiths to donate Taylor's organs for transplantation.
"She said something that really turned us around," added Shawn. "She said: 'If Taylor were here, what would he have done?' It certainly turned me around." The Smiths were certain Taylor would have wanted to help others.
While the death of Taylor, just three weeks shy of his 16th birthday, was a crushing blow for the Smiths, the decision to donate their son's organs meant a new chance at life for three other Floridians.
The Smiths told a news conference last Thursday – a day after their son's memorial service – that they had been informed his organs went to three Florida women: a kidney and pancreas to one; a second kidney and liver to another; and his heart to a third.
That is generally as much as donor families are told. As a matter of policy, OPOs do not disclose the identity of recipients of donated organs to the donor family – and transplant centers do not provide the identity of the donor to the transplant recipient. Months later, following an exchange through intermediaries of a letter of thanks from recipient to anonymous donor, recipients sometimes learn their donor's identity.
But in this extraordinary case, a week of reporting enabled us to trace the path of two of Taylor's donated organs from Panama City Beach to Vero barrier island resident Jennifer Benjamin. It is easy for me to chronicle her story – a three-decade-long struggle with type 1 diabetes and its complications which in recent months seemed once again close to claiming another victim. Jennifer is my daughter.
---
Outside the world of transplantation, kidney- pancreas transplants are a relatively little known specialty.
While 529 kidney transplants were performed in Florida in the first seven months of this year, there were only 33 kidney-pancreas transplants. Amazingly, despite an enviable success record over the past two decades, many endocrinologists (the doctors who treat diabetes) and nephrologists (the doctors who treat kidney disease) remain remarkably unenthused about this procedure.
Endocrinologists tend to think multiple daily insulin shots are the preferred treatment for type 1 diabetes. Nephrologists, for the most part, are amazingly supportive of dialysis – a stop-gap approach for kidney disease that saps your energy, leads to insomnia, results in infections, hospitalizations, and inexorable decline.
The best thing to be said for dialysis is it keeps kidney patients alive -- at least for a while.
A kidney-pancreas transplant is the only thing at present which has the potential to actually change the life of a type 1 diabetic with kidney disease, and arrest the slide toward increasingly serious diabetic complications and almost always early death.
Jennifer, who was diagnosed as a type 1 diabetic in 1979 at the age of 15, was on this slippery slope in the 1990s. By the age of 30, her kidneys were failing, her vision was failing, nerve damage was making it increasingly difficult to walk, and she was spending more time in the hospital than at home.
In the winter of 1996, given only days to live by doctors at Georgetown Hospital in Washington, DC, Jennifer was medevaced to the University of Wisconsin in Madison, which along with the University of Minnesota, was a pioneering medical center in kidney-pancreas transplantation.
There, one of the early giants of kidney and pancreas transplantion, Dr. Hans Sollinger, ultimately transplanted a kidney and a pancreas into Jennifer from a 59-year-old donor. By late summer, Jennifer had recovered sufficiently to leave the hospital and come to Vero Beach to continue what turned out to be a lengthy recuperation.
Miraculously no longer a diabetic, Jennifer's health improved. Some of the diabetic complications began to reverse. Neuropathy eased. Her vision improved to the point that she could once again drive. As life began to return to normal, Jennifer became a volunteer victim's advocate in the State Attorney's office, and became a regular at the Indian River County Courthouse.
Like other transplant patients, Jennifer was highly dependent on a combination of powerful daily medications designed to prevent organ rejection. They did their job.
But after a decade, the transplanted kidney began to fail. The diagnosis: the same toxic immunosuppressive drug that prevented the body from rejecting the transplanted kidney, Prograf, had irreparably scarred it. Once again, Jennifer – now in her early 40s – was back on the kidney waiting list.
Then last March, a bad situation suddenly got worse. A clot in an artery cut off the blood supply to her transplanted pancreas, killing it and resulting in a near fatal bout with septicemia. When she emerged from Indian River Memorial Hospital this time, Jennifer was again a late-stage diabetic in kidney failure. At the end of March 2008, Jennifer went on dialysis.
There basically is no good news in dialysis. As the magazine the Economist recently noted, dialysis is not as bad as dying -- but it is pretty unpleasant. "It involves being hooked up to a huge machine, three times a week, in order to have your blood cleansed of waste that would normally be voided, via the kidneys, as urine. To make matters worse, three times a week does not appear to be enough."
People receiving dialysis can develop problems with their access site, the most serious of which is infection – which causes about 15 percent to 20 percent of dialysis patient deaths. Other difficulties connected with dialysis include sleep disorders, anxiety and depression.
But almost a half million Americans – including a couple hundred in Vero Beach, more in season -- undergo dialysis three times every week.
The two major private dialysis companies, DaVita and Fresenius, both of which have Vero Beach dialysis centers, have "medical directors" -- local nephrologists who look in on patients as they undergo treatment. They are well compensated for what are generally fairly short onsite patient visits.
DaVita, Fresenius and the nephrologists make a great deal of money from dialysis. Da- Vita's operating income for the first six months of this year was $457 million. The profits of Fresenius, the world's largest operator of dialysis clinics, run well over $1 billion annually. It is not difficult to understand their lack of enthusiasm for transplants.
"Transplantation is the best choice for some people, but not for others," DaVita says in a patient handbook that must be returned "if your relationship with DaVita ends." It quotes a patient as saying: "I had bad reactions to the antirejection drugs, and I got fat and hairy. I had a bad rejection episode and had to be in the hospital for two weeks and take some nasty drugs. I'm perfectly happy on dialysis, and have no interest in pursuing a transplant again."
Notwithstanding some nice staff members at DaVita, that sure wasn't Jennifer's experience.
---
There is also, for many diabetics, little good news in efforts to control type 1 diabetes through the regular monitoring of blood sugars and adjusting dosages of insulin.
Jennifer, over the past year, checked her blood sugar more than a dozen times a day. She also adjusted her insulin dosages based on a "sliding scale" – the most common means of seeking to match insulin dosages to the intake of food.
Despite these efforts, Jennifer proved to be a "brittle" diabetic – one whose blood sugars all too frequently took sickening plunges for no readily understandable reason. On several occasions, blood sugars of under 20 – a level that puts a person close to a coma – required calls to 9-1-1. Waking up with blood sugars in the 30s and 40s, frightening levels, were at times almost nightly occurrences.
"My doctors and I could never figure out how to adjust my insulin so that on the one hand my sugars would not go to high, but that on the other, would keep these very low blood sugars from happening," Jennifer said. "My big worry was that I increasingly was not noticing my blood sugar dropping – particularly when I was sleeping. The low blood sugars were not always waking me."
When Jennifer came to live in Vero after her 1996 transplant, the University of Wisconsin doctors suggested she go to Dr. George W. Burke III of the University of Miami for follow-up care.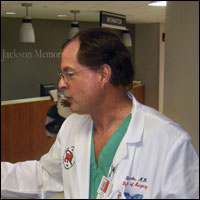 Burke, who trained at the University of Minnesota, arrived in Miami in January 1990 to start a kidney-pancreas transplant program, and today has one of the leading programs in the country, having performed some 400 kidney-pancreas transplants – more than double the number performed at either of Florida's two other large programs in Tampa and Gainesville.
Beyond an enviable clinical success rate – his first two patients still have functioning pancreases and kidneys 19 years later – Burke today is deeply engaged in research, based on findings from one of the nation's more active transplant practices, which ultimately may even have implications for preventing diabetes in the first place.
When Jennifer's kidney began to fail four years ago, Burke knew he faced a major challenge. Most patients who have had a previous transplant, or blood transfusions, develop socalled "anti-human" antibodies in their blood that will fight foreign tissue.
The level of these harmful antibodies is quantified by a panel reactive antibody number, or PRA. A person with a PRA greater than 30 percent is considered "sensitized." Each year, only 6.5 percent of highly sensitized patients receive a transplant. Jennifer's PRA was 80.
When a sample of the blood of a person needing a transplant is mixed with a potential donor's blood (a test called a crossmatch), the sensitized recipient's antibodies are likely to react against the donor's cells. This is called a "positive crossmatch." When surgeons have attempted transplanting organs where there was a positive crossmatch, they tell of watching the organs die before they can even complete the surgery.
Last February, Jennifer got a call to rush to Miami's Jackson Memorial Hospital. After almost three years on the waiting list, a potential donor had been found. Admitted to the transplant unit, vials of blood were drawn and shipped over to the histocompatibility lab for the crossmatch. At 2:30 in the morning, the word came back. "Positive crossmatch." No transplant.
With Jennifer back home, back on dialysis, back getting weaker, Burke tried another approach aimed at improving her chances. Once a month, a nurse came to the house to give her a day-long infusion of intravenous immunoglobulin (IVIG), a product derived from human blood pooled from many donors. Plasma from approximately 1,000 to 10,000 persons is present in each "lot" of IVIG.
The theory was that the IVIG would reduce her PRA level, and improving the chances for transplantation. For Jennifer, the infusions turned out to be one more unpleasant experience. As IVIG flows into a vein, it puts a moderately severe strain on the heart, lungs and kidneys. It is fairly common for patients to experience extreme headaches and fever during infusions. Jennifer experienced both.
As summer gave way to fall, Jennifer for the first time began to appear discouraged. "I am starting to think I am not going to get a transplant and am going to die," she confided a couple of weeks ago to her mother. But George Burke had not given up. It was just a matter of finding the right donor.
---
On the face of it, Florida would appear to have done a good job of increasing organ donation.
On Vero's barrier island alone, the state of Florida now counts 6,349 people who have signed up – either with the Division of Motor Vehicles or with Donate Life Florida – to be organ donors. The number for all of Indian River County is far higher.
But for reasons that are neither totally explicable nor very heartening, only three residents of Indian River County have in fact provided organs to others following their deaths in the past three years, according to TransLife, the Orlando-based organ procurement organization which serves this area.
In some cases, this is a factor of age and circumstances of death. But in all too many instances, it is the result of inadequate commitment to organ donation by community hospitals, doctors, EMS providers, and others.
The most recent of the three donors, and perhaps the only one from the barrier island, was Shannon Britt Miller, the 35-year-old shoe designer and wife of Van Starling who died of a stroke only nine days after the birth of her second daughter.
Shannon Miller's family was the driving force in making her donation happen -- probably due in large part to the fact that her uncle had received a heart transplant in 1995 which gave him an extra 11 years of life.
A month after the transplant, Shannon's twin sister, Shelby Britt Miller, says the family takes enormous solace in the fact that Shannon's heart and both lungs went to a 20-year-old; her liver and pancreas to another patient; her kidneys to two different people; and her bone marrow, eyes and skin to many others.
"Only 20,000 people a year donate," Shelby said. "That is sad to think of when you consider all the people that are in need."
Actually, it is even sadder. Nationally, the number of deceased organ donors peaked two years ago at 8,085. In Florida, a state with approximately 167,000 deaths annually, 542 persons who died last year actually became organ donors.
Like many of those who are part of the decision to donate organs of a loved one, Shelby is hoping to ultimately learn the identities of those to whom her sister gave a second chance at life.
"We were sent a list of people with their stories in short but no names or addresses," she said. "We hope one day that we will hear from the recipients so her girls can meet the people mommy saved. It is a true gift in the face of unthinkable tragedy."
---
The gift which ultimately linked the life of Taylor O'Hare Smith of Panama City Beach to that of Vero Beach's Jennifer Benjamin began when a LifeQuest representative entered Taylor's medical details into a DonorNet computer.
The computer network, run by the United Network for Organ Sharing (UNOS) in Virginia, contains all the details on the more than 104,000 Americans who are listed at 250 medical centers around the country as needing kidney, liver, pancreas, heart, lung or intestine transplants.
While the criteria that puts you at the top of the UNOS list varies from organ to organ, for kidneys and pancreases, the primary determinant is time on the waiting list. This time, Jennifer had been on the waiting list for more than 1,100 days. She had risen to the top of the Florida list.
So when details on Taylor were entered into the UNOS computer, a computerized program known as a "match run" quickly produced rankordered lists of potential recipients for his organs. The computer then sent an "offer" of his kidney and pancreas to Jackson Memorial, and the donor desk at the hospital paged Burke.
"They described the organs, they sounded beautiful, so I said yes," Burke said. But because Jennifer had been a positive crossmatch before, he also had another potential recipient admitted to the hospital just in case she again proved an unacceptable match for the organs.
Meanwhile, the opportunity for Jennifer almost came to an untimely end.
Having a rare good day, Jennifer had gone out to dinner. Shortly after 5 pm, she got a call on her cellphone, but by the time she answered it, the caller had hung up. No voicemail was left, and when she tried to return the call to the number on her caller ID, a recorded voice told her she had reached a non-working number.
When she got home to Bermuda Bay shortly before 9, she found a message on her home answering machine. This time, there was a number. She was informed she needed to be at the hospital in Miami, 150 miles away, before midnight.
After a high-speed trip down Florida's Turnpike (where are the police when you need them), Jennifer beat the deadline by minutes. At Jackson Memorial, a small sample of her blood once again was mixed with lymphocytes – white blood cells responsible for the immune response -- taken from the donor organs.
It takes several hours for researchers to determine whether the transplant candidate's serum contains antibodies that are going to attack the donor organs. This time, the researchers reported a "negative cross-match" in a 3 am call to Burke.
"When I found out she was T cell negative, I was thrilled," Burke said. "All we require is T cell negative to go ahead with the transplant. But if you are B positive, that puts you at higher risk. She was T negative, but she was in fact B positive."
The presence of donor specific antibodies was not enough to cancel the transplant, but enough to strongly suggest that one final 11th hour effort to remove them was warranted.
So the transplant surgery was delayed while Jennifer underwent three additional treatments. First came plasmapheresis. This is a two-hour process in which the fluid part of the blood – the plasma – is removed from the body's blood cells by a device known as a cell separator.
Blood was drained from her body and taken to the separator via one tube, and the blood cells were then returned to her body through another. The plasma – which contains the antibodies – was discarded, and replaced by other fluids.
Then came treatment with Zenapax (daclizumab), a monoclonal antibody drug that uses the body's own immune system to prevent the acute rejection that can make kidney and pancreas transplants fail. This was followed by Thymoglobulin, a pasteurised anti-thymocyte rabbit immunoglobulin that works by preventing the body's white cells from trying to reject a transplanted organ.
The final step was infusion of Rituximab, a cancer drug sold under the name Rituxan which targets B cells, and reduces levels of circulating antibodies.
With those final steps done, Jennifer was rushed off to surgery where Taylor's kidney and pancreas were waiting. The pancreas was transplanted first – it had been out of a body close to the limit at which it would still be viable – and then the kidney.
Shortly after midnight, her surgeon emerged from the operating room with the good news: the surgery had gone well. The organs appeared to be working perfectly.
---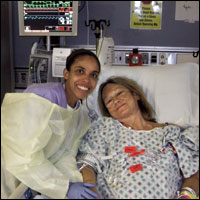 Two days after her transplant, Jennifer was out of the intensive care unit.
"So far her transplant function looks beautiful," said Burke. "Her sugars were correct in the operating room. That doesn't always happen. And she started making urine right away."
Three days after surgery, she was eager to upgrade her post-transplant diet from jello to mashed potatos. Four days post-transplant, she was able to walk from her room to the nursing station.
Best of all, being a diabetic in kidney failure -- and spending those long afternoons at dialysis -- seemed a thing of the past. Soon, she anticipates being back leading an active life in Vero.
"Coming off insulin is not that big of a deal for most type 1 diabetics with kidney failure," Burke said. "But not having to worry about your sugar, not having to check it, and not having to worry about the repercussions down the line – that is a big deal. The quality of life alone is improved, and you can make the case for the survival being better too."
In Panama City, the family of Taylor Smith – and in Vero Beach, the family of Shannon Britt Miller – were hoping more Floridians would follow the example of Taylor and Shannon.
More than 6,000 Americans die every year waiting for organ transplants. Americans annually bury or cremate 20,000 transplantable organs. In 2008, the number of deceased organ donors in the United States went down for the first time since UNOS started tracking donor statistics two decades ago.
"Shannon was unfortunately not able to use the organs anymore," said twin sister Shelby. "So for her to give someone else the chance to live – why not?"
Why not, indeed?
---
Milton Benjamin, publisher of Vero Beach 32963, served in the late 1990s as counsel to the American Society of Transplant Surgeons.