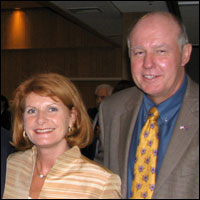 The case of the police call that came unglued
BY LISA ZAHNER - STAFF WRITER (Week of April 29, 2010)
When Karen Deigl discovered on Easter morning that someone had used rubber cement glue the night before not only in an apparent effort to seal her front door shut from the inside, but also had spread cement glue over the lock of an upstairs safe, she called Indian River Shores police, who responded to what they initially thought was a "delayed residential burglary" report.  

The long-time girlfriend of County Administrator Joe Baird, who shares the Hidden Harbour townhome with him, told the two responding officers – after they found no signs of forced entry -- she had recently argued with someone she had a relationship with, and "felt that this person could strongly be the person whom caused the damage to the lock on her door and safe," according to a police report.  

The responding officers checked the rest of the residence for additional damage or hidden intruders, and "found that the gas cover on her vehicle had been damaged. This damage consisted of the gas cover bent as if some object had been pryed (sic) to open it," the report said.  

Deigl at that point told the two officers "she did not want to pursue this as a burglary, and no longer wanted an investigation to be conducted," the officers said.  

The police subsequently left, and filed a report on what now is termed a "suspicious incident." Despite the high-profile nature of the persons involved, Indian River Shores did not investigate the matter further, and failed to speak to Baird about whether he had any involvement in the incident.  

Indian River Shores Public Safety Director Bill Shauman described the event to Vero Beach 32963 as "minor" and said that he was not aware of any fingerprinting done on scene. "It was so minor and she seemed like she didn't want to pursue it," Schauman said.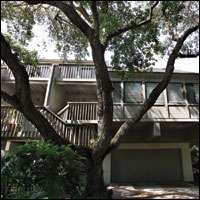 Baird, in response to an inquiry by Vero Beach 32963, confirmed that he is living in the home with Deigl off and on, and has his own key, but said he was not there on that weekend, knew nothing about the incident and said he had not been told by Deigl that she had summoned police.  

"She obviously was concerned and then got over it because she never, she didn't show it to me and didn't tell me," Baird said. Baird said he was with his son on Easter as he was in town from college, and did not stay at Deigl's residence over that holiday.  

Deigl, who is executive director of the Senior Resource Association, subsequently agreed she had not told Baird that she had called police to report a suspected burglary. "I didn't tell Joe because I didn't want to worry him," Deigl said. "We are busy people and we have a lot more important things to be concerned about."  

Deigl, who said she had been gone for a few hours on Saturday night and noticed the glue on the lock when she came home, said someone would not have had to have a key to get into the residence.  

"I leave my doors open a lot, the neighborhood where I live is very nice and I wouldn't be concerned about my neighborhood," Deigl said. While she did not call police when she discovered the glue on the inside of her door after returning home late Saturday night, she said "I noticed the other on the safe in the morning. I just thought maybe I should report this.  

I overreacted and I'm just upset that, well because this is not a big deal, and I don't know why I'm being asked about it."  

Deigl now said she simply shrugs the incident off. "At the time that I reported it, I was concerned," Deigl said. "But then we walked through it and they (the police) made me feel comfortable about it."  

She never noticed the pried open gas tank cover until it was pointed out by police.  

"They asked me who I dated and I told them Joe Baird, but I told them specifically that I didn't think it was Joe," Deigl said. "I told them that we have disputes, no, disagreements was the word I used, just like any other couple, but I said it would not be major at all."  

Deigl said there is no domestic strife in the relationship, nothing that would have spawned such a bizarre event.  

"Joe and I have been together for four years and I'm in love with him and he's in love with me," Deigl said. "Obviously this is somebody trying to do something."  

Deigl said that the police officers were concerned, despite the minor nature of the event, about her safety, as someone had been in her home. "Before they left they asked me if I felt threatened for my life and I said absolutely not, but I know they have to ask that," Deigl said.  

Asked if she ever found out who was in her home or if she thought another family member glued the locks, Deigl said the incident was still a mystery, that she didn't think it was "anything like that. It looked like it could be a prank."  

Baird and Deigl have been seen publicly together at high-profile so cial functions as a couple, as recently as April 15 when they attended the Dan K. Richardson Humanitarian Award Banquet.  

"I've been seeing Karen off and on, and I've been living there off and on, I stayed there last night. I have a key to her place, she has a key to mine," Baird said last week. "I go back and forth to my house because I'm doing things over there, fixing up my house to sell it. I know nothing about this, she didn't tell me that she called the police."  

"I don't know anything about damage in her home, I know she's got a safe because she's worried about her jewelry, that's natural," Baird said. "But I don't know anything about damage to the safe."  

When asked if there is another man in the picture, Baird responded "obviously I would say not."  

"I am not the only person in Karen's family, she has ex-husbands, so I don't know and you know we all have children," Baird said. "I can't think of anyone who would want to do something like this to Karen."