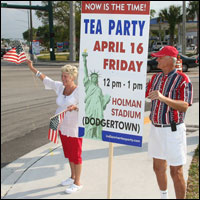 Tea Party expects big crowd Friday at Holman
BY LISA ZAHNER - STAFF WRITER (Week of April 15, 2010)
The first Indian River Tea Party event in 2009 drew an estimated 3,500 people and was organized by a small band of entrepreneurs who put up their own cash to front the event. 

An even larger crowd is expected for this year's Tea Party scheduled for noon Friday at Holman Stadium, with conservatives motivated by what they see as big-government spending, passage of the healthcare bill and continued economic strife. 

Still a fledgling operation the Indian River Tea Party netted enough donations this year to offset expenses.  It had also booked popular U.S. Senate hopeful Marco Rubio, who is a Republican, as its keynote speaker, but he was a last minute cancellation to tend to his ailing father.

But what the local Tea Party group has yet to do is to figure out how to channel the angst and excitement into civic action here at home. 

Aside from the 2009 event, it hosted a candidate forum before the Vero Beach City election and issued a letter signed by its executive committee on the pros and cons of the city's efforts in signing $2 billion contract with its electric supplier. 

In terms of the Tea Party's future, Chairman Toby Hill said the committee will take it one year, one event at a time -- that there are no immediate plans to expand its mission or scope.

"We haven't sat down and said, 'wow, look what we have created, now what are we going to do with it?'" he said. 

The Indian River Tea Party Executive Committee consists of Hill, president of The Hill Group; Paul Tanner, president of Sonshine Audio-Video; Karl Zimmermann, former Indian River County Tax Collector and Realtor with Treasure Coast Sotheby's International Realty; north barrier island resident John Marr; Chuck Mechling, president of On Site Management Group and developer of Pointe West and Collier Club; and Bill Friesell, former CEO of Citicorp Diner's Club Inc. 

Hill said the Tea Party believes in three basic tenets: limited government, fiscal and individual responsibility and the free market system. 

"What the Tea Party is about is to say, 'Wake up America, your government is on a spending binge," Hill said. "With deficit spending, there has been a slow erosion of our liberty nipping at our heels." 

"In America, we don't guarantee you success, we guarantee you the same opportunity everyone else has," he said. 

Corporate welfare and Wall Street bailouts are as distasteful to Hill as the recently passed healthcare reform bill and programs called a "safety net" by liberals. 

"We're not in favor of bailing out businesses, they should have been allowed to go belly up," he said. "It's competition and the free market that keeps us lean and mean." 

Hill said the Tea Party members will hand out pocket-sized copies of the U.S. Constitution and that they encourage citizens from all walks of life to immerse themselves in the original language and become strict constructionists -- those who do not believe the Constitution is a living document, but instead a blueprint. 

The local group Hill now leads to espouse these beliefs was formed somewhat by accident by Hill's wife, Tuny. "She was going to go meet this man she met on the internet in a park to talk about the Tea Party," Hill said. "So I called him up and told him that he'd been e-mailing with my wife and asked to meet him." 

That man was Paul Tanner and, after thoroughly vetting him as not only legitimate, but a card-carrying conservative, Hill told Tanner he'd round up a handful of influential friends to form a committee and put on the event. 

That Tea Party a year aso was held on April 15th on the campus of the Indian River County Administration Building, a location they saw as the doorsteps of the seat of power. They had less than three weeks to organize, fund and promote the event. 

One area where the Indian River Tea Party has inserted itself into local politics is the goings-on surrounding the Vero Beach Electric Utility. The Tea Party issued a position paper on electric issues in early 2010. 

"With exception of the controversial $50 million 'exit penalty', we believe that, among the options defined into the RFP process, the choice of OUC was a good one. The problem stems from a failure to evaluate all of the available options, when the decision was made to leave FMPA," the letter states. 

"It was a serious mistake not to apply the same rigorous consideration to the option of exiting (selling) the power business and relying upon a direct, independent supplier like FPL for service. 

"Given that the City was pursuing a 20-year, $2 billion business decision, it was imperative to rigorously consider this option at the time the RFP process was conducted." 

Hill, an Orlando native and 30-year resident of Vero Beach, said he thinks the electric issue has helped to get citizens engaged in the public discourse, not only in the Tea Party, but in other efforts. 

Commissioner Bob Solari, himself a frequent and vocal opponent of how government runs its business, said he hopes the Tea Party sticks to its original mission and does not become just another advocacy group. 

"We don't need another political group," said Solari, who supports the Tea Party mission but feels it should operate outside the halls of government, like its namesake predecessor, challenging the seat of power. 

Hill disagrees that the Tea Party needs to be subversive to be relevant. 

"We're not anarchists," he said. "The original Tea Party was not about disbanding government; it was about taxation without representation."