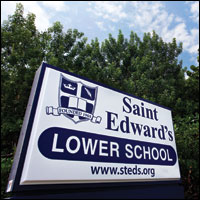 St. Ed's launches new era with unified campus
BY MICHELLE GENZ - STAFF WRITER (Week of August 19, 2010)
When St. Edward's opens its doors for the start of a new school year next Wednesday, the usual mix of emotions will be compounded by the school's new reality.
The good news is that as a result of a frantic summer in which the  three Rs were remodeling, refurbishing and relocating, St. Ed's has successfully combined its upper, middle and lower schools on a single campus.  It did so after completing a fourth R — restructuring — that head of school Mike Mersky says guarantees that the 45-year-old school "is going to continue for generations to come."
The sad news is almost 200 fewer students — including former scholarship children who could not afford to return — and 13 fewer teachers and staff will be part of the St. Ed's family this fall, as the independent day school struggles to level off at what trustees see as a size that is sustainable for the future.  Last fall, board chairman Ron Edwards spoke of an enrollment goal of around 600 compared to last year's 724.
"We knew we were going to get a significantly smaller enrollment," Mersky says. "We thought 580 or 570." Instead, he says, earlier numbers have enrollment for both upper and lower schools at "somewhere between 530 and 545" — defining the new St. Ed's with its smallest student body in 25 years. 
Also sad for some is the fate awaiting the charming Lower School in Old Riomar, St. Edward's original campus when it opened in 1965.  Currently under contract, the oak-shaded 80-year-old building, once home to the Riomar Country Club, now faces demolition and plans call for the shady playground and school parking to become the lawns of 10 luxury homes, all set on an ungated shellstone cul-de-sac to be called Old Oak Lane.
The fact that doors are opening at St. Ed's at all, however, is a testament to the island community's generosity — and its choice to give to a private school, among a range of needy organizations.
And Mersky's and the board members' extraordinary efforts at fundraising over the past year aren't over. Next is a massive effort to build the school's endowment, so the new St. Ed's does not have to rely on tuition for operating expenses like salaries.
The continued existence of the school had been in grave doubt since a $15.3 million debt from a massive re-do and expansion in 1999 increasingly burdened a campus that did not see the anticipated growth. That debt burden is now lifted. Mersky says St. Edward's  has survived by combining campuses and "restructuring" the school's financial obligations, as Mersky phrases it, offset by pledges to the so-called Pirate Fund.
Having the school come together from two campuses forms "an important anchor" in students' lives, Mersky says.
First on the agenda for Head of School Mersky is a school-wide assembly, the first ever, he says proudly.
But that gathering will not include nine teachers and staff who lost their jobs as a result of the restructuring, or four more who retired and were not replaced. Nor will it include the students who could not afford to return to St. Ed's, after a restructuring announced last fall significantly reduced financial aid.
Mersky says that number is still in flux, since some grant recipients may opt to go elsewhere, releasing those funds to others. He puts the number tentatively at "25 to 30" students who will not be returning because their tuition grants were terminated. The total student body, however, will likely end down by 180-195 students.
If so, that means many more students chose not to return for other reasons. The economic downturn, in addition to forcing some parents to relocate for jobs, has put a squeeze on families facing St. Ed's annual tuition, just increased by 4 percent to $23,000 for the upper school ranging down to $17,300 for kindergarten. Testing fees, books, uniforms, and tablet computers required from middle school on, plus a one-time $1,000-per-family fee can add several thousand more.
Last fall, board chairman Ron Edwards spoke of an enrollment goal of around 600. Mersky says the campus was retrofitted for a student body of that size.
"It's that way every August," says Mersky of the shifting numbers. "We won't know until the start of school."
He also says there is a possibility of more students enrolling in the middle of the school year. "We've averaged somewhere between 10 to 20 new students who come in the middle of the year."
Regardless, he says, "We are where we need to be."
Financial aid in recent years had swelled to 28 percent of the total tuition taken in at the school, far higher than the recommended percentage of 14 to 17 percent, Mersky says, quoting numbers from the National Association of Independent Schools.
"As the economy turned and as commitments were made, we found ourselves in this awkward place strategically," he says. The conundrum grew out of ambitious expansion in 1999 that threw the school into perilous debt when the economy tanked, and growth ground to a near halt. Financial aid helped fill seats at an enlarged campus. Now, with a smaller student body targeted for a consolidated campus, those bodies are no longer imperative.
With a smaller school, board members hope to ultimately raise admissions standards so that St. Edward's develops a reputation as a more selective school.
"We're not trying to be 700, 800 students anymore. We're going to have a strategy and a philosophy."
That strategy sadly involved informing some families that their children were no longer in line for financial aid.
"It was a difficult process," says Mersky of the financial aid cuts. "We took it to a committee and we looked family to family. We spent hours on this this spring. There are a lot of great families who decided not to return. We feel for them."
As for faculty layoffs, most of which occurred late last spring, an outpouring of support for some of the teachers let-go spoke to the quality of teachers there. "I think we really did do it about as well as we could have done. Did we make mistakes? Probably … but it was done with an incredible amount of thought."
The remaining faculty will see a 3 percent salary increase. New hires will be offered less of a tuition discount than before, though, with teachers' children allowed to enroll at half the tuition rate, as opposed to the first child of current teachers enrolling at a 75 percent discount, and the second child and others enrolled at half the rate. Some of those teachers also received financial aid for their offspring, but they were warned in late spring that that aid could cease.
At the same time, teachers were told that there school's matching contribution to their retirement fund will now be five percent regardless of length of employment.  That amounts to a one-third reduction for teachers with three years or more employment at the school.
The ability to raise salaries and benefits are a key reason for Mersky's next challenge: to build a larger endowment for the school. He is wasting no time reaching out for those funds. "You talk to people who may not have given to the Pirate Fund (the debt relief fund) who said, 'I'm not going to give to debt (relief) . But I'll give to something else.' Those are the people you talk to now."
"Great schools are all about endowment," says Mersky. "It's incumbent upon the leaders of this school to look seriously in the next three to five years to really raise the endowment. Great schools are based on the quality of the adults who work with the children. When we're trying to recruit great faculty and keep great faculty, we have to think about not just compensation, but professional development or summer stipends."
Mersky, at the brink of starting only his second year at St. Ed's, points out that during his eight-year tenure as headmaster at Lancaster Country Day School in Pennsylvania, the endowment grew from $5 million to $14 million. That endowment means offering higher salaries that Mersky says "makes a significant difference in the faculty."
"I love what I sell. It's not like I'm selling vacuum cleaners. I'm selling the lives of children. It's a labor of love."