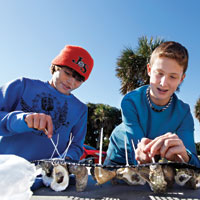 7th grader seeks to restore oyster beds
For most boys who love the water as much as George Katilus does, oyster shells aren't much more than something to avoid, or risk a razor-sharp slice to the foot.
But George mourns the dying oyster reefs like tree huggers mourn declining rainforests.
With the PR prowess of a man on a mission, the 7th grader managed to draw more than 50 people to Jaycee Park to tie oyster shells to mats. Those mats will one day form the first layer of a filtering, food-supplying, erosion-blocking oyster reef, integral to the health of the Indian River Lagoon.
The mat-making event on a chilly Saturday morning earlier this month did more than fulfill a requirement for his science class – the Pebble Bay resident is in the gifted program under teacher Jennie Flynt at Gifford Middle School. It generated awareness of a little-known environmental crisis: The decline in oyster beds worldwide.
It is estimated that 85 percent of the planet's oyster beds are gone, making them the most severely impacted marine habitat on earth. 
Overharvesting, poor water quality and degraded habitats are to blame in many areas. In the shallow Indian River Lagoon, the problems include boat wakes, which dislodge the shells from the reef and push them into piles near the shore. There, the oysters above the water line die, creating what scientists call "dead margins," that act as a dam blocking the flow of water over the reef. Those oysters still attached and living are then further imperiled.
The Indian River Lagoon Oyster Reef Restoration Project is an effort spearheaded by the Nature Conservancy in conjunction with the University of Central Florida. In just two years, the effort restored seven acres of oyster beds in Canaveral National Seashore, using more than 5,000 volunteers who made 3,500 mats. Just one year later, those mats had become the base for healthy, growing oyster reefs.
As George pointed out in his mailing to the media, each oyster can filter 25 gallons of water a day, a serious housekeeping service in return for simply laying down a welcome mat.
On Dec. 4, after months of preparation and armed with six dozen donuts – bait they clearly didn't need -- George and his parents, Chris and George Katilus Sr., arrived at the park at 8:30 a.m. for the 9 a.m. event.
Within 10 minutes, people began pouring into the lot. By midway through the two-hour event, even passers-by were joining in to attach 36 oyster shells to a foot-square marine-grade mat, to be weighted down with concrete "donuts" that protect sprinkler heads in yards. When attached with dozens more in a sort of quilt on the lagoon floor, the manmade bed begins to work its magic. Tiny oyster larvae, newly hatched and drifting like black pepper in the current, sense the chemicals emitted by the submerged shells, and seek them out to fasten onto. Thus, a reef is born.
If George was stunned at the turnout, as his mother says he was, he didn't let on. Kids flocked around him, the man of the hour, but the normally reserved boy was content to let the Nature Conservancy's staffer C.J. Greene run the show.
George had contacted Greene back in September when the project first occurred to him.
"I've wanted to do something that would help the environment," George says. "Since we're members of the CCA -- Coastal Conservation Association -- we get their magazine. We were looking through it for ideas, and we saw an oyster project that they were putting in North Carolina and Connecticut."
George e-mailed the article's author, who immediately responded and referred him to the Nature Conservancy. That group put him in touch with C.J. Greene, a UCF graduate in biology who has been holding mat-making sessions for the Nature Conservancy for the past year. "We were shooting e-mails back and forth about what goes on during these sessions, and then we started to plan it."
Greene later told George this was the largest group he had ever led.
"It was pretty amazing how many people showed up," he says. "It seemed like everybody got into it and liked doing it."
The knack for organizing events may be in George's blood. His parents organize education seminars for pharmaceutical companies. They moved to the barrier island a year ago last August, from Brick, New Jersey.
Like the oysters he is trying to save, George and his family have already attached to a thriving foundation of friends here. With a sport fishing boat docked behind their house, they are a family of avid anglers, regularly vacationing in the Keys. This year, they rented a duplex with neighbors Barbara and Tom Hammond, whose sons Tommy and Parker are among George's closest friends. 
Kyle Barkett is another friend, son of attorney Eric Barkett and his wife Alisa. It was Alisa who taught George how to surf this summer.
"The first time, the waves were extremely rough," recalls George. "The second time, it was calm, and I used her little daughter's board, a soft top. I kept getting up for a few seconds and falling, but at the end, I was OK." He is now on his second surfboard.
 Kyle and another friend, John Sutherland, got up at 5 a.m. one day last August and drove to the Jupiter Inlet with George and his father. There, they met up with a fishing guide. For two hours, the boys waited for the action to start. And when it did, George caught a 25-pound snook. "I decided I had so much fun that I took my older brother the next day," says George.
As it happened, big-brotherly generosity hit at just the right moment – for George, anyway. This time, they were outside the inlet in the ocean, taking turns with the rod, and George asked his brother Colin if he could catch the next fish. He put in his line, and hooked a spectacular seven-foot long sailfish.
As for the oysters, they are getting a second chance too. The Nature Conservancy's Green tallied up that the 74 mats made at George's event is enough for half a reef. The project's goal is to build 20 acres of reef – with 4,500 mats. That convinces George he needs to have another mat-making, expected to be in February.
"I want enough for a full reef," he says.