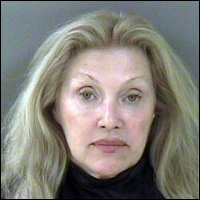 Designer Paula Holden Sage's downward spiral
BY LISA ZAHNER - STAFF WRITER (Week of February 18, 2010)
When local interior designer and Baytree resident Paula Holden-Sage, owner of Paula Holden Interiors, was arrested on Feb. 8 for grand theft, it was just the latest and most serious event in a downward spiral for the 60-year old barrier island decorator.

After a lengthy investigation by Vero Beach Police Detective Lee Evans, she was charged with grand theft, accused of collecting more than $150,000 from an Indian River Shores client to redecorate a home and failing to provide the services.

Records show that Holden's contract with Shores residents Anita Kolleeny and David Haynes was for more than $200,000 worth of work, but Holden only purchased and provided some $41,000 work.

Neither Kolleeny or Haynes could be reached for comment.

The two victims are listed as joint trustees of the $1.2 million home at 305 Estuary Drive in The Estuary. Kolleeny first met with Evans on July 30, 2009 after being unable to get answers from Holden-Sage and her staff as to the status of the items she paid for and her home. Vero Beach investigated the case because at the time Holden's place of business was on Ocean Drive, just south of Humiston Park in the same plaza as Corey's Pharmacy.

According to arresting documents, Holden placed orders for the items for Kolleeny's home, but then the orders were canceled by vendors when they were not getting payments. None of the vendors interviewed by the detective had received deposits for the items.

Instead of applying Kolleeny's money to deposits on ordered items, it appears from bank records that Holden used the money to pay expenses and to satisfy a tax lien with the Florida Department of Revenue. The arrest warrant states that Kolleeny's funds were used "to operate her business and fund her personal lifestyle."

The warrant states that Holden- Sage said the money collected from Kolleeny was applied to the customer's account. But when police pulled the bank records of Paula Holden Interiors in July 2009, the accounts listed a combined ending balance of $8,698.61, revealing that Holden-Sage, in fact, did not have the cash on hand to cover the goods promised to Kolleeny.

Holden-Sage told police that she would need an additional $45,000 from Kolleeny, plus $25,000 of her personal funds in order to complete the job. Evans said he suspects there are other possible victims out there who may file complaints after hearing about the arrest. Holden-Sage is free on $10,000 bond and is expected to be arraigned April 1.

The dramatic fall of Holden-Sage comes as the designer was dealing with financial setbacks and personal demons. Arrested in July 2009 on her second DUI, she lost her driver's license for a year and was sentenced to pay $2,000, serve community service and 12 months probation. She had been convicted previously on DUI charges in 1986.

Her finances were in no better shape. In 2006, the state listed her as delinquent in sales tax payments totaling $55,000. Records show she failed to pay a total of $42,000 in 2008 to the state. By June 2009, when she is accused of taking more than $150,000 from Kolleeny and Haynes, she satisfied a tax lien to the state in the amount of $44,000, records show.

It was clear too, that local vendors were not getting paid by Holden-Sage. In civil court, Holden-Sage has been sued by Indian River Tile & Carpet in 1990 and by Snyder Plumbing in July 2009 for failing to pay them for their work. In 2007 the Baytree Condominium Association also took Holden-Sage to court over a dispute.

Another vendor on the barrier island had trouble collecting on invoices owed and had several Holden-Sage credit cards come back declined, records show. John Orth of Summit Designs by John Orth, also sued Holden- Sage for indebtedness in 2008 and settled with her for $2,000.

Yet as her financial problems were mounting, Holden-Sage granted an interview to Florida People magazine. To them, she espoused her excellent reputation.

"The most important thing to me is to make the client happy and that they love the house they're in – I'm not doing the job for myself, I'm doing it for them. I do get a lot of referrals and repeat business, but I think that's the most rewarding part of it," she told them.

Records indicate Holden-Sage moved out of the Ocean Drive location in July 2009. Holden-Sage is also listed as president of companies called Tassels Ltd., and Design Interiors.

She has received acclaim for her design work, including the Scripps Treasure Coast Newspapers Platinum Award for Best Interior Design Company.

Her marketing information lists previous jobs in Switzerland, Acapulco, Connecticut and Minnesota. At one time, she boasted clients in Palm Beach, Vero and Beverly Hills. Among her interior design work locally was Maison Martinique. Vero Beach Magazine, in a story reporting on this, said "The Shell Room, Paula's special creation, has shell lights on the walls spreading a romantic glow."

In the Florida People magazine article that profiled her, Holden described her beginnings. She said that she was a "military brat" that lived in Italy and traveled throughout Europe. Her father, an officer in the U.S. Air Force, retired to Vero Beach in 1968 when she was 18 years old.
Her family was living in Washington, D.C. at the time and she went to New York to study at the Parsons School of Design, which she described as the "Harvard" of design schools. She worked in New York and in the Hamptons, finally moving to Vero Beach in 1981 to continue...