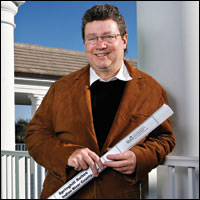 The Pied Piper of Miracle Mile
BY MICHELLE GENZ - STAFF WRITER (Week of February 25, 2010)
For beachside residents who drive across the bridges a couple of times a week to stock up on groceries, or to hit Panera or TooJays for a noontime sandwich, the name Miracle Mile conjures up a vision of large, crowded parking lots.  

Little has changed in the basic character of the strip over the past decade. The old Winn Dixie has been succeeded by the new Publix, the old Publix has become the new Fresh Market, and traffic and congestion seem about the same as they were 10 years ago. All around the area, major renovations are underway. Yet Miracle Mile as a whole is languishing, dreary parking lots its defining visual element, and cohesion -- both in terms of style and access -- the last thing on landowners' minds.  

Enter Keith Kite, native Floridian, real estate investor, University of Florida graduate in construction, whose development firm is honing in on a specialty in hotel franchises around Florida and Georgia. Kite, who is planning to build a Hampton Inn on Miracle Mile, has a very different vision of the Miracle Mile of the future – the vision of a pedestrian-friendly urban village.  

He has asked the city's planning and zoning department to designate a Miracle Mile Improvement District that would allow it to become a mixed-use village in the city's comprehensive plan.  

"Our concept is to "village-ify" it," says Kite. "If it's designated an improvement district, then we would all know we would be allowed to do that. The development community could submit plans to do a townhouse or a work environment or another retail concept. Right now we're frozen because it's only zoned for a shopping center."  

"I think the whole mixed-use idea makes a lot of sense," says Tim McGarry, director of planning and zoning for the city of Vero Beach.  

For once, it appears nearly everyone is on board. Says Keith Pelan, a development planning consultant and landscape architect with Kimley-Horn & Associates: "Kite's the Pied Piper of Miracle Mile."

---
Keith Kite is walking the walk. After talking up the Miracle Mile area as a potentially pedestrian-friendly urban village, he and his partner, nephew Kelly Kite, have moved their staff off the beach and into a building they are calling Miracle Mile Walk.  

By the end of the year Kite hopes to have shed the mini-strip mall's dated mansard roof, pulled down like a black wool cap over a flat grey exterior, and started a re-do designed by award-winning architect Peter Moor.  

The plans drew accolades when presented to the city's Architectural Review Commission, a group that came about after complaints about another set of buildings' controversial colors, on the very stretch of road, the Miracle Mile.  

Having already won the minor zoning change needed to allow his office and hotel projects to go forward,  Kite is pushing for changes for all of Miracle Mile. He see it as one of many vibrant ways to make the most of "infill," or filling in Vero Beach neighborhoods that are underutilized or out of date, instead of continuing to allow the western urban sprawl that infested Indian River County until the recent collapse of the real estate market.  

"If we properly planned within the urban service area, we'd have decades of infill that we could utilize," he says.  

Kite is one of a half-dozen developers forging ahead on Miracle Mile. Brian Curley and Andrew Kennedy are redoing the old Modernage furniture store into Modern One, a complex of retail, office and restaurant space.  

Across the street, where the new nightspot Joeys is drawing record crowds, Scott Parker plans to add 30,000 square feet to the Three Avenues complex, re-doing the three existing buildings, and building connecting walkways, park-like seating areas, and an art exhibition space, with a 2011 target date for completion; negotiations are currently underway with three national chains, and Chico's is moving into a larger space.  

Behind the Vero Beach Book Center, architect Richard Bialosky has a retail and office complex planned for the old Doctors' Clinic annex, and hopes for adding 3,000 square feet to the space. He envisions it connected by walkways to the shops, offices and restaurant expected to open at Modern One. And Kimley-Horn's parc24, a certified "green" 40,000 square foot office complex, could grow to include eight office buildings on the five-acre site.  

For the village-like interconnectedness to work, McGarry envisions creating an "enabling policy framework" to make the area a mixed-use district, from which regulations could be drawn up for review. "We need to have something in the comprehensive plan that establishes the basis for doing that, as well as set some standards as to how it should be implemented."  

That process would be public, and would include not only businesses, but residents as well, several of whom have already voiced concerns. "You have to be very careful about how this is done. This has all got to work right so that people don't get upset that you're overdeveloping the Miracle Mile."  

McGarry hopes to have drafted some language by mid-year. He says the fact that there are only a few investors owning most of the affected property makes it "much easier to have some opportunities to do some changes."  

"They all have the same feeling: they would like to see Miracle Mile pedestrian friendly and mixed use. They think the change would be a stimulus for investment. Certainly we're very interested in (Kite's) hotel and what it could spin off."  "We're lucky to have the Kites taking the lead on this," says Modern One's Brian Curley. "Indian River County has been voted one of the least pedestrian-friendly parts of Florida. Some of the ideas that he's bringing to the forefront are really good. There's not going to be much development over the next few years; in the meantime I think it's an excellent time to rewrite some of the code."  

Kite is urging the city to hire a consortium of talent already living and working locally to put the vision to paper. He names Peter Moor, who has designed for Kite, along with Scott Merrill, whose firm was involved in parc24; both are very familiar with the New Urbanism concept.  

So is Richard Bialoski, current chairman of the city's Architectural Review Commission, an organization born of controversy over the original Three Avenues project, once painted in a vivid palette of colors, and topped off by an odd re-do of a midcentury office building housing the Schlitt Insurance company. That building was recently torn down. The colors were long ago tamed.  
"Keith is pretty much going in the necessary direction that everything has to go," says Bialosky, who relocated to Vero from California. "It's really a challenge to move this particular ball forward. We're not a backwards place; we're very tuned in, intelligent people who travel and see other places. So it's a puzzle to me that we completely ignore planning. I keep making the point that it's fine to say what you don't want to be like. You've got to look at the good examples." 
Bialosky strongly believes in allowing increased building heights in certain areas – he says five stories is considered "traditional human scale" -- as well as increased density, and in particular, allowing housing over shops and businesses.  

"Density can be pretty charming too. You can't be opposed to the problem, which is sprawl, and be opposed to the solution, which is density. You have to concentrate density in certain areas and not allow it in others. Walk downtown in Lake Worth or Winter Park. Winter Park's downtown is pretty dense, but it's as charming an urban space as there is anywhere in North America."  

He believes that increasing height and density and allowing for mixed-use zoning – people living where other people work and shop – generates less traffic, not more.  

Kite concurs, though several developments currently underway have met with strong resistance from neighbors concerned about increased congestion. "We've tried to show that there is less traffic with a mixed-use environment as opposed to a driving environment. If people were there for multiple reasons, they would park their cars and walk, a lot like Delray. It would become a destination."  

Not everyone agrees. "I don't see that happening at all," says Tom Leonard, longtime owner of the Vero Beach Book Center, who says he doubts people will ever opt to walk from one building to the other. "Most people go to a place and go home, especially during the summer. People pull into our main store parking lot, go into our main store, come out again, and get back in their car and drive around the building to get to the children's store. It's just the way folks are."  

Yet Leonard admits to taking a break to get some fresh air, and walking to the opposite end of the plaza to grab a sandwich at Cheese Cave or Fresh Market. What he will not do, is walk across traffic to go to the deli at Publix. "I'm not going to cross that road," he says. "It's just safer, faster and cooler to hop in your car."  

The problem is not a new one in urban planning. For decades in other urban re-dos, designers have successfully tackled the driving addiction with centralized parking garages and plenty of covered walkways with the occasional air conditioned passageway within a mixed-used district.  

They build in resting points like outdoor cafes or plazas with benches and cooling elements like fountains or shade trees. Further, careful zoning can ensure pedestrian points of visual interest by restricting ground-floor spaces to retail use so that window shopping replaces passing by offices with drawn blinds or mirroring.  

Bialosky says what's needed is a drawing on paper for residents to consider.  
Last summer, Kite gathered interested architects, developers and city officials for a Power Point presentation that urged thoughtful action now. It included photos of some of his favorite urban areas, including CityPlace in West Palm Beach.

"I've seen Keith's presentation. My criticism is that it's too generic," says Bialosky. "If you show pictures of City- Place, it's frightening because it is a fairly intensive scale. We don't need to be CityPlace to have charm." At the same time, he says Kite "absolutely has the right idea."  

"I just want to one-up him and get to the next step," says Bialosky. "Let's do something with a fiscal plan."  

"It's a step forward to redoing the Miracle Mile," says Moor. "It could be radical change from big boxes and parking lots, to a walkable, usable area. Keith Kite has gotten every developer on board, and he's working with the merchants to create a special zoning district so developers build their buildings right up against the sidewalk. From basic codes, you create a streetscape and you have people build to that streetscape rather than doing setbacks."  

Moor also believes in varying building heights. "It's like a crewcut now. It's elevator music. You need excitement," he says.  
---
"A beautiful city happens because of good design," says Moor. "There's no mystery. The way to design a good city is to hire talented people who can make beautiful places. That's the answer."
Without question, Kite has a strong sense of place. Well-travelled, he is also a native Floridian. Born in Gainesville, he went to the University of Florida in building and construction before joining the family's industrial painting business started by his grandfather in the 1920s.  

That small residential painting business had turned a corner when it won the contract to paint buildings erected when the Women's Air Corps came to Jacksonville during World War II. The company went on to paint the early structures at Cape Canaveral, including the towers for the Mercury Redstone rockets, and eventually moved north to paint gigantic automotive plants in Detroit, where Kite's father moved his office.  

After moving to the sites of 13 different plants, Kite, by then married to his wife Kay and starting a family, was ready to come back to Florida. Kay Kite's grandparents had lived in Vero in the 1950s. But what finally convinced the Kay and Keith Kite to return was St. Edward's School. Vero struck them as the perfect place to raise their family.  

"I tried for a year or two to semi-retire when we moved to Florida," he says. "But I just enjoy work so much. I wanted surfing and fishing, but I also wanted a career."  

Along with real estate development, the company has added a management side. Its focus on hotels has expanded beyond the Treasure Coast. The company is under contract to build a new hotel near the University of Central Florida in Orlando.  

As a fourth-generation Floridian, Kite, 53, knows all about booms – and crashes. Operating in yet another of the state's real estate peaks and valleys, he began investing in a cluster of properties on the west end of the strip in the early 2000s, adding them to a growing portfolio of properties that included land near the hospital.  

Joined by his nephew Kelly Kite, Keith Kite completed the Marriott SpringHill Suites on Indian River Boulevard as well as a Hampton Inn in Okeechobee. They also won approval to build another Hampton Inn on a two-acre parcel between 20th Street and 20th Place, currently occupied by Rita's Italian Ice and two four-unit rental buildings.  

By renovating the building across the street -- his own new office space -- he hopes to create a corner that will hint of things to come: filling in the parking lots with shops, cafes and businesses connected with attractively lit streets and landscaped sidewalks, with a parking garage in the rear.  

The Miracle Mile we know today was built in 1950 to connect U.S. One with what was then the brand new bridge to the island, off the end of Royal Palm Pointe. The advent of the strip mall brought hardship to the downtown merchants, as shoppers happily headed to the new destination in town, with a modern air: a vast convenient parking lot you didn't have to circle to find a space in.  

Today, convenience has taken a back seat to the emotions of esthetics, as people seem to crave contact with community as they tend to their errands in a pretty setting.  

"I kept looking at Miracle Mile as one gigantic parking lot that could be a mixed-use village," says Kite. "I see it as 'Live, work, stay, play.' It's just putting the pieces together."  

Scott Parker, developer of the 3 Avenues complex at the east end of Miracle Mile, and Brian Curley, who is renovating the Modernage building along with Andrew Kennedy, weigh in on Kite's vision with enthusiasm.  

"Vero Beach has the developers and the talented city staff to actually do this," says Curley. "Initiatives in the past have been road-blocked by some people. From what I've seen, Kite's on the right path."  

---
The last few months saw the mid-century A-frame styling of what was the Modernage furniture store finally knocked down, and renovated into a complex Curley has renamed "Modern One." The long curving façade is now broken up with paint shades and raised false fronts to create an impression of rowhouses, rather than one monolithic building.
The design incorporates more open-air features, converting enclosed spaces into an outdoor plaza ringed with shops.  

Leonard is concerned that the new design does not allow for enough parking, but he concedes it will be an improvement over what was there for years.  

"It's much better to have viable business there than the one that was there before -- an underused furniture store, or an empty building," he says. 

The look is in keeping with the nostalgia-driven "village" concept popularized by the New Urbanism school of design. Authored by Miami's Elizabeth Plater-Zyberk and Andres Duany, New Urbanism wrought such iconic "villages" as Seaside, Celebration, Abacoa and Vero Beach's Windsor, and influenced the look of hundreds of smaller pedestrian-friendly lamp-lit streetscapes around the country.  

Terms like mixed-use, pedestrian-friendly and creative parking solutions (read: out of sight) became part of the planning lexicon. Higher density urban zones regained appeal as sprawl became a dirty word and driving there the bane of too many existences.
Ironically, while Vero Beach's less affluent neighbor to the south, Fort Pierce, successful turned around its downtown -- with a planner who cut his teeth in the DPZ school -- Vero Beach has lagged behind.  

Meanwhile, the strip mall-style Miracle Mile, born in the day when automobile was king, went through makeover after makeover, but never ridding itself of the expansive plain of asphalt greeting its visitors. But the location was unbeatable. Bridging the mainland neighborhoods and the beach community, the district proved an ideal meeting place – witness the staying power of The Vero Beach Book Center, which set the tenor of the neighborhood 35 years ago, and the pull of Panera Bread, that became a meeting place the instant it opened six years ago.  

Already, the new Fresh Market, far busier than the company expected, has become a destination. "Vero is really taken with this place," says Jill Tench, part of the management team there. "Instead of people going to the mall, they're coming to Fresh Market."  

Clearly, the high-end market's positive reception bodes well for similarly well-designed, upscale chains, at the same time leaving room for mom-and-pop operations like The Cheese Cave to compete from just around the corner.  

Kite views his corner of Miracle Mile as a sort of "incubator" of what could be. His 84-room hotel's customers will join hundreds more expected to occupy the thousands of square feet of new office space others are developing.  

"People ought to be able to walk outside on their lunch hour, go get a bite to eat, stop at Publix for something and drop off their dry cleaning without ever getting in their car," he says.  

With the economy still limping along, some developers along the Miracle Mile have put their projects on hold. Kite says site plan approval is "in process" with city officials and he expects to begin construction towards the end of this year.  

But the lull doesn't mean the city can't move forward with the changes for a future mixed-use site.  

"I don't think it's a pie-in-the-sky thing at all," says Peter Moor. "Revising the planning to encourage this kind of development is very doable."  
"One way or another," says the irrepressible Kite, "Miracle Mile is being reborn."