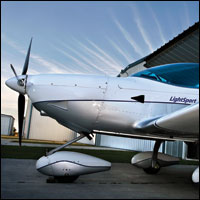 PIPER SPREADING ITS WINGS
BY IAN M. LOVE - STAFF WRITER (Week of January 21, 2010)
In what is being viewed by some in the industry as a shift in strategy, Piper Aircraft is venturing into the light sport aircraft market by purchasing a 49 percent stake in Czech Sport Aircraft, a move the company hopes will attract and keep young pilots buying Piper products.
While the move allows Piper to enter what is considered to be one of the hot new aviation markets, it does not appear it will lead to an immediate rise in manufacturing employment in Indian River County. The new plane, to be dubbed the PiperSport, will continue to be manufactured for the most part at two factories in the Czech Republic.
But the news is another signal that Piper, though not flying high, is beginning to see better days ahead. The company is expecting an uptick in orders this year compared to 2009, and has begun hiring back some employees laid off in the economic downturn that battered the general aviation market.
One worker estimated he had seen perhaps as many as 60 laid off employees back on the job since late last year, though he noted not always in the positions they had left. Also a thing of the past is the oneweek- a-month furloughs workers had endured last year. "Since Jan. 1 we have been back to 40 hours a week," the worker said.
A Piper spokesperson said the company also has hired approximately 50 engineers at all levels in recent months to work on the PiperJet, its top-end plane which it hopes to have in production within a few years.
"With the new PiperSport, Piper is entering what is undeniably one of the most exciting market segments in general aviation -- one that is vital to our industry and to developing the next generation of pilots," said Piper President and CEO Kevin J. Gould. "The PiperSport is an amazing entry-level aircraft that will bring new customers into Piper and lead the way for those customers to step up into more sophisticated and higher performance aircraft within our line over time."
Gould sounds downright optimistic about the future compared to all the bleeding the company went through to survive the great aviation slump of 2008 and 2009.
"We expect the general aviation industry to grow overall in 2010, but not at the rate that Piper will expand," he said. "Because of our initiatives to expand worldwide, and especially in Asia and the Pacific Rim, we expect a percentage increase in deliveries that will be greater than any overall percentage within the industry in general. That increase will not be tied to any one segment."
It is also a sign that Imprimis, the Singapore investment company that bought Piper last year, is willing to put up cash for investments that fit its strategy of turning Piper into a company with a worldwide footprint with an emphasis on tapping into Asia.
"The changes at Piper during the last eight months have positioned the company to grow in what has and will be unprecedented in recent memory," said Gould. "For the first time since I came to Piper in 2005, we now have a strategic owners group (Imprimis) one that's more interested in helping us grow and achieve new levels of performance than any other owner in Piper's recent history."
As of press time, details of the deal had not been released. Piper officials were to make the announcement at a Thursday press conference at the U.S. Sport Aviation Expo in Sebring. Piper will be exhibiting at the Sebring event for the first time.
Speculation about the deal has been rampant on the internet among industry experts. Most seem in agreement that the move makes sense given new CEO Gould's desire to make Piper competitive in more segments of the market from low end aircraft to the yet-to-be-launched PiperJet.
Writing on Flightglobal.com, John Croft said: "If Piper does go forward with the purchase, it will signal a major shift in policy following a change in management at the top. Piper, under the direction of chief executive James Bass until his replacement last summer, had been driving to 'dominate' the $600,000-$2.5 million product range, eliminating production of low-end aircraft.
"The new chief executive, Kevin Gould, put in place after Singapore investment firm Imprimis bought 100 percent of Piper from American Capital (last) May, has since said he wants to 'make the company relevant to current times' and that new models that 'address gaps in the product line' are under way. ... the ability to earn loyal entry-level customers who will remain loyal to the company and eventually buy the $2.2 million PiperJet, the company's flagship offering, is a strong incentive."
The widely circulated reports put the price tag at $30 million for Piper's stake in Czech Sport Aircraft, which is owned by a Slovak investment group Slavia Capital formed after its predecessor Czech Aircraft Works went bankrupt. CSA currently builds three versions of the SportCruiser ranging in price from $117,000 to $150,000 and, according to Flightglobal's Croft, plans to build 450 planes this year and 700 by 2011.
The light sport aircraft market came into existence in 2004 when the FAA created the category to cover one or two-seat single engine aircraft with a maximum gross takeoff weight of 1,320 pounds for land-only aircraft or 1,430 pounds for aircraft intended for operation on water and a maximum airspeed of 140 miles per hour.
The advantage to these types of planes is that it takes less time and money for them to be certified by the FAA.
Don Ayers owns U.S. Sport Aircraft Sport Pilot Training Center in Fort Pierce, has the SportsCruiser distributorship for most of the south and eastern seaboard. He trains pilots on them and some other 32963 INSIGHT | JANUARY 21, 2010 | LOCAL BUSINESS PAGE 44 PAGE 45 LOCAL BUSINESS | 32963 INSIGHT | JANUARY 21, 2010 types of light sport aircraft and – much in the vein of Piper's strategy -- in turn hopes they will buy one from him when they are ready to fly on their own.
"This could be a good thing or a bad thing," he said, noting he had only heard about a possible sale as an internet rumor. "I just don't know how it might go."
The Light Aviation Manufacturing Association says there were 1,758 fixed wing special light sport aircraft registered with the FAA in the United States at the end of 2009, with CSA 's SportCruiser accounting for 108 of those or 6.1 percent of the U.S. market. For the year, a dismal one with registrations down 42 percent from 2008, the Czech company had 31 registrations -- second only to Remos of Germany with 32.
Cessna has also just entered the market with the SkyCatcher, a two-seat LSA being built in the U.S. for $130,000. Many in the industry are waiting to see what will happen with the light sport aircraft market with two major players in the game.
For the last two years, Piper's upper management has spent hours every week calibrating orders to workflow, making sure they had a buyer for every plane that came off the factory floor. It was at times a cruel process leading to layoffs and furloughs.
As Gould sees it, life, while far from perfect, is a little less cruel these days.
"We are on an exciting path, and Piper is committed to Indian River County and to the men and women who manufacture, market and sell our aircraft," Gould said. "We are already seeing improvement, and with our projected increases in deliveries in 2010 (50 percent more than 2009), we believe that Piper – and, by extension, Indian River County – will see better days sooner rather than later.
"Progress in PiperJet development is another case in point. Among other things, it has meant the hiring in Vero Beach in recent months of approximately 50 engineers at all levels, both senior and entry-level professionals, and across all engineering disciplines, including structures, systems, flight test, and manufacturing. Those jobs would not have come here to Indian River County if not for our commitment to the PiperJet."
---
Editor's Note: The version of this story has been updated to include information we received after our Jan. 21 edition went to print – Piper has a licensing agreement with Czech Sport Aircraft to distribute the PiperSport, it does not have an ownership stake in the company.