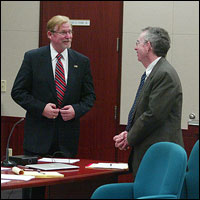 After the Hatch plea, what's next?
BY LISA ZAHNER - STAFF WRITER (Week of July 22, 2010)
The surprise plea bargain which ended the eight-week trial of disbarred attorney Ira C. Hatch appears to be a pragmatic decision by the State Attorney's Office who feared endless appeals from Hatch and his Viera attorney.
State Attorney Bruce Colton's office has been accused of committing a major flinch for not giving the jury a chance to come up with a verdict. We now know that the verdict would have been "guilty" on at least 20 of the 45 counts, including the racketeering and money laundering charges.
But with the deal, most legal observers believe Hatch will be sentenced to 30 years in prison, minus the 30 months he's already served, making him about 90 years old upon release.
The plea deal also tidies up the case and takes Hatch's right to appeal the charge – but not the eventual sentence -- off the table. For the victims, it allows the many pending civil lawsuits to go forward.
How it will play in the annals of Vero Beach history will largely depend upon the sentence handed down by Judge James Midelis on Aug. 25.
Plea bargain negotiations
Negotiations for a plea began in earnest the morning of Monday, July 12 when Defense Attorney Gregory Eisenmenger approached Assistant State Attorney Lev Evans with an offer a far cry from his previous ones, which ranged from probation to 10 years in prison.
"This was the first serious plea offer that they had given us," said Assistant State Attorney Ryan Butler.
"They had made offers all along, they had hoped to plea the second week of the trial, the first week of testimony with a maximum of 10 years," he said, noting that 10 years was not acceptable for the charges Hatch was facing in the jury trial.
After spending nearly three years working with the hundreds of victims in the case, Butler and Evans said they were looking for justice for the victims --  justice that matched the gravity of the crimes.
"I see this with every case where there is theft involved and people are hurt by it like this," Evans said. "The thing that was a little different in this case from, say, an investment scam, is that these people were not looking for some high return and they didn't make any risky investments. They put their money someplace where they thought was a safe harbor."
Evans and Butler said this deal is just – and saves a lot of time and money for county residents.
It's been estimated that the court costs alone for Hatch's trial and pre-trial proceedings have cost upwards of $100,000. This doesn't account for time spent by two Assistant State Attorneys and their staff, or for investigators from the Vero Beach Police Department or the Federal Bureau of Investigation.
On top of that, Hatch has cost the Indian River County Jail $62.50 per day for the 30 months since his arrest.
Assistant State Attorney Ryan Butler said an appeal would have taken approximately two years and would have required close coordination to make sure the conviction stuck. There was also the matter of the so-called "severed charges" of about 40 new victims that would need to be tried in a separate case.
"That could have taken another year," Butler said. "We have a list of 100 witnesses we were prepared to call in that case. It would have put the former employees through this all over again.  We would have basically had to re-try the case before a new jury."

Restitution unlikely. Is Marjorie Hatch next?
As part of his plea deal, Ira Hatch agreed to make restitution, not only to the victims in the tried case, but also to the 40-some victims in the case that will not go forward. In exchange for that, the state agreed to file no new charges against Hatch, even if new victims come forward.
The next step in the case is for not only victims, but also family and friends of Hatch to submit letters is support or in protest of a maximum sentence.
"The victims will be submitting letters describing their losses. We will assist them in getting restitution orders," Evans said. "The restitution hearing will likely be contentious even though the restitution order will probably be worthless."
"My prediction is that at sentencing, the judge will reserve his final judgment with regard to restitution issues that require further hearings," Evans said.
After the "no contest" plea and the consent to make restitution to victims, trial watchers asked if the outcome would allow the state to go back and seize any assets, such as the Hatch family home.
"We don't have the authority to do any more seizing," Assistant State Attorney Lev Evans said. "The civil lawsuits will hash that out."
There are at least three major lawsuits pending against Hatch, two of them filed by beachside real estate brokers and one by former Hatch law partner Kevin Doty. Doty and Norris and Company Real Estate are already suing both Ira and Marjorie Hatch, who obtained a quickie divorce about seven months ago.
Treasure Coast Sotheby's broker-owner Michael Thorpe said his firm's lawsuit, which is being handled by Rossway Moore and Taylor, will be amended to include Marjorie Hatch in proceedings.
Hatch sued Doty for office furniture and equipment and for some legal fees that came in after Hatch left the firm. Doty's attorney Louis B. "Buck" Vocelle said it will take about a year for Doty's counterclaim against Hatch to be ready for trial. Doty counter-sued Hatch for losses of fees pilfered from the trust account, as well as damages caused by the upheaval of the closing of Coastal Escrow.
"We already are in Kevin's case, and that will ramp up here 100 percent," he said. "We've been waiting until this case is over. We've got a lot of work to do."
"Yes we will be pursuing the former Mrs. Hatch, she obviously has knowledge of his propensities," Vocelle said, referring to Hatch's involvement and indictment in previous banking scandals in the 1990s in Broward County.
"He was indicted, but it was never reported to the Florida Bar," Vocelle said.
"The next step is after Ira's plea is accepted and he's sentenced, he can no longer claim 5th amendment privilege. If he does that, we go back to court," Vocelle said. "We will depose Marjorie Hatch and may also depose Danielle and Rory to find out what they know -- the money had to go somewhere." Vocelle lost $26,000 in legal fees himself, so he empathizes with the victims. "Nobody's ever going to see the money from Ira, so the restitution is a joke," Vocelle said. "If he spends 30 years in jail, he'll die in jail and that's where he deserves to die. If he gets the maximum amount I'm satisfied."
Attorney John Stewart, who is handling the Norris and Company case, added that while he and Vocelle knew this opportunity was coming, they have not had access to the warehouse full of sealed evidence in the case. Maybe more importantly, they haven't had access to Ira Hatch.
"Probably the first thing I'll do is have a meeting with Lev Evans and see what kind of records are there, what information we now have access to and go from there," Stewart said.
He said, as a rule, the charges Hatch pleaded to in the criminal case would not have to be re-proven, but the Norris case is based on negligence, that Hatch and his wife and bookkeeper Amelia Lennon had a duty to protect the depositors' money.
"This is really uncommon so I'll have to research it, but as a general proposition in a civil case, you don't have to re-try those issues. It would be impossible to show that my client's money went to something in particular, to pay for something specific."
Stewart said Marjorie Hatch's civil attorney has been pressing him to move the case forward.
Even with a judgment in hand, Stewart said chances are slim that Norris and Company or any other victim would get any of the equity in the Hatch family's riverfront home in Castaway Cove.
"It's a homestead, but if she tries to sell it or refinance, there might be a chance," he said.
When asked whether State Attorney Bruce Colton's office would pursue a case against Marjorie Hatch, prosecutors left the door open.
"That's news to me, but I do have a plan after sentencing regarding the former Mrs. Hatch," said Assistant State Attorney Ryan Butler.               
No matter the state's "plan" for Marjorie Hatch, her criminal defense attorney Jeff Battista maintains that all of Marjorie's actions can be explained when looked at through the prism of her maternal instincts.
Battista met Marjorie Hatch when she was referred to him less than a week after Coastal Escrow closed in September 2007 after the state got an order from Judge Dan Vaughn, the first of four judges on the Hatch case, which effectively seized the assets held by the bank.
"Mrs. Hatch came to me in a crisis with the singular goal of protecting her children, her ability to make sure they finished school and were provided for despite the ongoing allegations," Battista said. "She had been a devoted mother, closely involved with the lives of and care of her children, even into young adulthood."
Battista said he accompanied Det. Lee Evans and Investigator Ed Arens to the bank the day that inventoried the contents of the safety deposit box. There was also money in two checking accounts.
He said deposit records showed that much of the $215,000 was on deposit for many years and may have been derived as gifts from Marjorie's family. A divorce affidavit filed in December suggests those assets are now gone, with the family living off them the past three years.