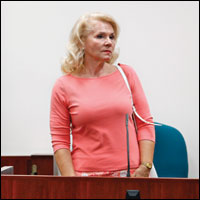 Here's Marjorie
'Owner,' 'treasurer,' and 'operations manager' makes surprise appearance
BY LISA ZAHNER - STAFF WRITER (Week of July 8, 2010)
Margaret P. "Marjorie" Hatch, the longtime wife and business partner of disbarred attorney Ira Hatch until their secret divorce six months ago, made a cameo appearance in the closing minutes of the criminal trial of her husband on 40-plus felony charges.

But nothing she had to say in her 10 minutes on the witness stand suggested that she had any direct involvement in her husband's business dealings.

Indeed, under cross examination Tuesday, Marjorie testified that she did not have any independent knowledge that the state at one point tried to seize her bank accounts, said she had not witnessed anyone trying to take the money, and only knew what she read in the paper.

"Why would you seize my children's money?" she asked Assistant State Attorney Lev Evans during her cross-examination.    

He explained to her that it was depositors' money in the account, not the family's money.
With her day in court over for the moment, it appears Marjorie Hatch  will maintain her silence – at least for the moment -- on what, if anything, she knew of Ira Hatch's business dealings.

Indeed, Marjorie Hatch and her attorneys have diligently distanced her from her husband, saying she had nothing to do with the business and was, by their accounts, simply a homemaker. 

Marjorie Hatch has scored some big victories: Her attorneys successfully persuaded the courts that the family's million-dollar riverfront home  was hers and hers alone, and that $215,000 in frozen money was her money and not subject to seizure by the state.

Yet records, legal documents and interviews with former employees, paint a picture of a woman closely involved in the operations of Coastal Escrow Services.

Marjorie Hatch was not only a signer on the Coastal Escrow bank account from which about $4 million was allegedly stolen in the years leading up to the meltdown of the business on Sept. 4, 2007; she also was listed on various bank records as "owner," "operations manager" and "treasurer" of the business.

Interviews with former employees reveal that the ex-Mrs. Hatch was active in making employment decisions and moving staffers around the Hatches various companies. Records show she was concerned with the "image" of the Hatch family of firms to the outside world, even while finances were crumbling and checks were bouncing.

Marjorie Hatch was not subpoenaed by Assistant State Attorney Bruce Colton's office as part of a five-week prosecution of the case, as it was determined that the value of her potential testimony was outweighed by concerns over what she might say on the stand.

"Early on, she would not talk to us without a subpoena," said Assistant State Attorney Lev Evans. "A subpoena would give Marjorie immunity for her statement and she could say something that Ira could use in his defense."

Evans said Marjorie Hatch also fell under Florida's "spousal privilege" statute which provides that a spouse cannot testify about private conversations inside a marriage if either side objects.

"So we saw little to gain by forcing a statement from Marjorie," Evans said. "Marjorie could have lied to protect her husband. This would have damaged our case against Ira."
When asked last week if he would call any family members to testify, defense attorney Gregory Eisenmenger responded, "I haven't decided yet."  Thus Tuesday's appearance came as a surprise.

With the help of beachside criminal defense attorney Jeffrey Battista, Marjorie Hatch had her bank accounts unfrozen, has been allowed – so far – to keep the family home with its $550,000 in equity, and still collects Ira Hatch's $1,500 per month Social Security check as part of the couple's divorce settlement.

"We worked diligently after this investigation began to clear Mrs. Hatch's name and remove her as a not only a person of interest but a witness in the criminal case as well," Battista stated in an email message in response to Vero Beach 32963's request for an interview with his client.

During the arduous criminal proceedings, which have stretched over nearly three years from the time Coastal Escrow Services shut down, Marjorie Hatch has also avoided any civil liability for the millions in losses incurred. Numerous civil suits have been filed against her and her ex-husband by alleged victims, including former Hatch law partner Kevin Doty.

One such lawsuit was filed by Norris & Company Real Estate, a local real estate firm that lost $240,000 in client deposits.

"We intentionally stayed the case pending outcome of the criminal trial against Mr. Hatch but even our preliminary investigation provided us a sufficient basis via these independent documents to show that Mrs. Hatch was involved in the day to day operations of Coastal Escrow," said attorney John Stewart, who is representing Norris & Company.

The civil cases are on hold until after the verdict in the criminal trial .
Innocent spouse or full partner?
Though Marjorie Hatch's various attorneys have characterized her as an innocent bystander in the meltdown of Coastal Escrow and the shuttering of not only that firm, but also Coastal Title Services and Hatch and Doty P.A., bank records tell a different story.

Testimony and evidence in the case has shown that when money came into Coastal Escrow to be held in trust pending a closing or other real estate transaction, the funds went into the company's Wachovia checking account. When checks were written to cover shortages at Hatch and Doty or to subsidize the personal and business expenses that Ira Hatch racked up, those funds were drawn from the Wachovia checking account.
Three sets of signature cards updated in 2003 and 2005 show Margaret P. Hatch as not only a signer, but as having a key role with the company.

A Wachovia Corporate Resolution for Depository Authorization dated March 19, 2003, bearing the signature of Margaret P. Hatch, lists her as owner of the company. An updated signature card filed on Nov. 20, 2003 lists Margaret P. Hatch as operations manager of Coastal Escrow Services Inc. Similar papers dated Jan. 6, 2005 list Margaret P. Hatch as treasurer of Coastal Escrow Services Inc. next to her signature.

It was also commonly known that Marjorie Hatch was an owner of Coastal Escrow. Ira Hatch, questioned in a deposition on Nov. 11, 2006 on an unrelated case, testified as much.

"My wife and I own a company called Coastal Title Services Inc. We also own a company called Coastal Escrow Services Inc. and there's a personal management company that we operate out of here called Orchid Management Corp.," Hatch told the attorney conducting the deposition.

Later on, he was asked, "You mentioned you worked with Coastal with your wife?"

"Correct," Hatch said.

"What's your wife's name?"

"Marjorie Hatch," he said.

"Does she work here in the office?"

"She doesn't work full time, but when she does work she works up here, yes," Hatch said.

During that time period, former employees testified that accounts were frequently running in the red and had been for years, necessitating frequent and sizeable "loans" from Coastal Escrow to cover Hatch's personal and business expenses.

Coastal Escrow staffer Amelia Lennon was tasked with calling the bank every morning to check balances on not only the Hatch business accounts, but also Ira and Marjorie Hatch's personal checking account at Gulfstream Business Bank, where Marjorie Hatch served on the Advisory Board.

In December 2006, then-Realtor Marjorie Hatch for some reason had submitted a resume to Elliott Merrill Property Management.  The resume stated that she was owner of Coastal Title Services.
Marjorie's power at the office
Coastal Escrow Services courier Bruce Lennon testified in Hatch's ongoing trial that Marjorie Hatch was one of the people who interviewed him for the position of courier. Computer technician Carlos Muentes, who set up the computer networking system that gave Ira Hatch access to every system and program within all the related Hatch companies, said Marjorie Hatch was one of the key people he dealt with when he went to work for Coastal Escrow.

Former employee Fran Nelson, whom Hatch moved to Vero with him from Fort Lauderdale to work at Coastal Title, told the State Attorney's Office that Marjorie Hatch had her transferred to a support position because she, Nelson, did not fit the image of the people Mrs. Hatch wanted dealing directly with the public.

The report of the Oct. 19, 2007 interview with Nelson states that Ira Hatch founded Coastal Title in 1998 and then turned the business over to his wife, Margaret Hatch, in 1999.

"In 2001, Margaret Hatch felt that Fran Nelson did not present the right image for the company, so Fran Nelson transferred to Hatch and Doty, P.A. as a paralegal."

"Margaret Hatch wanted to present a younger image at Coastal Title and concentrated more on image than the substance of the business," Nelson stated in her interview. "Therefore, the business went into decline. At the end of August 2007, there were only about 10 active closing files left."

On the Coastal Escrow Services bank signature papers at Wachovia, where Marjorie Hatch is listed alternately as owner, treasurer and operations manager, Nelson signed next to the title of Vice President.

In relating events of September 2007 when Hatch closed Coastal Escrow, Nelson told law enforcement that she had concerns about being a signer on the accounts.

"Ira Hatch told her not to worry about that -- he would take care of any problems," the report states.

To build his business and credibility in Vero Beach, Hatch became active in various networking groups and hosted lavish holiday parties at the River House, where Marjorie Hatch played the role of chief hostess. She was seen as a powerhouse, even more savvy at the marketing end of the business than her now ex-husband.

Toward the end, even Marjorie Hatch's skills at image management were tested:  Coastal Escrow and Hatch's related companies bounced 1,138 checks between January 2004 and September 2007 written on 25 different accounts.
Vested interest in the Coastal Escrow
Evidence that has come to light in the course of the trial reveals why Marjorie Hatch might have taken such an interest in the businesses. Some of her household bills were being paid directly out of the business accounts -- allegedly with money "borrowed" from Coastal Escrow.

The state's argument hinges on the fact that marketing was a key element to Hatch's Ponzi scheme – prosecutors have argued that Hatch feverishly pursued new customers and the funds they deposited to replenish the accounts.

In 2007 alone, while Coastal Escrow and Hatch and Doty were open for less than nine months, six mortgage payments of $6,200 each were paid out of the companies directly to Hatch's lender. Accounting experts for the state found that, all told, about $262,000 in mortgage payments on the family home in Castaway Cove were paid directly from the business accounts. Lease payments on three BMWs for Hatch and for son Rory and daughter Danielle were also paid directly from the business accounts.

The defense claims that Ira Hatch took these types of payments as compensation in lieu of part of his salary. Defense attorney Gregory Eisenmenger also argued that the payment of the three car leases was a matter of convenience.

"Were you aware that all three were paid on one check because Mr. Hatch was able to negotiate a better deal on all three automobiles?" Eisenmenger asked former bookkeeper Kincaid.

Kincaid responded that she was unaware of such a deal.

The long-time employee also testified that on Sept. 4, 2007, Ira Hatch told her he was going home to tell his wife what was happening.

"What did he (Hatch) tell you?" asked prosecutor Lev Evans.

"He said he was going to close Coastal Escrow and Coastal Title," Kincaid responded.

"Did he say anything about his wife?" Evans continued.

"He said that he had not told his wife, that he did not want to spoil the holiday weekend, that he was going to go home to tell her," Kincaid said.

However, the family housekeeper had told the State Attorney's office during the course of the investigation that Hatch came home nearly every day for lunch and discussed a variety of issues with his wife.

Presumably, the topic of a complete meltdown of the couples' businesses never came up during any of those conversations.
Debbie Carson contributed to this story