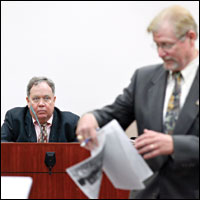 Hatch partner rebuffs bid to spread blame
BY LISA ZAHNER - STAFF WRITER (Week of June 24, 2010)
Defense attorney Gregory Eisenmenger has dropped hints that his defense of Ira Hatch will include some effort to pin the blame for some or all of the missing $4 million in client funds from Hatch's escrow company on his junior law partner, Kevin Doty.    
Doty's testimony was long-awaited because as Hatch's law partner, he was in a unique position to know the ins and outs of the Hatch companies' operations.    
His testimony didn't begin until Monday, but last week Eisenmenger set the stage by questioning a Hatch employee about Doty's ability to sign checks, and about his access to accounts and to documents. Eisenmenger also intimated that Doty dragged his feet about calling the Florida Bar when he discovered money was missing from the Hatch & Doty trust account – Doty's attorney did that for him.    
For Hatch and Eisenmenger, Doty could be reasonable doubt in the criminal case, and just as importantly, Doty's actions could be used in defending against pending civil suits.    
Doty has maintained that he first found out that money was missing in August 2007 when he was told that there wasn't enough money in the Hatch & Doty trust account to pay out a settlement received from insurance companies in a personal injury case.    
On that Aug. 31st, Doty's attorney Louis B. "Buck" Vocelle reported the matter to the Florida Bar and Doty met with an investigator that same afternoon before leaving for a 10-day vacation to Canada.    
On Monday, Doty testified that he learned Hatch was closing Coastal Escrow and Coastal Title during a phone call with Hatch while in Nova Scotia over Labor Day weekend 2007.    
Hatch has filed a lawsuit against Doty claiming that he unlawfully kept possession of desks, computers, files, office furnishings and equipment after Hatch abruptly closed the doors of Coastal Escrow Services on Sept. 4, 2007.    
When former employees of Hatch & Doty have come up to the witness stand, Eisenmenger has asked them if they continued to use their computer, desk and other items at Hatch & Doty after Hatch closed Coastal Escrow and left.    
"Did you know that Mr. Doty was not entitled to any of the property -- the computers, equipment or furniture -- of Hatch & Doty?" Eisenmenger asked former bookkeeper Mary Kincaid last week. She responded that she wasn't privy to Hatch and Doty's arrangements.    
Later in the cross-examination, Eisenmenger tried to establish that Doty had accepted payments which came into the office after Sept. 4, 2007. "Did Mr. Doty continue to receive accounts receivable on behalf of Hatch & Doty?" he asked Kincaid.    
"The account was frozen, we couldn't deposit it, we couldn't process anything," Kincaid answered. "We held the checks, that's what we did. And I think Mr. Hatch picked up some of the checks himself that he thought were coming to him."    
On Monday, Eisenmenger asked Doty about those receivables and also questioned Doty at length about computers and office furniture, issues which seemingly had little to do with the case. At one point while Doty was on the stand, Eisenmenger handed Doty a thick stack of copies of photographs of pieces of office furniture.    
"Mr. Eisenmenger, your client was foolish enough to sue me for furniture," Doty said. "We countersued for the hundreds of thousands of dollars he stole out of the trust account."    
Nevertheless, Eisenmenger asked Doty to identify which pieces of furniture came with him to Kevin S. Doty P.A. and to the new office. Doty said he could not identify exactly which pieces of furniture in the multi-floor firm of Hatch & Doty ended up where.    
"When Hatch melted down, I found out that the landlord was owed money," Doty said.    
Much of the furniture was supposedly left in the Transocean building to help settle with the landlord. Eisenmenger asked Doty how many computers he purchased, how many computers were in the office, who bought desks, bookcases, etc. Doty mostly could not recall the information, but said he had brought the furniture that is in his own office and some of his secretary's furniture and that he had written checks for many pieces of furniture.    
Also as part of the cross examination, Eisenmenger probed into the partnership arrangement that Hatch and Doty had during the 9 years Doty worked with Hatch. While Doty asserted in his answers that the 50 percent of his gross fees that were paid into Hatch & Doty were meant to go toward overhead, Eisenmenger insisted that all the office equipment, furnishings and employees were paid for by Hatch alone.    
"Our agreement was that my 50 percent that went to Mr. Hatch was for all the trappings needed to operate a law office," Doty said. "It was my contribution to the operations of Hatch & Doty."    
Overall, Doty's testimony appeared to fall short for Hatch's defense. At more than one point, Eisenmenger seemed provoked at Doty's tendency to elaborate in his answers.    
"Mr. Doty's self-serving responses are not anything other than hearsay," Eisenmenger told Judge Midelis.    
The jury was taken out of the courtroom a full four times in the morning session alone while attorneys argued rules related to hearsay and impeachment of witnesses.    
Judge Midelis, normally challenged to referee the three attorneys seated at the defense and prosecution desks, had to lay the law down once Doty was thrown into the mix.    
"Here are the ground rules, I set the ground rules and do not interrupt me," Midelis said to Eisenmenger. "Start all over again, you ask the witness a question. If the witness answers consistent with the deposition, then you can't use the deposition. If the answer is different, then you can use the deposition to impeach the witness."    
One of the more interesting exchanges was over a phone call Hatch made to Doty telling him he was closing his doors, and about who ultimately called the Florida Bar to report Hatch.    
"He told me that immediately he would be closing his office," Doty said. Eisenmenger asked Doty whether or not he told investigators that Hatch told him the reason for his actions at Coastal Escrow was "pure stupidity," and Doty responded in the affirmative.    
"It was not one of the most fun conversations I've ever had in my life."    
Eisenmenger also questioned Doty about statements he gave to law enforcement, especially a statement about a phone conversation in which Doty told officers that Hatch had wanted to know who called the Florida Bar on him.    
"You didn't tell law enforcement about that alleged conversation," Eisenmenger pushed back.    
"I had the conversation, it was not alleged," Doty said, adding, "I never denied having that conversation, that's a conversation one would not easily forget."    
At one point, Eisenmenger tried to insinuate that Doty had cheated on his taxes, saying that he hadn't included the payment of his Florida Bar dues of a few hundred dollars in his taxable income.    
"Did you report that to the IRS?" Eisenmenger asked.    
The discussion of these dues went on for several minutes.    
"Are you really focused on my 2004 bar dues?" Doty responded.    
Judge Midelis then warned Doty not to ask Eisenmenger any more questions, but only to answer questions as responsively as he could.    
"And please don't volunteer information," Midelis said.    
The seeds of doubt
Much has been made during the trial of Hatch's high-end lifestyle, allegedly funded for a few years with money from the depositors of Coastal Escrow Services.    
During cross-examination, Eisenmenger attempted to turn the tables on the prosecution by questioning Doty about his income -- which ranged from about $75,000 to $165,000 per year in the mid-2000s -- and about properties he owns or has owned in the past.    
Based upon a Westlaw report, Eisenmenger went through a list of addresses associated with Doty's name and personal information. In addition to his home, which Doty said he purchased in 1983 or 1984 under the G.I. Bill, a few properties are listed that Doty called "fish camps" in rural areas, a home he and his wife had bought, fixed up and "flipped" and a home and condominium owned by Doty's mother. Also, some unrelated properties showed up on the list.    
"That was my ex-girlfriend's house," Doty replied to one, and "that was a place I lived in during law school and sold afterward," he said about another.    
Several of the addresses on Eisenmenger's list seemed to have no connection to Doty whatsoever. One address that did match up, however, was a villa in France which Doty said he paid about 60,000 Euros for back when the exchange rate was nearly even with the dollar.    
Assistant State Attorney Lev Evans objected to the use of the Westlaw report to establish ownership of property. Such reports are notoriously outdated and often contain wrong information.    
"Judge, If I may, this is a Westlaw search and if they run a search on anyone in the room, there is a plethora of information that does not appear to be relevant," Evans said. "Because the Westlaw search is not admissable, then he's stuck with the answers unless he can produce a deed."    
"This creates an impression with the jury that is not correct, to leave an impression with the jury that he owns all those properties is not accurate," Evans said. "If he is some millionaire and has all those properties, that's fair game."    
After lunch, Eisenmenger also asked Doty about all the corporations that appeared on the Westlaw report, most of which were companies for which Doty, as an attorney of record, served as the registered agent.    
Judge Midelis allowed the state to redirect questions about all the data brought into testimony to clear up what if any interest Doty has in the properties and companies.    
On redirect, the Assistant State Attorney took the issue that Eisenmenger had been dancing around and addressed it directly.    
"Did you steal $4 million from Coastal Escrow?" Evans asked Doty.    
"No," Doty replied.    
"Did you steal any money from Coastal Escrow?" Evans continued.    
"No, not one penny," Doty said.    
From whatever assets Doty has, Hatch is banking on getting a piece of them.    
As part of his divorce papers filed in December 2009 in Brevard County, Hatch listed on a financial affidavit that he expects to recover $100,000 from the lawsuit he filed against Kevin Doty for his unauthorized keeping of the contents of the Hatch & Doty law office.  
Doty has filed a counterclaim against not only Ira Hatch, but also Marjorie Hatch for losses he and his clients incurred when the firm went broke and shut down.    
Doty is suing both Ira and Marjorie Hatch for $277,000 in funds misappropriated from the firm trust account, $133,000 in debts to creditors which Doty said he had to pay, $75,000 in loss of income from the "fallout" of the ordeal, $75,000 in attorney's fees owed to Doty, $25,000 in malpractice insurance deductible and $7,500 in other expenses paid as a result of Hatch closing Coastal Escrow and dismembering Hatch & Doty.    
Asserting that Hatch & Doty funds were used to pay the mortgage on Hatch's Castaway Cove home, Doty is attempting to attach the $550,000 declared equity in the home to the lawsuit.