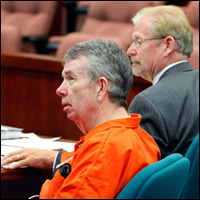 How he wound up defended by a top criminal lawyer who receives no fee
BY LISA ZAHNER - STAFF WRITER (Week of June 10, 2010)
If Ira Hatch, on trial in the disappearance of $4 million in client funds, is – as he claims – indigent, how was he able to obtain legal representation by anyone other than a public defender?  

How did he manage to enlist free of charge the services of a veteran criminal defense attorney based 60 miles from here, Gregory Eisenmenger of Viera, who is not fresh out of law school like most public defenders, but is providing Hatch with the benefit of three decades of criminal trial courtroom experience?  

Normally, Eisenmenger bills clients about $400 an hour, or takes cases for a flat fee. The closest he has come to a case like this was a theft case that ran some six weeks, and he said he charged about $150,000 for that.  

Many have wondered what would motivate Eisenmenger to take on this case, and he has been purposely vague about why he was defending Hatch pro bono. But on Monday, Eisenmenger finally confirmed what we had discovered.  

"I'm doing this for a variety of reasons, some of which are personal in nature," he said.
"My son and Mr. Hatch's daughter are married and were in a relationship when this started."  

Indeed, it turns out that March 20 , Hatch's daughter Danielle and Eisenmenger's son, Kristofer – who described themselves as "inseparable" while in law school at the University of Florida at the time Hatch was arrested – were married in Alachua County, records show.  

Both Danielle and Kristofer Eisenmenger now are serving as public defenders in Gainesville – a position where young lawyers try to get a little experience. Kristofer Eisenmenger says on the couple's wedding website he is hoping to use the job to "follow his father's path into criminal defense."  

Fortunately for Hatch, he did not have to rely on this kind of inexperienced legal representation.  

With Eisenmenger's help, Hatch was deemed indigent by the court, so the taxpayers are on the hook for his defense and for the fees of any expert witnesses. Meanwhile, his alleged victims -- who have brought a variety of civil suits against him, presumably paying their own attorneys – have been forced to await the conclusion of the criminal case.  

Hatch's trial is expected to last three months and has taken years of preparation. Meanwhile, not only Eisenmenger but other members of his firm work on the case – for free.  

"What motivates me to continue is I had a deep concern that Mr. Hatch would not be able to get a fair trial in this area," Eisenmenger said. "I still have that concern."