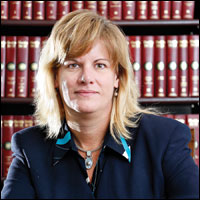 Elizabeth Brooker Ready to take on Old Boys' over Vero utility
BY LISA ZAHNER - STAFF WRITER (Week of March 4, 2010)
The hired gun of former Vero Beach City Councilman Charlie Wilson in his bid to get a referendum on the fall ballot calling for the sale of the Vero power plant is a longtime local attorney who has taken on City Hall before.  

Elizabeth Brooker was on the legal team that successfully represented her father, an employee of the Vero utility, in an age-discrimination lawsuit against the city in 1996.

When Wilson introduced her at a recent City Council meeting, it was clear she was no stranger to the faces in the room.  Brooker's inside knowledge of the city and its electric utility can't hurt in this particular assignment – to secure wording for a legal referendum, gather the required signatures to place it on the ballot, and work with Operation Clean Sweep, an organization formed to find candidates to challenge sitting Council members in November.  

"I know the city has had issues at the power plant for years," Brooker said. "My partners and I are not part of the old boys' club, I don't belong to country clubs and we're not afraid of losing our friends."  

A principal at Brooker & Rooney in the old courthouse building on 14th Avenue in downtown Vero, Brooker is known to be a tough attorney and one not afraid of ruffling feathers.  

When she takes on a case, her opponent inevitably has more staff, more resources and more money to spend, so representing a group of citizens fighting City Hall to force the sale of the electric utility doesn't faze her at all.  

"You're going to find that as a lawyer representing a client you're subject to personal attacks from others in the community disparaging your reputation, but that's nothing new," she said. "By taking on a client like Operation Clean Sweep, I 'm putting the firm out there."  

In the 23 years since she was admitted to the Florida Bar, Brooker has taken on city and county governments, school boards, the Indian River County Sheriff's Office, unions, healthcare providers, major corporations, big insurance companies including Allstate Insurance, and firms such as Ira Hatch's Coastal Title and Escrow.  

She's also tried cases in family court involving messy divorces, custody battles and controversial adoption issues.  

In the past two years, she's won two settlements from Wal-Mart for clients suing for negligence. On March 15, Brooker will face off against Embassy Suites in a Seminole County courtroom, representing an Indian River County woman injured at her son's wedding reception when the hotel dance floor collapsed.  

"We take on difficult cases and we're not afraid of the extra work," she said. "Our firm has a reputation for taking on the odd and unusual types of cases. I enjoy unusual legal issues."  

She said the partners at Brooker & Rooney routinely handle sticky malpractice and personal injury suits and fair labor practice and administrative disputes.  

For his part, Wilson said he hired her because she knows the players and is eminently qualified. Indeed, Brooker has impressed from a young age.  

"I've lived here since 1977 and consider myself from Vero," Brooker said.  

Impatient with life in high school, Brooker passed her GED at age 15 and enrolled in classes at then-Indian River Community College.  

She earned her degree in criminal justice in 1984 from Florida Southern College and went on to graduate with her juris doctorate degree from Mercer University School of Law in 1987.  

Brooker has lectured on litigation and legal issues for organizations. Known as the champion of the underdog, she received the Pro Bono Attorney of the Year Award in
2002 from the 19th Judicial Circuit.  

Admittedly part tomboy and all country girl, Brooker holds a U.S. Coast Guard Captain's license and is an lover of sports -- on and off the water.  

Her passions are fishing, diving, travel and classic cars. Public records show that Brooker worked on a legal team that sued the City of Vero Beach in 1996 over employment discrimination in a case involving her father, Craig Stewart.   

A former General Electric employee who came to the city with decades of experience, Stewart worked as supervisor of maintenance at the Vero power plant for nearly 10 years and, as pleadings reveal, claimed he was the victim of age discrimination which started when he was 54 years old.  

The case was settled in his favor, Brooker said.  

With Wilson, Brooker said her most important job will be to comply with all the legal requirements for getting a referendum on the ballot and then make sure it sticks.   

"On the legal side, my goal at this time for Operation Clean Sweep is to make sure all the legalities of the referendum are sufficient, that the proposed charter amendment would be valid," Brooker said.  

Brooker said she took on the case because this issue hit her in her heart, where she believes in the power of people to combat injustice, whether it exists in the halls of government or of industry.  

"To represent a person or group of people against a big government entity or a corporation and to prevail is very rewarding, to let the peoples' voices be heard," she said. "They need to start listening to the people," she said of Vero's leaders. "If scrutiny like this comes up, they might listen to the people earlier."  

After news started getting around that Brooker was representing Operation Clean Sweep, she said she started getting anonymous information via email.  

Tips from the public and from employees are common in cases dealing with government or a large corporation with a culture of being tightlipped with information, she said.  

Sure of her abilities, Wilson has asked her to become the face of the referendum going forward while he focuses on his run for county commission.  

Former City Council applicant Tracy Carroll, who tried for Wilson's vacated seat, has agreed to serve on the board of Operation Clean Sweep and Wilson is looking for more people for the all-volunteer effort.  

Local accountant and critic of the electric system Glenn Heran has also signed on as a volunteer with Operation Clean Sweep.  

Wilson said Operation Clean Sweep will launch a media campaign with mailers, radio, print and outdoor advertising.  

He said the organization will need to raise about $5,000 to communicate its message, plus a small amount of money to pay for the processing of the petitions by the Supervisor of Elections' office.  

Brooker is accepting donations for Operation Clean Sweep through her office.  
Wilson urged those opposing the referendum to form their own organization so both sides of the issue will be heard.  

"This referendum will give everyone the chance to debate and get both sides of the argument out," Wilson said.   "In 1976, both sides got all the information out, the pros and the cons, and it still passed 2 to 1."  

Petitions are expected to be available in March.  

At least 1,060 valid signatures from registered voters who currently reside in the City of Vero Beach are needed to put the referendum on the ballot.