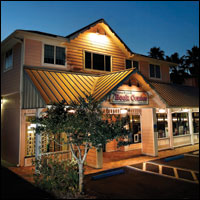 Rare edition: Vero Beach Book Center
BY MICHELLE GENZ - STAFF WRITER (Week of March 4, 2010)
It is the era of Kindles and eBooks, Amazon. com and Wal-Mart. The technology is changing, the competition is fierce. The economy is weak, the discounting a nightmare. Chain booksellers like B. Dalton's are closing. The Waldenbooks in Indian River Mall is gone. Book superstore operator Borders is flirting with bankruptcy.
Then there is the Vero Beach Book Center, now celebrating its 35th anniversary as a locally-owned independent bookseller. It seems almost unimaginable. How is this possible? How does an indie bookseller not only survive in a town of 30,000, but become so highly regarded in publishing circles that more writers include it on their book tours than almost any other book store in Florida?  

How does a bookstore in Vero Beach attract an astonishing 2,500 people to a signing by celebrity chef Emeril Lagasse, who then stays until 3 am to autograph 600 books remaining after everyone has finally left? How does the local bookstore so embed itself in the community that many almost feel sorry – almost – for the predators who sometimes seem to be giving away best-sellers as a loss-leader at Sam's Club and Wal-Mart?  

The answer lies in the story-book life of Tom and Linda Leonard. For four decades, they have been making what turns out to have been all the right moves. In the process, they have turned their Vero Beach Book Center into a rare edition: a success story?  

Tom and Linda's life together began like the opening chapter of a flower-child '60s novel – spring break and mini-vans, Daytona Beach and sunrise. Linda was a senior at Michigan State University, studying to be a nurse. Tom Leonard was at Rutgers, majoring in environmental sciences. He had grown up in New Jersey, and didn't want to live anywhere between Washington, DC and New York. "I didn't want to be anywhere where, if you say 'Hello,' people look at you, like, 'What's the matter with you?'"  

So it was on that March 22nd morning in 1969, when a pretty blonde and her friends, who had hung out at the Steak and Shake and played Red Rover, Red Rover on the beach all night, trying to stay awake for sunrise before heading back north, scampered up to his scraggly crew, emerging bleary-eyed from their minivan, and Linda immediately declared they needed a better place to sleep, Tom found it very friendly indeed.  

Tom bought Linda breakfast that spring break morning, and they both knew they were in love – they can still look across the table from each other just retelling that simple fact.
They corresponded for a year, and two weeks after college graduation, they got married.  

"It was during Vietnam," Tom Leonard points out. "And I had a low draft number. So I said to Linda, 'We can begin our lives anywhere, but wouldn't it be good for you to be near your parents, in the event I get drafted?'"  

And with no more consideration than that, the young couple chose their home for the next four decades – Vero Beach.  

"Vero Beach was very much a small town," says Tom. "I could smile and say 'howdy' and they would smile back and say 'howdy' back. It was a very, very pleasant place."  

Linda Leonard got a job as a nurse at the hospital, eventually going into the newly minted field of family planning; she became Florida's first family planning health practitioner, and the first of ten in the nation. "My career was short-lived because I planned my own family," she says with a smile.  

Tom had worked in a different sort of planning – one of two people comprising the planning and zoning department here. When Linda became pregnant, he took an offer in Martin County; the couple bought a house in Stuart.  

But when they decided to go into business for themselves, they moved back to Vero Beach. Vero seemed perfect for raising children, especially with grandparents nearby. The grandparents would turn out to be an invaluable presence a year after Tom and Linda's second baby was born, when they decided to open a book store in the L-shaped strip of store fronts immediately to the west of where the Book Center's children's store stands today.  

Their reasoning for starting a book store could not have been more simple. If their lives seem a fairy tale to this point, here it becomes the large print edition.  

"We both liked to read, and we wanted our own business," says Tom Leonard, as if it were as easy as that. They considered buying a franchise of the Little Professor independent bookstores. They went to Commercial Bank on Sixth Avenue, and asked for a loan. Right away, the loan officer questioned the need for a second bookstore – a shop called Waverly's already existed downtown. Leonard responded: "Why do you need more than one branch?"  

Their application was approved – at an interest rate of 17 percent. Soon after, they went to a convention of the American Booksellers Association in New York City. "When we asked questions, we realized, we didn't need to spend $10,000 on a franchise,"  

Tom Leonard says. By selling their house in Stuart, and -- despite their growing family -- downsizing to a smaller house here, they took the difference, plus three mortgages (the third was from the builder), and opened the Vero Beach Book Center in 1975.  

---
The business got off to a slow start. The Book Center's inventory was small. "We started the business on a shoe string – something you couldn't do today," says Leonard. "It took a couple of months, but we began to get more traffic, and we started expanding right away."  

Before long, they knocked through one adjacent space, and then another, creating a special nook for children. Linda had toddlers on her mind – and in her life; a one-year-old and a two-year-old. They started staging events for children. Clifford the Big Red Dog was their first official celebrity; Linda's late father was recruited to don the dog suit. The push to get more children reading was in full force nationally. Here, the slogan at the Book Center was "More Books in the Home."  

Despite Vero's daunting older demographic, the concept clicked. Perhaps the store gave grandparents a surefire place to buy birthday and Christmas presents. Or it could be that parents, feeling isolated in a town of largely retirees, were desperate for a place to meet other young families. Against the odds, the place took off.  

As their customer base swelled through the 1970s, children became key to their business plan. The awareness of the importance of reading to children coincided with improved printing processes that were making illustrated children's books more the most of it: they hired a puppeteer and built a little theater to bring to life the characters of best-selling children's books. They developed their own theme song for children to sing, and characters that promoted the importance of reading, and took them out into the community not only as a public service, but as a marketing tool for the store.  

As Linda Leonard put it, "You're not going to get a children's hour at Sam's or on the internet." Schools played into that support, delighted at having such enrichment available for free.  

"The ultimate compliment is when you see the children kicking and screaming that they don't want to leave," says Linda Leonard. Grownups got what they wanted too. Linda Leonard saw to it that the adult section was well apart from that particular departure scenario.  

In 1991, the bottom line of the Leonards' business shifted drastically when they bought the 12,000 square-foot-building they are in today, situated near one of the city's busiest intersections. Not having to pay rent proved key to their further expansion six years later, when the struggling theater that had served them so well during two years of jointly run children's summer programs, finally closed down, allowing them to acquire the two-story space now housing the children's center, as well as discount books and a teen-oriented lounge area upstairs.  

The extra 9,000 square feet of space was quickly merchandised with not only books but high-quality, often educational games and toys. Ambitious exhibits -- like one on dinosaurs and another on the sea -- were installed in the center of the space. The store bused in schoolchildren for visits, and organized art contests with art teachers. There were yo-yo competitions and karate demonstrations and magic shows, all linked to books and merchandise, of course.  

---
Meanwhile, the Book Center was increasingly becoming a destination, with its leased café -- since closed, much to Tom Leonard's relief -- and an expanding roster of authors traveling to Vero for book signings. Their seemingly effortless strategies were right on target – expanding at critical junctures, capitalizing on Vero's growth spurts, buying the building to avoid the profit-sucking burden of leasing.  

They refused to franchise, despite numerous requests, or to open branch stores -- they've always felt their presence in one store was far more important. "Celebration (the planned community near Orlando) called and wanted me to open a children's store there," says Linda Leonard. "But I thought it would take away from this store. We wanted to keep our efforts focused right here in our community."  

Over the years, their store turned into an institution – born of that inexplicable charisma no business plan can predict, the patina of habit and nostalgia buffed of the raw-metal metrics of the buying experience. Among independent booksellers, it came to rank right up there with 77-year-old Haslam's in St. Petersburg, which promotes itself as "Florida's Greatest Rainy Day Attraction," and the celebrated Books & Books, with three locations in greater Miami.  

Over time, the Vero Beach Book Center has become one of the must-book sites on writers' tours. The high caliber of authors -- names like George Stephanopoulos, Cokie Roberts, Deepak Chopra and John Glenn -- has become almost routine. The calendar of book signings is so jammed that Linda Leonard has signed on to her own mailing list, just to keep track of who's coming next.  

"We have a long-time relationship with the publishers," says Linda Leonard. She tells the story of the time the CEO of Warner Books flew down in a corporate jet with mystery writer Sandra Brown, who was doing a signing. "He came because he could not understand why the little book store in Vero Beach was selling more books per event than New York, Chicago and L.A."  

Even for less famous authors, the center typically attracts fifty to 100 people. Linda Leonard says it's the diligent staff who have done their homework and read the author's books that encourages sales at signings. "We make sure that when the author comes, someone on our staff has read the book and we can talk intelligently about it. That author has a very pleasant experience, and feels their book was taken seriously." But Tom Leonard suspects the good vibe doesn't end there. "I can't even put my finger on what makes us different," says Tom Leonard.  

Once, the Leonards were invited to dinner in Miami by a Random House rep who mysteriously would not explain the reason for the invitation. When they finally arrived at the agreed-upon location, they learned the venue had changed, to Madonna's Blue Door restaurant at the Delano Hotel. Once there, they were escorted to a back room, where Tom took a seat at the table next to an empty chair. It turned out to be for Salman Rushdie.  

"He came out of hiding under a world-wide death threat to personally thank the book sellers who had kept his books for sale," says Leonard, who jokes about thinking twice about the seating arrangement once Rushdie arrived.    
---
So what does the future hold for the Vero Beach Book Center?  

The largest brick-and-mortar competitors to the Book Center are the Big-Box bullies: Wal-Mart and its sibling Sam's Club. Those discounters drain publishers of inventory. As a result, when copy-counting merchants like the Leonards cautiously place their initial order, they often are told – if sales prove brisk – that no more books are available because they are sitting unsold on shelves at Wal-Mart, waiting to be returned. By then, the Leonards say, interest has waned and momentum is lost Internet sales are an even larger concern, says Linda Leonard.   

"That's what I lose sleep over," she says.  

But clearly, there is a passion for reading here. The Leonards hold workshops for leaders of the town's 100-some book clubs. "Some of them come and talk to us, and we help them put together their lists, and then they leave and order off Amazon," says Tom Leonard. "Then there are others who make a list off Amazon, and come here to order all their copies."  

Meanwhile, the Leonards have begun a transition to the next generation, placing their son Chad, 35, in charge of the store while they enjoy a semiretirement. The sailboat they bought in Africa in 2004, spending 49 days at sea getting it home to Vero, is now their chief source of pleasure. In it, they have sailed to Nova Scotia, to Bermuda and through the eastern Caribbean. This year, they are heading to Block Island, off the coast of Rhode Island, while their staff of 22, some of them there since the store's inception 35 years ago, takes over.  

"They pick up the ball and run with it when we're not here," Tom Leonard says. "They make all the decisions, and they take it to the next level. We get back, and all we have to discuss is what a great time we had."