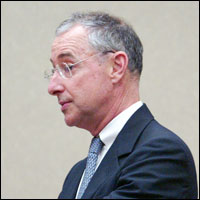 H.Randal Brennan: The lawyer with a Heady assignment
BY LISA ZAHNER - STAFF WRITER (Week of May 27, 2010)
Trial attorney and mediator H. Randal "Randy" Brennan sees his new job as Vero Beach's $300-an-hour legal consultant in simple terms: Get City Councilman Brian Heady's federal lawsuit dismissed.

Brennan, a partner with Brennan & Kretschmer, said he has 26 years of state and federal litigation experience and doesn't think Heady's complaint will ever see the inside of Judge Kevin Michael Moore's courtroom.

He plans to file the city's response sometime this week, and it will hinge on two major issues -- legal sufficiency and jurisdiction.

It's unclear whether the nature and substance of Heady's complaints fall under the purview of federal law or state law. If it is determined that there is no standing to file in U.S. District Court, the judge may reject the case on that basis.

Heady claims that his First Amendment rights have been stomped on by moves by Mayor Kevin Sawnick and others on the City Council to limit his opportunities to speak, especially about issues surrounding the Vero electric utility.

Heady also has made claims that seem to allege violations of Florida's Sunshine Act -- issues that would seem to fall under state law.

But the more serious allegations that Heady plans to file lie in a piggyback complaint accusing top city officials of honest services fraud, which is a federal statute that has been used in corruption cases – most notably in Palm Beach County where since 2006 three county commissioners have been convicted of corruption and sent to federal prison.

In an interview with Vero Beach 32963, Brennan, who has been a long-time federal mediator, said that Heady went out of his way to file in federal court. "Most people want to stay out of federal court," Brennan said. "It's more expensive to litigate in federal court because of the distance, the closest is in Fort Pierce, but you end up in Fort Lauderdale or Miami where the judges are."

Heady has said he chose federal court because of what he called the tight-knit legal and law enforcement community where City Attorney Charles Vitunac is well-connected and City Manager Jim Gabbard is highly regarded as Vero's former police chief.

A federal judge, Heady said, would offer the best chance to get an unbiased set of eyes on the facts of the case and that required going geographically and jurisdictionally out of Florida's 19th Judicial Circuit.

Heady has also said that he intended the federal lawsuit as a springboard for another complaint -- allegations of honest services fraud that he intends to file with the U.S. Attorney's office.

Brennan said this anticipated piggyback complaint, at least at this point, has no bearing on the legal work he's doing for the city.

"That is not within the scope of what I've been hired to do," Brennan said.

For his part, in a written statement, Heady said he is doing what he believes he was elected to do.

"I have stated on the public record the lawsuit will go away if the City Council would just allow a public discussion on these matters with the city manager and city attorney answering questions about the OUC contract," Heady wrote in an email responding to Vero Beach 32963's questions.

"The other four Council members would rather spend $300 per hour to an attorney to prevent me from asking questions in a public forum about public business...And I would hope the judge in this case realizes the burden of the courts have to protect the welfare of the public from those who would lie, cheat or steal from those they took a oath to serve."

At the heart of the matter is what boils down to a contract issue and Brennan has handled hundreds disputes over contracts in his legal career. The crux of Heady's lawsuit is whether or not the Orlando Utilities Commission contract is legally enforceable. The other issues, with a couple of exceptions, spin off the OUC matter.

Another matter contained in the lawsuit is Heady's complaint about various statements made by City Manager Jim Gabbard, and whether or not the statements were truthful or based on fact or documented information.

Brennan said the city could not take on the case in house because a number of staffers, as well as administrators, could be called to testify in the lawsuit.

"Because members of the legal staff are potential witnesses and because Mr. Heady is on the City Council and they represent the city and the City Council," Brennan said.

Vitunac said he had called the Florida Bar Hotline, explained the situation and asked for advice. It is unusual for a sitting council member to file a suit against the city he represents.

"It's not difficult to find other cases where a city has been in litigation, but you have to go far afield to find a similar case to this one," Brennan said.

At the May 20 City Council meeting, Brennan recommended to the council not to discuss in a public meeting any of the issues contained in the suit.

"Very serious issues have been raised and I would not want the city to compromise its position by making inappropriate comments," Brennan told the council from the podium.

Despite recommendations by the attorney, Heady proceeded to bring up several of the issues in the lawsuit, but the discussion was quickly curtailed by Sawnick.

Brennan said dealing with Heady may not be a smooth or efficient task, since the councilman has filed pro se – meaning he is representing himself.

"It tends to be more challenging because they usually aren't well versed in the rules of procedure," he said.
Depending on Judge Moore's caseload, the parties will receive word back from the court on the city's motion to dismiss in two weeks to a month or longer.

Brennan said there are several possible outcomes, ranging from the court granting a hearing of all or part of Heady's complaint to dismissal of the whole complaint while allowing Heady to amend parts of the document to meet legal sufficiency.

"Or the court could dismiss with prejudice, meaning that there would be no opportunity to amend, or to correct whatever the deficiency is," Brennan said. "But with a pro se litigant, I've found that the court usually bends over backwards to help anyone who is pro se give them every benefit of the doubt. The judge can't be the attorney for them, but the court does help them out."

Should all or part of Heady's complaint go forward, Brennan said the case would at some point go to mediation.

"A trial is the literal end of the road for litigation, but most cases don't get to trial.," Brennan said. "And sometimes the judge resolves the case."

When he's not litigating, Brennan works as a mediator. In fact, he's mediated some cases to which the City of Vero Beach is a party. He's never defended the city prior to the Heady case, but his law partner, Fred Kretschmer, has been retained by the city previously.

Brennan said he has no close personal ties to city staff or any relationships that might have gotten him the job. He was approached by the city presumably for his litigation experience in federal court.

"It's a small legal community, the attorneys around Vero all know and talk to one another," Brennan said.

Small indeed. Public records indicate that Brennan co-owns a Piper airplane with attorney Louis "Buck" Vocelle, who handled a lawsuit filed by citizen Dian George against former Vero City Councilman Charlie Wilson, which resulted in his ouster from office and an amendment to the city's election ordinance.

Vocelle, like Brennan, is a trial lawyer. Brennan said that's not so common in the Vero Beach area. There are a number of real estate attorneys and those who do wills, probate and estate planning and some family law, but fewer attorneys who litigate as the bulk of their practice.

"Once you have litigation experience, you can litigate any type of case," he said.

For more than two decades, Brennan has made a living and a life for his family doing just that. Brennan currently resides in the Vero Beach Country Club neighborhood, coincidentally across the street from retiring Vero Finance Director Steve Maillet.

For his part, Heady has been criticized for incurring legal fees for the taxpayers with this lawsuit, but he repeatedly has stated that he thinks finding out whether a $2 billion contract is legally enforceable or not is worth exploring.

Heady also reminds his critics that, in his mind, the lawsuit was a last resort, after many attempts to have the issues in question fully vetted in a public setting failed miserably.

"You shouldn't have to file federal lawsuits to discuss the public business in the public eye," Heady said.

Since he's been in office, Heady has attempted to simplify city paperwork, shorten ordinances, minimize legalese in documents and -- apart from his own lawsuit -- to keep the city out of the courtroom. Heady said it's better to sit down and hash things out, even if it takes lots of time and is uncomfortable.

As recently as the May 20 City Council meeting, Heady gave the staff and council an opportunity to talk, saying he would drop the suit. No one did, at the advice of their new attorney.