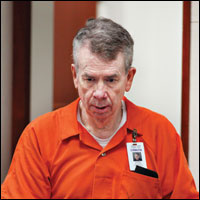 More than 100 island victims await start of Ira Hatch trial
BY LISA ZAHNER - STAFF WRITER (Week of May 13, 2010)
As the state prepares to try disbarred attorney Ira Hatch at the end of the month in one of the biggest fraud cases in the county's history, discovery in the case shows more than 100 people or businesses on the barrier island are considered victims.  

Among them are Realtor Michael Thorpe and a number of his clients, as well as the real estate brokerage Norris & Company.  

Noted barrier island residents listed in court papers include Classic Car Wash owners Mark and Nina Heyer, attorney Kathryn Block Faires, Dr. and Mrs. Mark Malias, and Irish Treasures owner Betty Wilkes. Other barrier island residents on the list include Abby Ann Griscom, Allison Matsik, Arnie and Maryann Cajet, Arthur and Patricia Clyde, Bill and Janet Niles, to name a few.  

Most of those contacted by Vero Beach 32963 declined to comment, or didn't return calls seeking comment. Some said they felt the association with Hatch, even as a victim, could be viewed as a taint on them personally or professionally.  

The fraud case, now estimated to be in the $4.5 million range, is expected to go to trial May 24, but with the recent recusal of the sitting judge on the case and the appointment of another, it is unclear if that date will stick.  

Defense Attorney Greg Eisenmenger of Viera was expected to file a number of motions this week ranging from a request for continuance to a motion to dismiss. Some victims -- the lucky ones – reportedly lost as little as $1,000 in security deposits on rental units, while others lost tens of thousands in deposits towards the purchase of homes. The most affected were a number of estates that were held in Hatch's trust.  

At least one beachside couple, George and Patricia Allen, won a judgment of damages of $410,847 plus interest from Hatch and Coastal Escrow Services in March 2008, but Hatch has been sitting in jail in lieu of his $3 million bail. It's unclear if they've received any of that money.  

Another party representing the $1.14 million estate of Hector Van Lennep settled for a mere $250,000, a paltry sum for the assurance of some compensation from Hatch's malpractice insurer.  

Hatch, 61, a former local attorney and partner in the firm Hatch & Doty, was arrested in January 2008 after he closed the doors of his Coastal Escrow Services in September 2007, leaving those with deposits in his trust accounts high and dry. Victims had been complaining to police, prompting a three-month investigation, after which Hatch was brought in and charged with grand theft.  

At one time, Hatch faced as many as 58 counts, but that has been reduced to 54. Meanwhile, 28 new names of victims were added to court documents last week.  

Discovery in the grand theft case of the Vero Beach attorney lists 21 pages of "all persons known to the prosecutor to have information which may be relevant to any offense charged," in other words, potential victims of and/ or witnesses to Hatch's escrow scheme that is accused of bilking local clients out of millions.  

"That list is a combination of names we found, of the cops, real estate companies we found in the records and people who filed complaints to the cops," said prosecutor Lev Evans of State Attorney Bruce Colton's office. Evans and Assistant State Attorney Ryan Butler have been handling the case.  

Butler had said previously that an estimated 500 people had deposits with Hatch and Coastal Escrow. "We plan to call hundreds of witnesses, most of them victims," Evans said.  

When asked to elaborate on the personal pain and trauma he's witnessed in the lives of the victims interviewed in preparation for the case, Evans declined, saying that ethical regulations preclude him from commenting on such matters.  

In an unusual turn of events, prosecutors last week asked Judge Robert Hawley to recuse himself, contending he was biased against the state's case although they did not offer specifics, and mostly referred to the judge's "demeanor." The judge complied with the request.  

Chief Circuit Judge Steven Levin has assigned Senior Circuit Judge James Midelis to the case.  

Among the businesses listed in court documents are Absolute Relaxation on Cardinal Drive, Benchmark Kitchens Inc. on Cardinal Drive, Benefits Plus Inc. on E. Sandpiper Road, Breffni Management on Cardinal Drive, and Burke Architects on Dahlia Lane. Mainland residents on the list include attorney Louis "Buck" Vocelle of Vero Beach, and real estate appraiser Adam Preuss of Sebastian.  

Michael Thorpe, co-owner of Treasure Coast Sotheby's International Real Estate, as owner of Michael Thorpe Real Estate has sued Coastal Escrow for $559,304 plus interest and attorney's fees for funds Hatch's firm owed to about 175 clients. Thorpe declined to comment on the record about the case or the impact on his clients.  

Norris & Company also reportedly filed suit against Coastal Escrow. Other real estate and title companies impacted include Beach & Beyond Rentals on Cardinal Drive, Coldwell Banker Ed Schlitt, Inc., Elliot Merrill Commercial Management, Hoyt C. Murphy Realtors on Ocean Drive, Palm Pointe Real Estate, ReMax Riverside Vero Beach on Azalea Lane, Security First Title Partners, Taurian Florida Properties on Sand Dollar Way, Title Partners of Indian River, and Weichert Realtors on Club Drive.  

Shamrock Realty Corp. is also on the list. Owner Chris McLaughlin said she's not sure why her company was on the list, but suspects a rental client she represented had security deposit money in trust with Hatch as agreed to in a lease.  

McLaughlin said for real estate firms, Hatch created a major problem for brokers who were either unable or unwilling to reimburse clients for their deposits.  

"If clients had given me money that I placed with someone else, I would feel personally responsible," McLaughlin said. "What people were told was that our errors and omissions insurance did not cover those deposits because they were not held by the broker, but turned over to someone else in trust." If the trial goes on as scheduled with jury selection beginning May 24, Hatch's alleged victims will finally get their day in court.  

Local realtors used Hatch -- and had used his services for years -- partially because of his spotless reputation and long-standing ties to the area and partially because of the concierge service he offered to realtors and their clients.  

Hatch's office would pick up payments and documents from Realtors and could be counted on to cut checks quickly, the same day if necessary, and deliver the funds back to the Realtor's door. He made it tough to go with any other company.  

Attorneys also used Hatch's services to keep funds in escrow during probate matters or a pending lawsuit. His combination legal office and escrow company made it convenient for them to deal with someone local who understood their needs.  

Clients who sought Hatch's help might not have expected the concierge service they received, but they did have a reasonable assumption that their money would be there when they needed to withdraw it.  

"They deserve the right to a fair trial," Assistant State Attorney Butler said of the hundreds of victims during last week's court proceedings.